I've watched over a hundred K-Dramas and every once in a while, a second couple pops up and steals the spotlight from the leads. Some of them are so great together that I root for them more than I do the lead couple. Since Valentines Day is approaching, I've decided to feature in what my opinion are the best K-Drama second couples. I already made a list of romantic K-Dramas to watch so here's something a little different.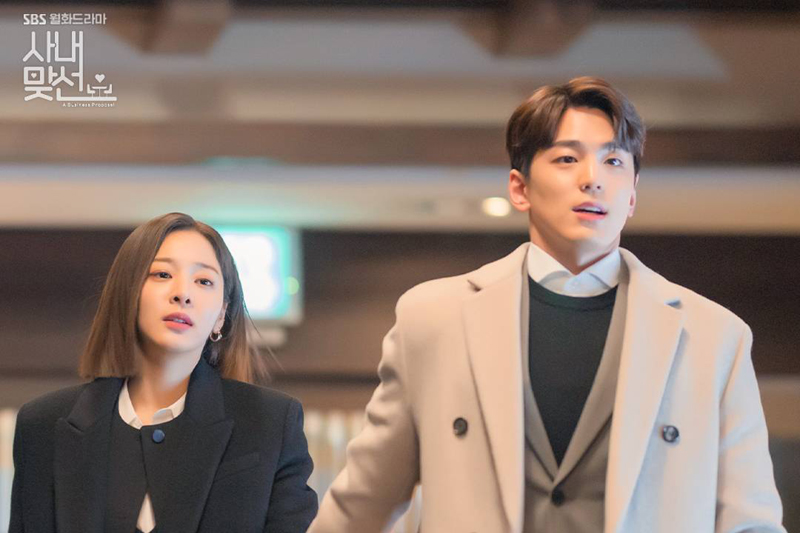 Business Proposal's Young-seo (Seol In-ah) and Sung-hoon (Kim Min-kyu) definitely top my list. Their chemistry is so intense they make me want to see more of them and less of the main couple, lol. They just smolder every time they're together, and who can forget that crazy passionate bed scene??? I first watched Seol In-ah in Mr. Queen, my first impression was wow, she is pretty. This is the first time I've encountered Kim Min-kyu. I'm looking forward to Heavenly Idol, Kim Min-kyu's first lead role in a K-Drama series.
Kang Sa-ra (Lee Da-hee) and Ryu Eun-ho (Ahn Jae-hyun) of The Beauty Inside is probably the first K-Drama second couple I stanned since The Beauty Inside is the second K-Drama I've watched years back. Their relationship dynamics is just too cute and funny not to stan. Most of you probably know Lee Da-hee better as one of the hosts of Netflix's Singles Inferno but my impression of her is she's always playing a high profile corporate personality (chaebol heiress in both The Beauty Inside and Island, top management in Search WWW). Unfortunately, we no longer see Ahn Jae-hyun as a result of his messy divorce with Ku Hye-sun.
Sun-woo (Go Kyung-pyo) and Bo-ra (Ryu Hye-young) of Reply 1988 may as well be the lead couple in the series. Their relationship gets a lot more development and screentime versus the actual leads who get together very very late. You even get to watch them get married! Theirs is one of the more relatable stories, as they were initially not allowed to date because they had the same surnames. Coming from a Chinese family, I know this taboo all too well albeit in more recent times it's no longer really an issue. Ryu Hye-young has proceeded to star as the lead in Law School while Go Kyung-pyo headlined Love in Contract with romcom queen Park Min-young.
Who would have guessed that what started as a comical love-hate relationship between Seo-dan (Seo Ji-hye) and Seung-joon (Kim Jung-hyun) of Crash Landing On You would develop into something so heavy and serious??? I wanted so much more for these two! Honestly I actually liked Seo-dan much better than the lead character Se-ri. After this series, Kim Jung-hyun got the lead role in Mr. Queen and was caught up in a scandal with Seo Yea-ji. Meanwhile, Seo Ji-hye starred in Dinner Mate opposite Song Seung-heon.
Myeong-joo (Kim Ji-won) and Dae-young's (Jin Goo) angsty love story is probably one of the most somber second couple subplots ever but this is precisely what made them so memorable in Descendants of the Sun. This is the only role Kim Ji-won has played that I kind of liked (and well maybe also her role in The Heirs). Her other characters are snivelling losers (Fight for my Way, Lovestruck in the City). I haven't seen Jin Goo's other works.
Who can forget Sunny (Yoo In-na) and Grim Reaper (Lee Dong-wook) in Goblin? They're just as intense if not even more so than the series leads. I love how their centuries-old love story comes into a full circle. Then they go on to star in their own romcom Touch Your Heart.
Nam-ra (Choi Yi-hyun) and Su-hyeok (Park Solomon) may be the second couple in All of Us are Dead but they practically stole the show. They got everyone rooting for them and I know we all want to see what happens next in their hambie-human relationship. Looking forward to what these relatively new young actors can bring to the K-Drama landscape.
Gosh… Yu-rim (Bona) and Ji-woong (Choi Hyun-wook) of Twenty Five, Twenty One had it much much harder than the main couple Hee-do and Yi-jin but THEY MADE IT WORK. Imagine Yu-rim even had to defect to Russia due to financial reasons but wow, the dedication of these two helped them overcome all the odds. Hee-do and Yi-jin have a lot to learn from their BFFs.
Though not officially a couple in the series, Dong-mae (Yoo Yeon-seok) and Hina Kudo (Kim Min-jung) of Mr. Sunshine had all the chemistry to have been one. Too bad Dong-mae was too infatuated with Ae-shin through most of the series. Both are excellent actors. Yoo Yeon-seok goes on to join the cast of Hospital Playlist while Kim Min-jung stars in The Devil Judge.
So whick K-Drama second couples are your faves? All of the above series are available on Netflix.
Like this post? Subscribe to this blog by clicking HERE.
Let's stay connected: