Hands down the best K-Drama I've watched after Mouse (I've watched 7 series after Mouse so far) is The Red Sleeve. This is my 83rd K-Drama series. I usually review in chronological order but this is just too good to postpone. Plus I really need to let my thoughts out. I should tell you this early that if you do not want to spoil the ending for yourself, don't google the historical figures the characters are based on. I did because I didn't think they'd follow what happened in real life so closely but huhuhu they did.
The Red Sleeve is about a court girl named Sung Deok Im. Deok Im was orphaned at an early age and was adopted by a royal and sent to live in the palace as a court girl who would be trained to be a court lady and so forth. When Deok Im came of age, she was assigned to serve the Crown Prince.
Deok Im is a smart girl. She's quick-witted, she loves to read, and she excels in calligraphy among other things. She easily finds favor with the royals due to her many talents.
Deok Im unwittingly meets the prince in the library and mistakes him for the lecturer. Their "casual" relationship lasts for a few episodes until Deok Im finds out that the lecturer she is so comfortable with is actually the Crown Prince. Eventually, Deok Im ends up as the Crown Prince's personal maid and they become very very close.
The Crown Prince repeatedly confesses his love for Deok Im but she always rejects his advances. She always says she doesn't want to become a royal concubine because she wants to live her life as she pleases. Thanks to her quick thinking, Deok Im saves the Crown Prince from numerous dangerous situations many times through the years.
The Crown Prince becomes the King and his feelings for Deok Im do not change. Deok Im loves him just as much but she does not dare admit it to him.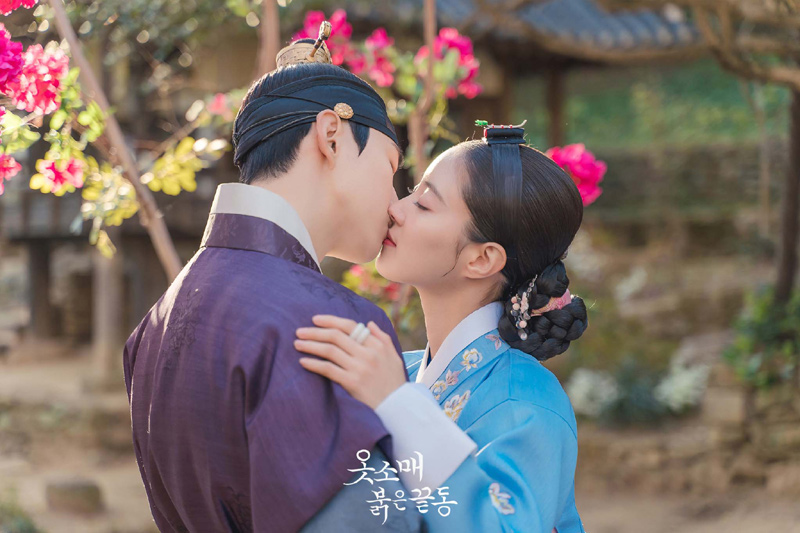 Deok Im obviously can't resist the King forever.
The Red Sleeve is one of the most well-written dramas I've ever watched. My goodness… I was hooked from the first episode. The characters are well-cast too. Lee Jun-Ho (Crown Prince/King) and Lee Se-Young (Deok Im) have such incredible chemistry. I wanted to lock them up in a room together and throw away the key lol. Their love story is a slow burn, building up from the first episode to the last. I love how smart Deok Im is and how she solves problems big and small. She's sooo good even the Queen Dowager wants to take Deok Im under her wing. In a palace full of politicking and underhanded schemes, Deok Im is someone you'd like to have on your side.
The Red Sleeve gives us a realistic glimpse of what it's like to live in the palace among royals during the Joseon era. They don't sugarcoat it. The palace, as the Queen Dowager puts it, is a glittering prison. If you're a woman, once you become a concubine or consort, you can never leave. There are many perks but if you're someone who values her freedom, it's probably not the life you'd want. This series has everything — comedy, drama, history, romance… it's really quite a journey for the viewer.
After the King and Deok Im finally get together, I immediately understood why Deok im kept refusing his proposal. She says it best — "I am yours but you can never be mine." Because he is King, Deok Im has to share him with the entire country and a harem of concubines and consorts. The king needs to produce heirs and so he needs numerous women to make sure he has a son who can become the Crown Prince. Deok Im has to spend her life waiting and waiting for him to go to her.
If you don't want to know how it ends, you should stop reading at this point because I have been getting a lot of questions about the ending.
I liked the ending. It really was the only way The Red Sleeve could've ended. Reel life mimics real life when Deok Im dies during her pregnancy. Most historical records say Deok Im was the only one the King ever loved and so the King can't quite forget her. Years after her death, he falls ill. He dreams of a specific point in time where he and Deok Im are enjoying a leisurely afternoon. Deok Im tells him to go back because everyone is waiting for him but he refuses. He decides to stay with her forever. The King dies at 47 in real life. Suffice to say the series *tries* to make a happy ending for the ill-fated couple by reuniting them in the afterlife at their favorite place and time.
The Red Sleeve is available on Viu.
Like this post? Subscribe to this blog by clicking HERE.
Let's stay connected: