The 90th K-Drama series I finished is Business Proposal. It stars Kim Se-jeong and Ahn Hyo-seop. I first watched Kim Se-jeong in The Uncanny Counter. She played a brooding war-freaky ghostbuster there. She does a 360° turn in Business Proposal where she is the flaky lead character Shin Ha-ri, opposite Ahn Hyo-seop's stoic Kang Tae-moo. Ahn Hyo-seop is virtually unrecognizable to me here, as I have last seen him in Still 17 and Abyss. He has definitely had some work done on his face.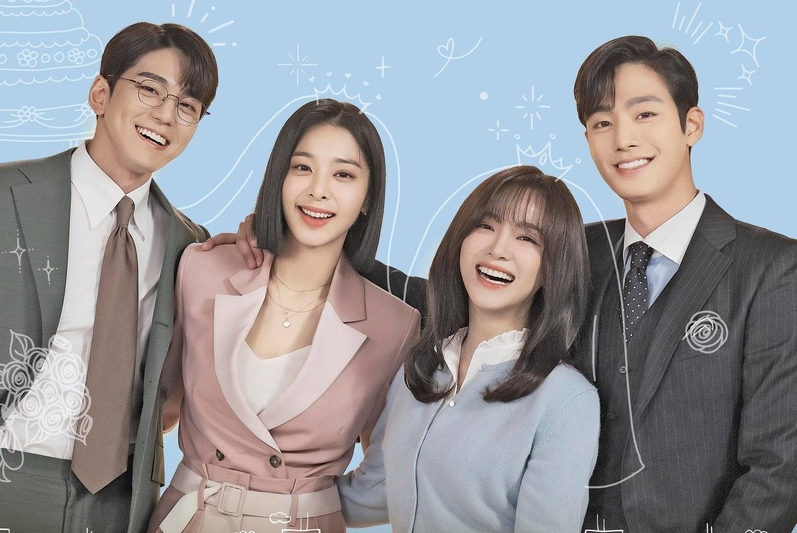 Shin Ha-ri is a food scientist/researcher at Go Food, a conglomerate specializing in instant, ready-to-eat food. Her best friend is Young-seo (Seol In-ah), the only daughter of the Marine Group, also a conglomerate. Young-seo often gets set up on blind dates with other conglomerates' sons and she hates this. She usually gets Ha-ri to take her place on these dates in order to traumatize the guys and drive them away.
Young-seo gets Ha-ri to replace her in yet another blind date. The problem is, this blind date turns out to be with Ha-ri's boss Kang Tae-moo, the CEO of Go Foods. No matter how crazy Ha-ri acts, he isn't discouraged. In fact, he immediately decides he wants to marry her because she's not boring like all the other girls he has been set up with.
Meanwhile Young-seo has fallen for Tae-moo's secretary Sung-hoon.
Tae-moo finds out about Ha-ri and Young-seo's deception and decides to hire Ha-ri t as his pretend girlfriend to get his grandfather off his back.
I was hooked after watching the first episode of Business Proposal. It's light and funny, definitely well-written and never boring. I just wanted more after each episode. This is based on a webtoon of the same title. Things happen at a good pace so it's hard to stop watching once you start.
I must say though, the second couple Young-seo and Sung-hoon are ON FIRE. Their chemistry is sizzling hot and off the charts. It's hard to believe they aren't dating for real. All of their scenes are just magical. I actually preferred watching them over the main couple. The ending is not that satisfying especially as I know how the webtoon ending gives so much more closure.
Business Proposal is a nice break from the heavier, more serious dramas. Kim Se-jeong's versatility as Ha-ri is a pleasant surprise coming from The Uncanny Counter.
Available on Netflix.
Like this post? Subscribe to this blog by clicking HERE.
Let's stay connected: