After watching True Beauty on Viu, I went back to Netflix for my 67th K-Drama series — Sisyphus The Myth. Before I proceed, let me just give a briefer about Sisyphus the man the title is based on. Sisyphus is a king in Greek Mythology who cheats death a few times in an attempt to escape his mortality. This pisses off Zeus, who punishes Sisyphus. In Hades, Sisyphus has to push a boulder uphill only to have it roll back down when he reaches the top. This is a vicious cycle that goes on forever.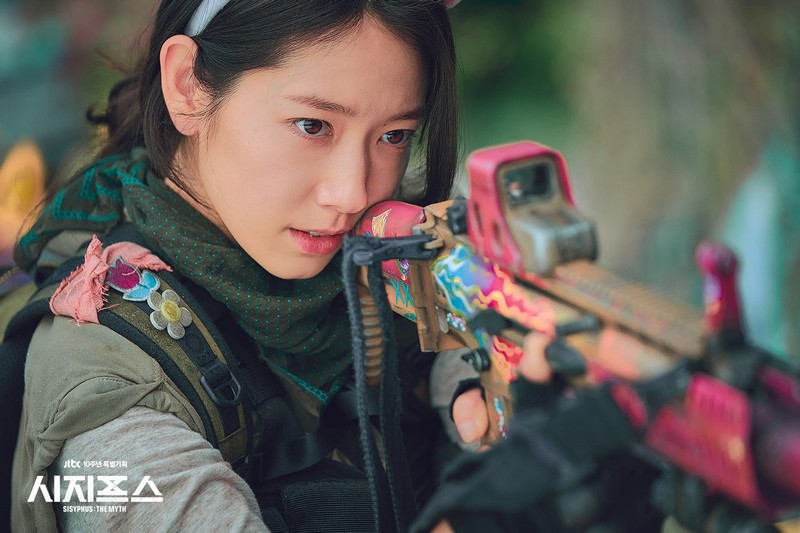 Sisyphus The Myth stars Park Shin Hye  in her most action-packed role yet. She plays Kang Seo Hae, a twenty-something girl from the dark and dreary post-nuclear war future. Seo Hae travels in time to 2020 to prevent the war from happening. For this, she has to find the creator of the time machine, Han Tae Sul.
Han Tae Sul is a wealthy genius who Seo Hae eventually falls in love with. He joins Seo Hae in her quest to prevent the war.
But there is someone who wants the war to break out, a mysterious man known only as Sigma. It's now a race between Sigma and Seo Hae + Tae Sul as to what will happen next.
Okay so from hereon out, spoilers abound. I'll try to explain the ending as best I can based on actual events in the series.
If you've watched Sisyphus The Myth, the vague ending probably left you wondering what happened. After all, everyone "dies" in the finale and then all of a sudden, Tae Sul and Seo Hae are together on a plane holding hands. Before I share my interpretation of the ending, consider the following points:
In the finale, Tae Sul chooses to shoot himself to put an end to the vicious cycle of war and time travel. According to Seo Hae, war breaks out because Tae Sul invents the time machine. Seo Hae can't bring herself to kill Tae Sul so Tae Sul decides to sacrifice himself instead.
If Tae Sul doesn't invent the time machine, the nuclear war never happens. That said, this version of 20+ year old Seo Hae will cease to exist. The Seo Hae that Tae Sul knows is the product of the nuclear war and the time machine. Therefore, Tae Sul killing himself means Tae Sul also eradicating the Seo Hae he knows and loves. Both of them will cease to exist.
In episode 11, Tae Sul goes into Seo Hae's past to try and save her. To do this, both Tae Sul and Seo Hae's bodies are left in the present while their consciousness visits various pockets of time. In one such time pocket, Tae Sul finds his brother Tae San. Tae San tells Tae Sul that this is where he has been hiding all this time so Sigma and the Control Bureau can never find him. He also tells Tae Sul that when Tae Sul goes back to the present, physical world, they will most likely not see each other again. We see Tae San's body in a vegetative state in the present. If their physical bodies die, their consciousness can never go back, having no vessel to return to. This is why after getting shot with the serum, Seo Hae goes back and wakes up but finds that Tae Sul is dead to the world.
Tae Sul tells Seo Hae to find him no matter what before shooting himself. After he dies, we see Seo Hae slowly vanishing.
The Greek Mythology version of Sisyphus has the main character doing the same thing over and over again in vain. Had Tae Sul chosen to build the time machine and retain this version of Seo Hae, it would just result in a vicious cycle where post-war Seo Hae would keep coming back to try and change things.
Considering all the above points, I think what happened in the end is this:
Tae Sul, having discovered that it's possible for one's consciousness to exist in a particular pocket of time (episode 11), concludes that he and Seo Hae can be together while saving the world if he kills himself. In the present, real, and living world, they can never be together without the rest of humanity dying. But leaving their physical existences behind can free their consciousness so like Tae San, they can "hide" in a particular pocket of time. This is why Tae Sul awakens in the plane, where the series started. Only this time, Seo Hae is beside him. He told her to "find" him and she did. When the camera zooms out, we see that the plane isn't real. Much like the pockets of time they visited in episode 11, the plane is one such pocket. It's a happy ending of sorts where Tae Sul and Seo Hae can be together at that point in time — before the time machine was invented and after Seo Hae goes back to 2020. After all, according to the series, what's important is not where, but when.
I've tried looking through all the Sisyhus The Myth ending explained posts and none of them make sense so I'm inclined to stick to my theory.
Dang, Park Shin Hye is my new action hero.
Like this post? Subscribe to this blog by clicking HERE.
Let's stay connected: