Descendants of the Sun is the K-Drama series that practically everyone who's into K-Drama has told me to watch. I wanted to, but I had to wait for it to be available on Netflix. I prefer watching on Netflix because I can watch it on our big ass smart TV wahaha. For the other platforms, I have to watch on my iPad. Anyhow, I must admit I was skeptical because of all the hype this series has gotten. Can it really be THAT good? Then there's the Song-Song couple's marriage after the series and recent divorce.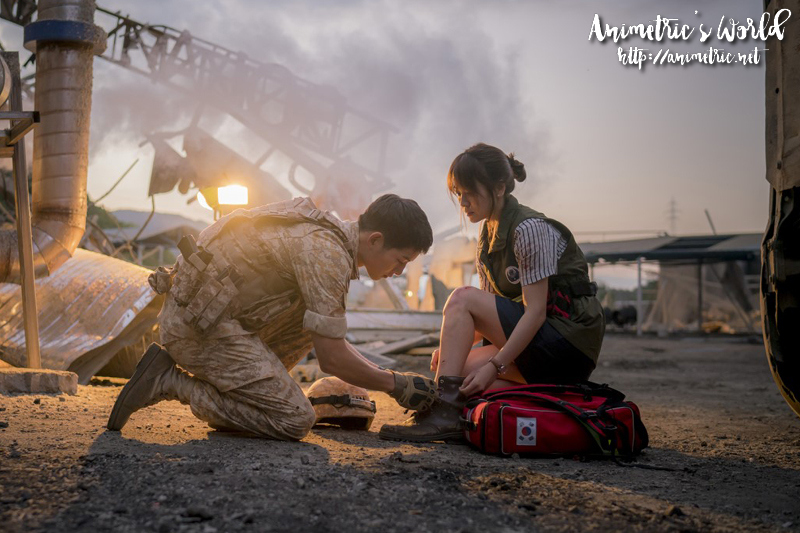 Descendants of the Sun is about a Korean Special Forces Officer named Yoon Si-Jin (Song Joong-Ki). In the first episode, he meets a pretty doctor named Kang Mo-Yeon (Song Hye-Kyo). I have long been a follower of Song Hye Kyo because of her affiliation with my 2 favorite Korean beauty brands Laneige and Sulwhasoo. This is the first time I've seen Song Hye-Kyo act and she is good.
Anyhow, Si-Jin is immediately attracted to Mo-Yeon and the feeling is mutual. They agree to go on a date soon after they meet. Everything seems to be going well until Si-Jin receives a phone call. He is to leave on a mission right away and he can't tell Mo-Yeon where he is going and why. To top it off, he gets collected by a military helicopter on the rooftop of the hospital where Mo-Yeon works. This gives Mo-Yeon a glimpse of what it would be like to be his girlfriend… and she's not sure she's up for it.
Mo Yeon eventually decides to call it quits because she thinks she can't handle being in a relationship with a soldier. They part ways amicably, although the attraction between them is undeniable. As fate would have it, Mo-Yeon gets dispatched to lead a medical mission abroad… right where Si-jin is assigned. They meet again and the attraction is still there.
In a foreign land, Si-jin and Mo-Yeon get into a lot of dangerous situations. They both gain a better understanding of what they do… Mo-Yeon as a doctor whose priority is to save lives, and Si-jin as a soldier who has to kill to save lives.
They eventually end up together, but it's not smooth sailing. Si-jin still keeps getting called off to dangerous missions even after they get back to Korea. Mo-Yeon is always left behind waiting and hoping that he comes back alive. Descendants of the Sun is their story.
What can I say? I frickin' LOVE this series. Most K-Drama series take time to unfold and it's usually around episode 8 to 11 before the main characters admit or realize what they feel for each other. Not so with Descendants of the Sun. Si-jin and Mo-Yeon are attracted to each other the first time they meet and they acknowledge this right away without any drama. What happens in one episode of DOTS happens in like 3-4 episodes of other series. That's just how fast-paced DOTS is. The Song-Song couple really do suit each other and so I am affected by their divorce after watching this. WHY WHY WHY??? Huhuhu…
DOTS is a good mix of comedy, drama, action, and romance. Once you start watching, you can't stop. I finished it in 3 days, watching 7 episodes straight on the 3rd day thereby sleeping at 4am lol. It's just TOO GOOD. The last episode actually got 41% ratings in Korea when it showed.
The main flaw of this series for me is the ending. It's super weird. After all that the characters have been through that's it??? Not to say that it isn't happy… it is, but it's just bizarre. You'll know what I mean when you watch… but don't let it bother you too much because everything that needs to get resolved does get resolved so there aren't really any loose ends.
All in all, Descendants of the Sun is a story about love that runs so deep that it can accept the other person as he/she is and not having it any other way. Definitely one of the best series out there so go watch it if you haven't yet! Available on Netflix and iFlix.
Like this post? Subscribe to this blog by clicking HERE.
Let's stay connected: