Mr. Sunshine is the 61st K-Drama series I finished. I watched it over a span of months, lol. Two eps here, three eps there… sometimes I'd watch just one. It's on the heavy side so I could only do a few episodes at a time. It's very good though. No expense was spared in terms of production design, costumes, cinematography, etc. Watching it is like getting transported to that turbulent time in Korea's history.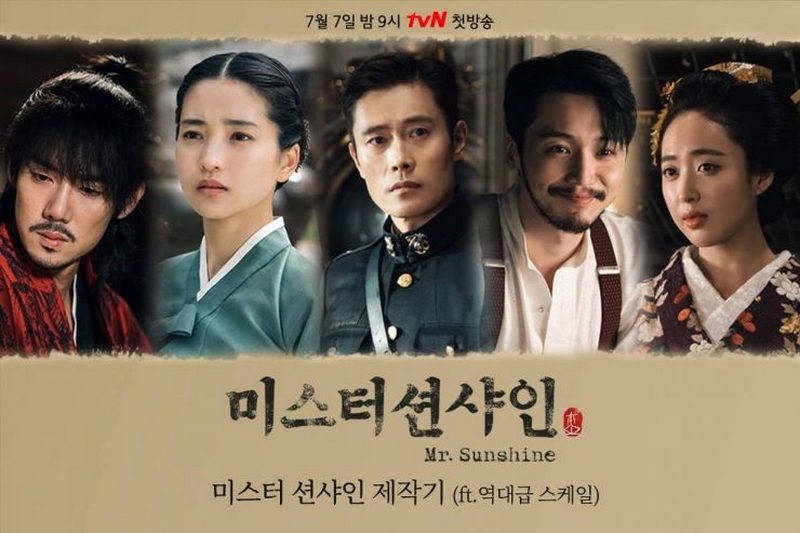 Mr. Sunshine has 5 main characters that propel the plot: the Rurouni Kenshin-esque Korean samurai Goo Dong-mae, the noblewoman turned sniper Ko Ae-sin, the Korean-American soldier Eugene Choi, the wealthy playboy Kim Hee-seong (who is also engaged to Ae-sin), and the mysterious hotel owner Hina Kudo.
They are very different people but they are all connected… and in the end they are united by wanting to stand up for their country Joseon.
Eugene Choi is the son of Korean slaves. He escapes to the US when an American missionary smuggles him onto the ship headed for home. Eugene becomes a decorated American soldier and is subsequently assigned to Joseon.
In Joseon, he meets Ko Ae-sin, a beautiful woman who hails from an aristocratic family. Ko Ae-sin is a noblewoman by day and a sniper for the Righteous Army by night. They are instantly attracted to each other and find themselves crossing paths often.
Be it as it may, Ko Ae-sin's priority is fighting for her country… and so her feelings for Eugene always take a backseat.
Goo Dong-mae is someone Ko Ae-sin saved during her childhood and since then he has always had a thing for her. He's a complicated character — he switches nationalities from Korean to Japanese when it suits him. He works for the yakuza but he's not really a bad guy.
Hina Kudo is a Korean girl who was married off to a rich Japanese man. He ends up dead and she inherits everything he owned — including a big hotel in Joseon. She starts out wanting Eugene Choi and eventually falls for Goo Dong-mae. Hina also becomes allied with Ko Ae-sin. It's really fascinating how these characters' lives are intertwined. Even the main male characters — Goo Dong-mae, Eugene Choi, and Kim Hee-seong have some sort of amusing bromance going on despite each one being in love with Ae-sin.
Mr. Sunshine is such a rich and complex series with intricate, compelling characters. It's 24 episodes long but there are no useless fillers — it is what it is. It's about people trying to live amidst the impending Japanese invasion of Korea. This is without a doubt one of the most excellently crafted K-Drama series out there. I thought all the actors performed really well, and I'm wondering why Kim Tae-ri (Ae-sin) and Kim Min-jung (Hina) don't star in more dramas. They're both very beautiful and talented.
Definitely a must-see.
Available on Netflix.
Like this post? Subscribe to this blog by clicking HERE.
Let's stay connected: