The Devil Judge is the 81st K-Drama series I've watched right after Happiness. It's the first drama starring Ji Sung that I've seen and I'm impressed. Ji Sung is soooo good-looking and he's such a great actor. His co-star is GOT7's Jinyoung, who was the lead in He is Psychometric.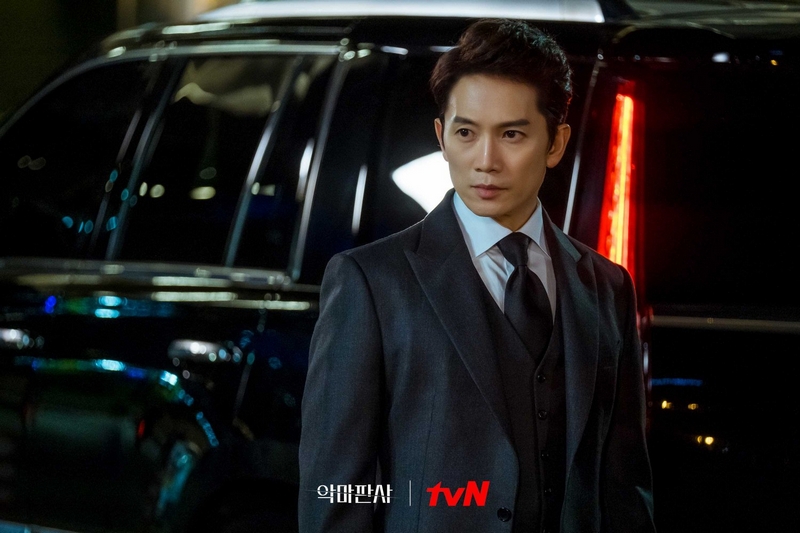 The Devil Judge is about a post-pandemic South Korea. Everything is in disarray and there's general discontent and chaos amongst the citizens. Trials are held through a courtroom live show headed by Judge Kang Yo-han played by Ji Sung. By his side are two other judges — Judge Kim Ga-on (played by Jinyoung) and Judge Oh Jin-joo.
Judge Kang's way of ensuring that justice is served is getting the people to vote guilty or not guilty via an app. He also has a creative way of meting out punishment. This makes the courtroom live show and Judge Kang very popular among the people — something that displeases the higher-ups like the president.
Soon, Judge Kang starts going after powerful and influential people. He can't be bribed and so the powers that be do everything they can to pull the plug on the courtroom live show.
Soon Judge Kang and Judge Kim realize that there are more forces in play than what everyone is led to believe. The president himself is covering up something big, and they need to do something about it.
The Devil Judge is a very well-crafted series that focuses on Judge Kang Yo-han — mainly how he handles controversial cases and wins the citizenry over with his radical approach. For most part of the series, you're made to doubt Judge Kang… you don't know if he's good or evil. As the plot progresses, we get bits and pieces of his past interspersed with the present. It's only in the final episodes that we get to connect the dots. Both Ji Sung and Jinyoung are excellent actors. They flesh out their characters so well. I was also very happy to see the talented Kim Min-jung whom I last watched as Hina Kudo in Mr. Sunshine.
A unique plot, a good pace, and praiseworthy performances from the cast make this series worth checking out.
Available on Netflix and Viu.
Like this post? Subscribe to this blog by clicking HERE.
Let's stay connected: