Twenty Five Twenty One left such an impression on me that again, I must talk about it at length just like I did The Red Sleeve. This is the 88th series I've watched and it's seriously giving me Reply 1988 feels. Twenty Five Twenty One follows the story of Na Hee-do, a Korean fencing champion. Everything unfolds from the eyes of Hee-do's teenage daughter Min chae. Min chae finds Hee do's diary in her old bedroom at grandma's house. As she reads, she starts to see her mother in a different light.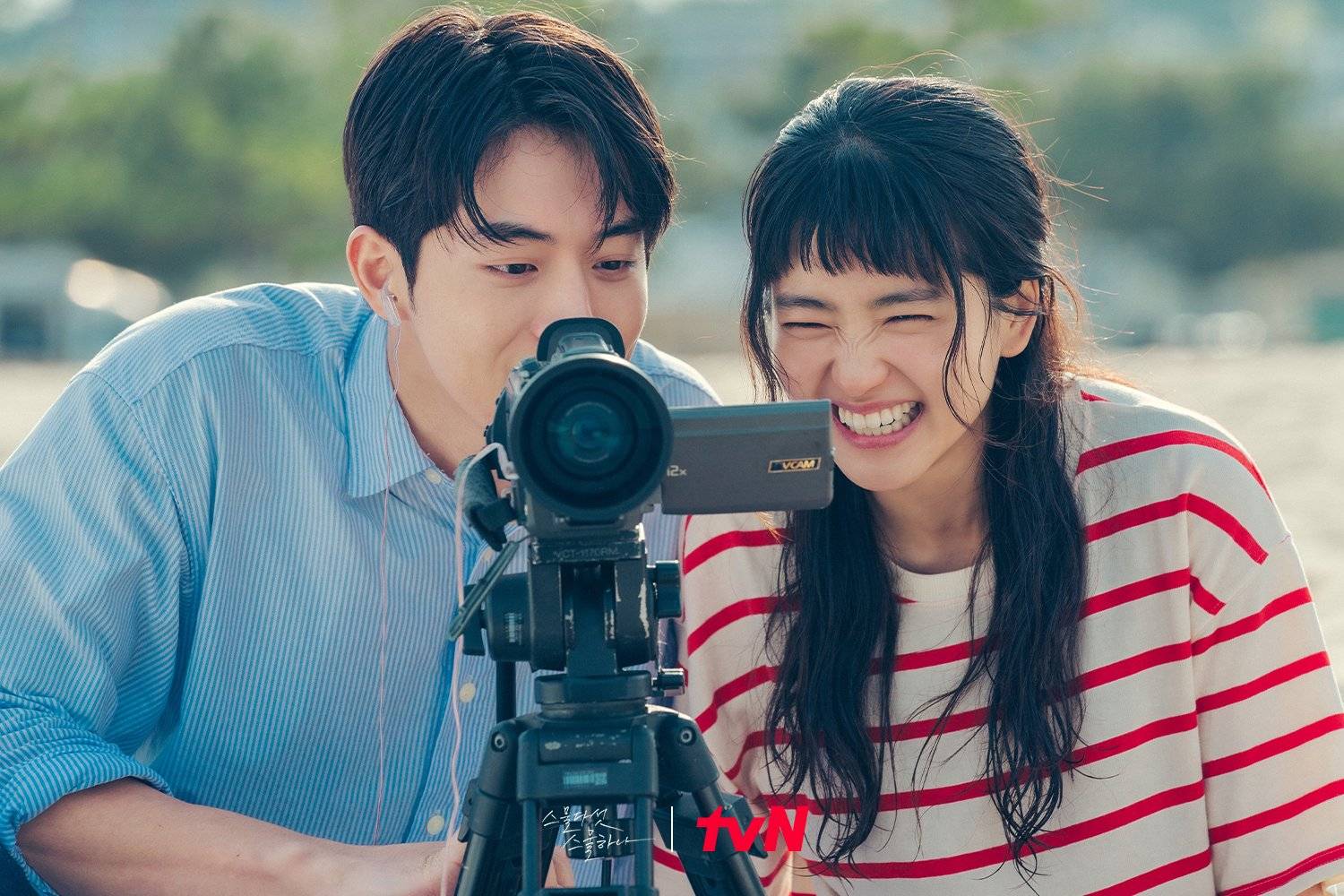 Na Hee-do (played by Kim Tae-ri) is a feisty senior high school student who just wants to fence. When her school dissolves the fencing team, she decides to transfer to another school to pursue her passion. Incidentally, this school is the one the champion fencer Ko Yu-rim goes to. Hee-do trains like crazy and it doesn't take long for her to become Yu-rim's rival. Somewhere between fencing, reading comics, and running around town, Hee-do meets Baek Yi-jin. Yi-jin is 4 years older than Hee-do but they hit it off and become good friends. Hee-do's dad died when she was young and her mom is a popular news anchorwoman who's always too busy. Yi-jin becomes her source of comfort and support.
Hee-do becomes friends with Yu-rim, Sheung-wan, and Ji-woong. Yi-jin also becomes part of the group. They have a lot of typical teen adventures and misadventures.
Yi-jin gets a job as a sports reporter. He's in charge of covering fencing. This presents some challenges as he has some difficulty maintaining an objective distance from Hee-do and Yu-rim. Yu-rim's story is particularly interesting and is one of the plot points that will keep you glued to the screen.
Eventually, Hee-do and Yi-jin cross the line and transition to lovers. Surprisingly, Hee-do's mom approves of their relationship. Everything is good until Yi-jin is promoted at work. He has less and less time for Hee-do.
Twenty Five Twenty One is not so much a love story but a story about the different kinds of relationships one can have in life. It marks one memorable period in a person's life, one that felt like it would last forever. The series is extremely well-written well-cast and all the characters were brought to life remarkably by the actors. Kim Tae-ri won the Baeksang Best Actress Award for her portrayal of Na Hee-do.
If you don't want spoilers, its best you stop reading at this point because I will address the elephant in the room that is the ENDING. A lot of people hated that Hee-do and Yi-jin do not end up together but see, there was NO WAY that could have happened for the following reasons:
Hee-do grew up pretty much alone because her mom was always busy working as a news anchorwoman. Her mom barely spends any time with her as she is always on call when there's a news flash. This is something Hee-do is very bitter about for most part of the series. We can clearly see Yi-jin going on this same path, even becoming a news anchorman himself to succeed Hee-do's mom. I sincerely doubt Hee-do would want a husband who's always stuck at the TV station and away from her side.
Yi-jin's background makes him want to prove himself. His family went bankrupt and he was unable to graduate from college due to financial problems. He was the first ever undergrad reporter accepted at UBS and he experienced a lot of discrimination for not having a college degree. He takes on all the challenges at work and proves that he is capable and more than deserving of his position. We can see Yi-jin aiming higher and higher career-wise. He continues on this path even if he knows that it will lead him farther and farther away from Hee-do.
It's simple really. Hee-do is always adjusting for Yi-jin but Yi-jin is always choosing his career over Hee-do. One person can't make a relationship work. The other party has to want it just as badly (please refer to Yu-rim and Ji-woong). Yi-jin for all his tears, does not seem to want it enough to prioritize Hee-do even just a bit. Nobody wants to be stuck in a relationship characterized by broken promises and apologies.
With regards to *who* Min chae's father is, WHY is that even relevant? Obviously, her father is Hee-do's husband. Hee-do was the first to get married among her friends. Since her husband has no bearing on the period of her life that the series tackles, he is not shown or mentioned. There was no indication of Yi-jin and Hee-do engaging in a sexual relationship so the theory that Yi-jin could be the father has zero merit. Seriously, the clues are all there from the start. I knew from the get-go that they would not end up together.
A season 2 is highly unlikely as this series gives Hee-do the closure she needs to move on from that point in her life.
Twenty Five Twenty One is a beautiful series that will make you look back and reflect on the past. There is a lot of character development and life lessons to be learned. Highly recommended.
Available exclusively on Netflix.
Like this post? Subscribe to this blog by clicking HERE.
Let's stay connected: