My 105th series is a romcom starring the queen of romcoms herself, Park Min-young. I say this because this woman has the amazing ability to generate really intense chemistry with whoever her leading man is — for reference check What's Wrong with Secretary Kim? and Her Private Life. Love in Contract is only available on Prime Video. I got a 6-month free trial from my Globe postpaid account last December 2022.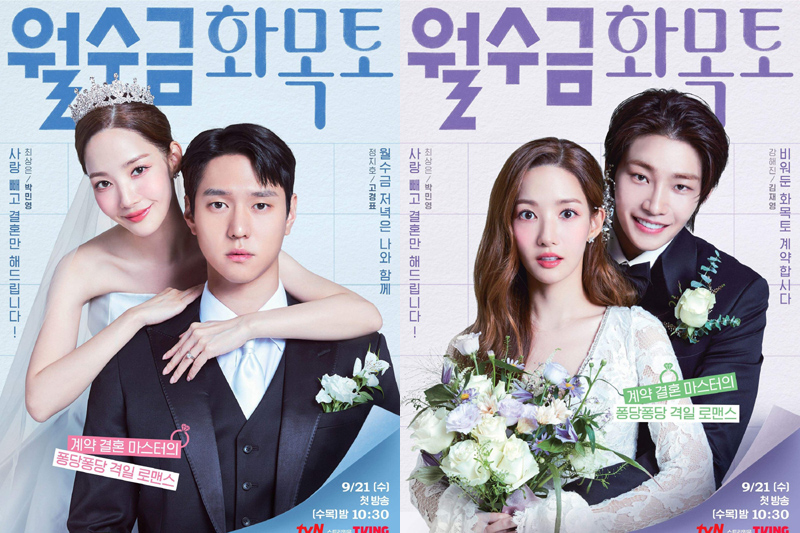 Okay so Love in Contract has Park Min-young playing the role of Choi Sang-eun, a single life helper by profession. What is a single life helper? Well, she's kind of like a wife for hire. If anyone needs to get married or present a wife in any occasion, you go into a contract with Sang-eun and she acts like your wife for show. Registering the marriage entails extra fees. Because of this career, Choi Sang-eun has gotten divorced 12 times.
One such client is Gwang-nam (if he looks familiar it's because the same actor played the cop in Hometown Cha Cha Cha). Gwang-nam is gay but wants to get his family off his back (they don't know) so he enters into a contract with Sang-eun to fake their marriage and eventual divorce. Gwang-nam and Sang-eun hit it off so well as BFFs that they decide to live together and become housemates. Sang-eun is an orphan with no siblings so she welcomes the company and treats Gwang-nam as her brother. I find this trope a breakthrough in K-Drama because it is still quite rare for a Korean series to have a gay character.
Sang-eun already wants to retire and migrate to Canada with Gwang-nam, having already saved up a substantial amount of money. Problem is, something happens which wipes her out financially and so she has no choice but to postpone retirement and accept an extremely high-paying job pretending to be a popular actor's fiancee. But she also still has a good-paying contract with a judge who happens to live in the same building. She divides her time like this — MWF for the judge and TTHS for the actor. Sundays are her off days.
Sang-eun eventually realizes that she has actually fallen for the judge, but love is never really easy or straightforward in a K-Drama series so a lot of things need to happen before they finally get together. The actor client liking Sang-eun for real is another complication.
I really enjoyed how this series played out. The actors all fit their roles perfectly and Park Min-young still has not lost her magic when it comes to generating chemistry with her leading man. It's a relatively light and feel-good series with a neat ending that ties everything up nicely. I do wish they had given Gwang-nam's side plot a tad more attention but as is, having a character like him is already a breakthrough… at least that's what I think.
If you like romcoms, you'll most likely like Love in Contract. Available exclusively on Prime Video.
Like this post? Subscribe to this blog by clicking HERE.
Let's stay connected: