I had a hard time finding a series to watch after finishing Angel's Last Mission Love. It was just so so so good. So hard to get over! After another string of unfinished episodes here and there, I started Reply 1988 which seemed to be trending on my feed. It's my 53rd series — I'm keeping count! People warned me the first couple of episodes are kind of slow and might bore me, but I beg to differ. I was engaged from start to finish.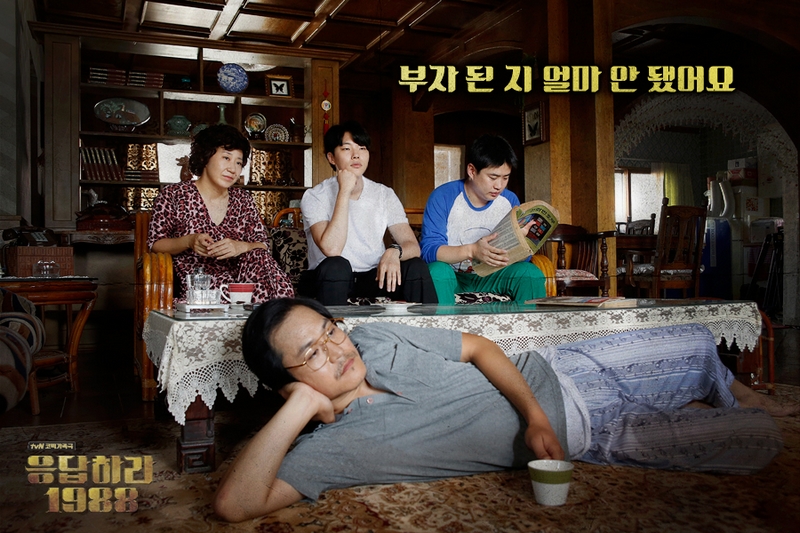 Reply 1988 is about five Korean families living on the same street. The parents are good friends and so are the kids who are all about the same age. The kids pretty much go in and out each other's houses freely, having dinner here, watching TV there, and so forth. It's very nostalgic and it certainly got me hankering for my childhood days in the good old '80s.
Reply 1988 is very relatable. It's a show about school life and family life during a time without cellphones or internet. People talked more. They hung out and watched TV together… played board games… that kind of thing. The core gang is made up of 4 boys and 1 girl, then there's their siblings. Being kids of the same age, it's unavoidable that romantic feelings would eventually surface.
The way Reply 1988's story is told is via a narrator (Deok Sun, the female lead who's now in her 40s) recounting the days of her youth. Who Deok Sun ends up with among the guys she hangs out with during her younger days is the puzzle. Which one did she end up marrying? You're not really sure until the last few episodes.
Reply 1988 takes you back to simpler, happier times. I was so invested in what was happening to everyone that I spent maybe 3 nights in a row sleeping at 3am. Even my hubby who usually doesn't care what I watch ended up watching with me.
If Reply 1988 had a western counterpart it would probably be The Goldbergs, another series I'm quite fond of.
I just couldn't get enough of Reply 1988. The romance part doesn't even intensify until the last half but I think I'm here for the memories of a time gone by. There are no fantasy elements, elaborate plots, or extraordinary characters but he/she could very well be your classmate, brother, sister, next door neighbor, and so forth. It's relatability at its finest for 80s kids like me. There are also a multitude of life lessons to be learned. Highly recommended.
FACT: Two of the actors actually do end up dating in real life after the drama and they're still going strong to this day! 😀
Reply 1988 is available on Netflix and Viu.
Like this post? Subscribe to this blog by clicking HERE.
Let's stay connected: