The 84th K-Drama I've finished was All of Us Are Dead. It went by in a blur. The story is the usual — one student gets bitten by a lab rat, becomes a zombie, and then goes on to bite other people. IN SCHOOL. That's lots and lots of people… because bitten people go on to bite other people until pretty much almost everyone in the show is zombie-fied. But then there are ham-bies… half-zombies who don't completely turn. They retain their mental faculties as a human while gaining the superhuman abilities of a zombie.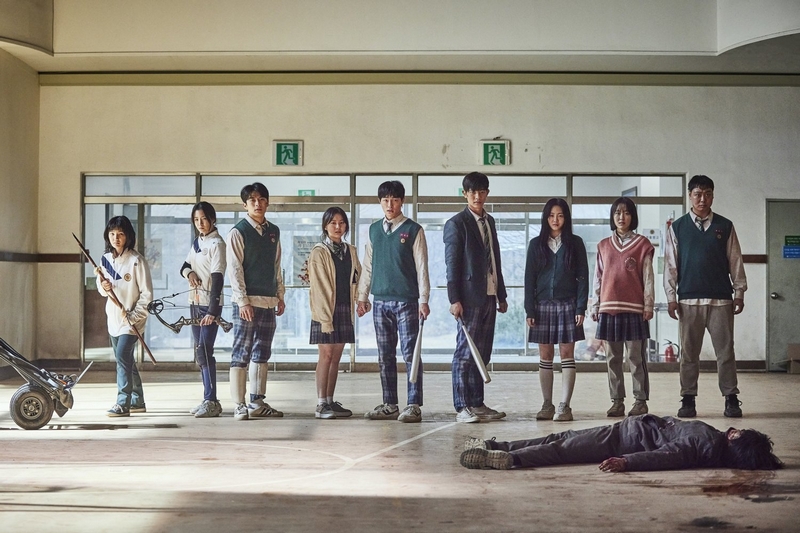 As the story goes, Lee Cheong-san and his friends are the last students standing in a school overrun by mindless, carnivorous zombies. The challenge is how to escape from the school and make it to the outside world. There's really nothing special in terms of plot twists but I couldn't stop watching anyway. Everything happens fast and you just want to know what's next.
The cast is comprised of mostly new faces, save for Squid Game's Lee You-mi who plays the antagonist Na-yeon. I thought the acting was okay, considering they're all newbies. There are a lot of zombie-related stunts and action sequences.
Well damn, the zombies are really good at what they do. I heard that they're actually dancers so it was easier to choreograph their zombistic movements.
The group is not without its casualties and their number whittles down as the series progress.
The series concludes with a cliffhanger — you don't know what happens to some of the characters, leaving the door open for another season.
All of Us Are Dead is a fun and fast-paced series that's good to watch if you don't want to think. It's straightforward and action-packed. Nothing complicated, nothing life-changing… just mindless entertainment that we all need sometimes.
Available on Netflix.
Like this post? Subscribe to this blog by clicking HERE.
Let's stay connected: