Lee Min-ho, Park Seo-joon, Ji Chang-wook, Kim Soo-hyun… these are just some of the most popular oppa worldwide. Any series headlined by them are almost always guaranteed to be a hit. But iconic roles during the pandemic years gave rise to a whole new set of oppa — and none of them are new to the business. They got the right role at the right time and everything as they say, is history.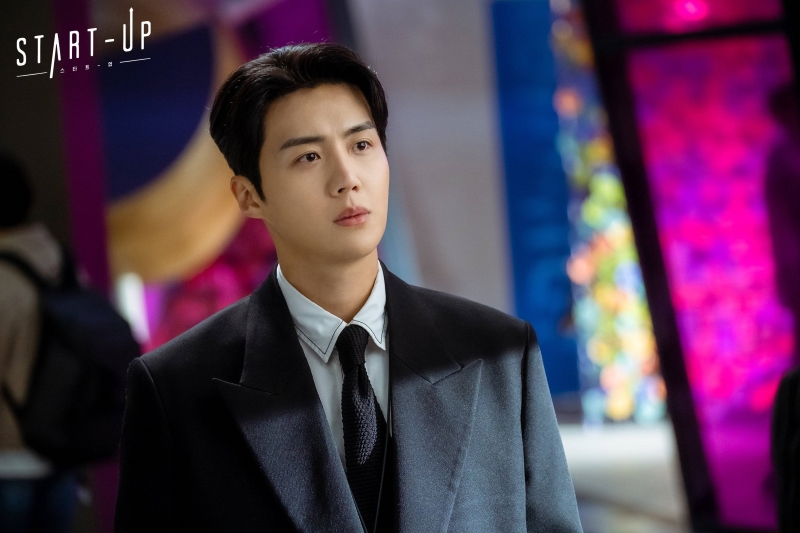 First on the list of course is Kim Seon-ho, who was just here in Manila for an insanely successful fan meet. What launched Kim Seon-ho to stardom was no doubt his role in Start-Up as the good boy Han Ji-pyeong. He captured a lot of hearts worldwide with his sincere and heartfelt portrayal. People everywhere were rooting for his character despite him being the second lead. This led to more projects and a barrage of endorsements. He is only one of the few Korean celebrities who was able to survive a scandal and thrive afterwards.
Next on the list is Wi Ha-joon, who played the cop Hwang Jun-ho in Squid Game. Honestly I'm surprised with this one. I had already seen him in 18 Again, where he was the second lead. He was the baseball player Ye Ji-hoon. I didn't really think much of him then but what a difference a more suitable role makes. I thought he was a much better fit for the kickass fearless cop who infiltrated the Squid Game organization. Apparently, everyone else thought so too because he gained millions of followers on IG right after Squid Game aired… and most of them are thirsty females lol. He has also gotten more projects and multiple endorsements after Squid Game.
Unsurprisingly, next up is Lee Do-hyun, who I first noticed on Hotel del Luna. Poor guy played a firefly who followed IU's character around for centuries. He did get his break with the lead role in 18 Again where he had to play Go Woo-young, a middle-aged man stuck in a teenager's body. Lee Do-hyun showed a lot of range and numerous projects followed thereafter. He's always getting paired up with older women for some reason though (see Melancholia and The Glory).
Choi Woo-shik is another surprise oppa. I first watched him in the movie Parasite where he gave off pesky little brother vibes. Who knew that behind the little brother facade was a leading man worthy of a romantic series as evidenced the success of Our Beloved Summer. His chemistry with Kim Da-mi was so swoon-worthy it had me glued to the TV for days. Both of them enjoyed a boost in popularity after their series aired.
If you've watched True Beauty, you'd know why Hwang In-yeop is included in this list. Hwang In-yeop played second lead Han Seo-joon opposite Cha Eun-woo's male lead character Lee Su-ho. Not only did Hwang In-yeop show us he won't be undermined, he gave a fantastic performance as the warm-hearted bad boy who has girls dreaming of him. He has landed several high profile dramas since — The Sound of Magic and Why Her? just to name a couple. Hwang In-yeop is also currently the face of BYS Cosmetics.
Park Solomon wasn't the lead in All of Us Are Dead but he pretty much stole the show with his character Lee Su-hyeok along with his onscreen partner Cho Yi-hyun who played Choi Nam-ra. Their ill-fated romance (kinda) made audiences' hearts flutter and Su-hyeok's skills made him one of the most valuable members of team classroom. With his newfound popularity, acting projects have come pouring in and you'll soon see more of him in an upcoming Disney+ K-Drama series.
Anyone here who hasn't watched Extraordinary Attorney Woo? This isn't Kang Tae-oh's first drama but it's the one that put the spotlight on him through his charming portrayal of Lee Jun-ho, Attorney Woo's love interest. He definitely gained a lot more fans after the series aired, unfortunately he enlisted in the military immediately after. Here's hoping he can pick up at the high he left off when he comes back in 2024. Extraordinary Attorney Woo is after all confirmed for a second season and the production team has started that they have every intention of keeping the original cast.
Most of these oppas prove that you don't have to be cast as the lead to make your mark in the industry. Sometimes it's a matter of getting the right role at the right time. Know of any other oppa who needs to be on this list?
Like this post? Subscribe to this blog by clicking HERE.
Let's stay connected: