Our Beloved Summer is my 83rd K-Drama and it's so far one of the best ones I've seen this 2022. It follows the story of Kook Yeon-soo (Kim Da-mi) and Choi Woong (Choi Woo-shik). Yeon-soo and Woong have a lot of history behind them. They met in high school, when a TV station asks to make a documentary of the best and worst students in school. Yeon-soo is no. 1 while Woong is in last place.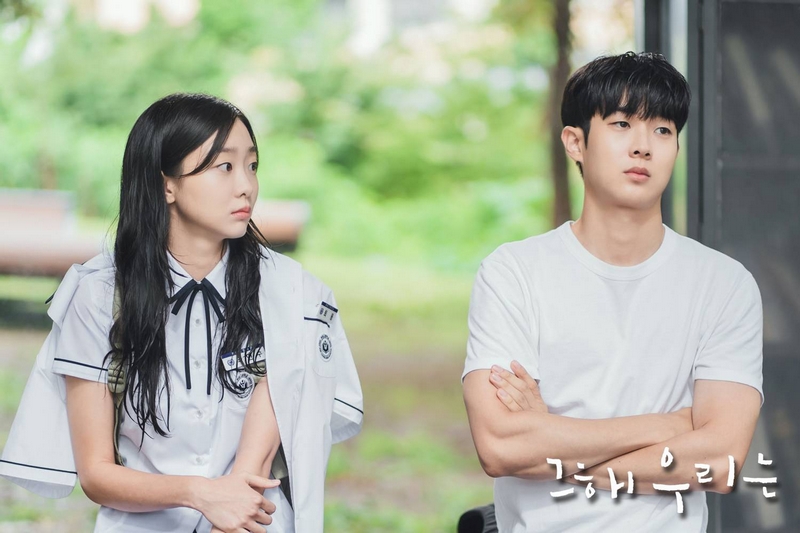 Yeon-soo and Woong are forced to stick together because of the documentary. They have a funny love-hate relationship which captivates audiences, making the video go viral. The two end up dating and breaking up on very bad terms.
Years after their breakup, Yeon-soo becomes an established PR executive while Woong is known as the mysterious reclusive artist Go-oh. A brand Yeon-soo is handling wants Go-oh to work on their launch and so Yeon-soo and her team goes about finding out how to contact Go-oh. Eventually, Yeon-soo finds out that Go-oh is actually Woong. Things are very awkward between them but Yeon-soo has no choice but to try and convince Woong to work with the brand.
Woong doesn't make it easy for Yeon-soo. It doesn't help that the famous K-pop star NJ is enamored with him. Yeon-soo and Woong keep ending up with each other because of work. We eventually find out just how bad their breakup was, which had left Woong still wondering why Yeon-soo had to leave him.
The chemistry between Choi Woo-shik and Kim Da-mi is incredible. It's off the charts. You just can't help but root for them as a couple. They work through the entire love-hate-love-hate roller coaster ride flawlessly. Their backstory is uncovered in bits and pieces as various situations arise.
Our Beloved Summer is a light, funny, and somewhat nostalgic romance that's a lot of fun to watch. There's never a dull moment — I was hooked from episode 1. The plot is very simple…  the characterization is where this series really shines. Kim Da-mi and Choi Woo-shik deliver very authentic and believable performances which will have you wishing that they end up together in real life. Overall it's a great feel-good series.
Available on Netflix.
Like this post? Subscribe to this blog by clicking HERE.
Let's stay connected: