These days, when it comes to watching movies and TV series, streaming is the way to go. I just don't have the patience to tune in week after week. I want all the episodes to be available whenever I want to watch. Anyhow, I got hooked on K-Dramas early this year and I've been a binge-watcher ever since. When it comes to K-Dramas, there is no single platform that has everything I want so I have a variety of sources. One such source I discovered recently is Iflix. Iflix is a video streaming service that's available in countries like the Philippines, Malaysia, Thailand, Indonesia, Saudi Arabia, etc.
Iflix has a Korean section called K-Flix which contains all of the Korean TV series and movies in their lineup. Did you know that you can watch for FREE? You don't even have to register. Just download the app or go to the Iflix website and stream away. So why bother getting a subscription? Well for starters, free Iflix doesn't give you access to VIP titles like the ones I've highlighted in the above photo.
If you sign up for VIP access, you get unlimited access to every single title featured in Iflix. You can even download the videso so you can watch even without an internet connection. VIP access starts at P10 a day… but it's more economical to get it on a weekly (P50/week), monthly (P129/month), or yearly (P1,308/year) basis.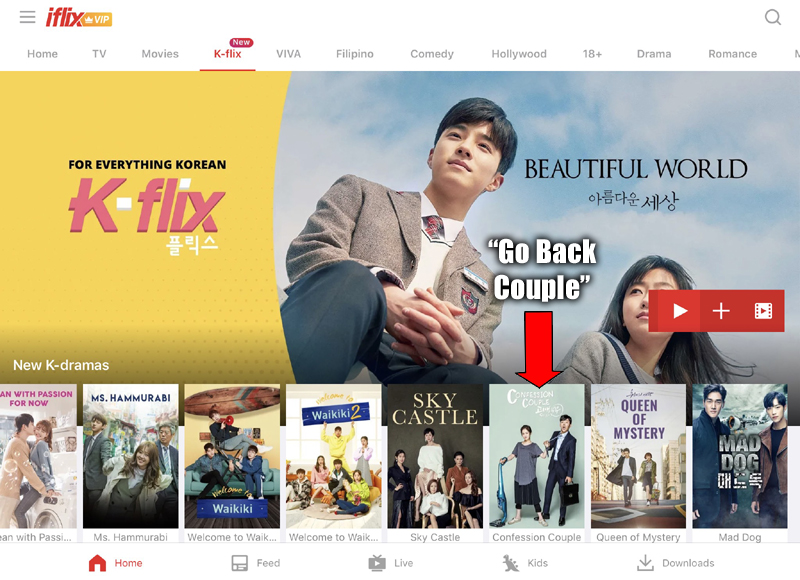 I'm currently streaming "Confession Couple" on Iflix, also known as "Go Back Couple". I've always wanted to watch this series because all of my friends who've seen it have said that it's very relatable to anyone who has ever been married.
Confession Couple (Go Back Couple) is a 12-episode series about an unhappily married couple who are blaming each other for their miserable life. They file for divorce and say that if they could go back in time, they'd make sure they didn't end up together. Well, wish granted. They wake up the next day as their 20-something college selves again. They try their best to avoid each other and seek out other potential romantic partners. It's a very interesting premise and I wanted to know how it's going to pan out. I'm currently halfway through the series and there has not been a dull moment.
The K-Dramas on Iflix are available subtitled in several languages and/or Tagalog-dubbed.
If Korean entertainment isn't your thing, Iflix also has an extensive selection of Hollywood movies and TV series. They actually have all the Harry Potter movies for starters.
The Filipino selection is pretty good too. There's even a VIVA category featuring old and new Pinoy films and TV series. Iflix carries titles like "Encantadia", "Mulawin", "Bagets", "Meet Me in St. Gallen", "I Love You, Hater", etc.
My teenage self would have loved the anime section. I used to be very much into anime. I prefer K-Dramas these days.
How would you like to win 3 months worth of IFlix VIP Access? I'm giving away ten (10) subscriptions for FREE on Instagram.
Like this post? Subscribe to this blog by clicking HERE.
Let's stay connected: