Last January, I booked a tour of Mt Fuji and Gotemba Premium Outlets via Klook. We had a trip to Tokyo scheduled from April 10 to 16 and we really wanted to see Mt Fuji and shop at Gotemba. We opted for the Klook Mt Fuji Classic Route Day Tour which cost P2,700+ per head at our time of booking. I had zero expectations because it was so cheap and there were mixed reviews on the app. No one has ever blogged about it too so I had no idea what was in store for us.
So I downloaded the Klook app and registered for a free account. I decided on a random date for our Klook Mt Fuji Classic Route Day Tour — April 12, 2018. It was a Thursday. I didn't want to go on a weekend because I know locals also flock to Gotemba to shop when they have no work. The less crowded it was, the better. It was too early to rely on weather forecasts for Mt Fuji's visibility because I was booking more than 3 months in advance. All I could do was pray we'd see it lol.
For this particular tour, we had to go to the Shinjuku Prince Hotel lobby to meet up with our Chinese tour guide. Yes, this tour comes with a Mandarin-speaking tour guide. We lucked out because she was a super nice and accommodating lady who tried her best. By this I mean she spoke in her limited English whenever she could.
We were given audio guides which supposedly has an English translation of everything our guide was saying in Mandarin. They don't work though, all we could hear were garbled and unintelligible sounds so I just set it aside.
Our first stop was the Fujisan World Heritage Center. Our tour guide said after watching the short informational film about Mt. Fuji, we could explore the place on our own.
This is what's inside the Fujisan World Geritage Center. There are all sorts of info about Mt. Fuji.
There are interactive displays which show you stuff like what species of birds can be found on the mountain etc.
It's a really good place to learn more about Mt. Fuji.
The best part of the Fujisan World Heritage Center is the observation deck which gives you a great view of Mt. Fuji. It was a really lucky day for us because the weather was perfect and we could see all of Mt Fuji in its glory.
Our next stop was Oshino Hakkai, a small idyllic village which also offers a spectacular view of Mt. Fuji.
There are several ponds like this one. The ponds are one of Oshino Hakkai's main attractions. We also got to try a lot of traditional Japanese food items here — dango, charcoal-grilled sweet potatoes, etc.
You can also taste/drink Mt Fuji water at Oshino Hakkai. You can either bring your own container or buy a plastic bottle for 150 yen.
There are 2 places where you can get Mt Fuji water at Oshino Hakkai. One is indoors and one is outdoors. Mt Fuji water is naturally cold, light, and extremely refreshing. Here's a bit of trivia — Yakult Japan uses Mt Fuji water for their beverages. One of their factories is actually in the Mt Fuji area.
After our stop at Oshino Hakkai, we were taken to a place where we would learn how to make matcha the traditional Japanese way.
A nice lady in a kimono conducted the session.
We poured a pre-measured amount of hot water into a bowl with matcha powder and whisked away with small bamboo whisks. The lady said we had to whisk until there were bubbles in our tea. Then we're supposed to eat sakura mochi while drinking the tea. OMG. This has got to be the best matcha I've ever had! We all headed to the shop outside to buy some matcha powder afterwards.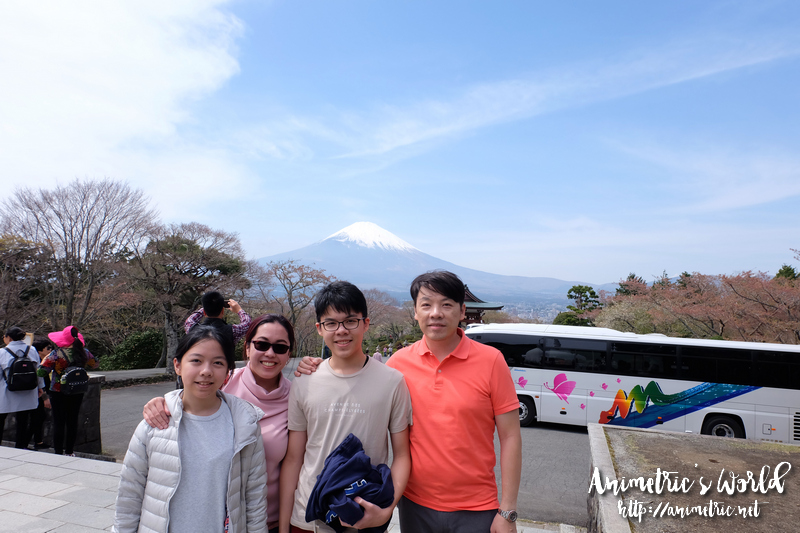 Our next destination was Peace Park, a tree-lined place which also offers a splendid view of Mt. Fuji. That's our tour bus behind us.
It was such a pleasure walking through the park and taking in the fresh air.
The majestic Mt Fuji was practically by our side the entire day.
The cool weather was just perfect, we didn't even need our jackets.
The last item in our itinerary was shopping at Gotemba Premium Outlets. We were given 90 minutes. It was too short, really. This place is huge. Last year we spent 3+ hours here. I was practically running all the way to the other end where the shops I wanted were located. It didn't help that our bus was parked SO FAR AWAY that the walk to the outlets takes a good 10 minutes. I did score a leather Prada bag though, it cost around P40+k. Gucci and Prada are quite cheap in Gotemba.
After Gotemba, we made our way back to Shinjuku. We were dropped off the Duty Free shop of Takashimaya Shinjuku where all of us were given a free gift — a Mediheal Hyaluron Aqua mask!
Here are my thoughts on the Klook Mt Fuji Classic Route Day Tour:
It's really good value for money — imagine at P2,700+ per head you cover so much ground around Mt Fuji. A roundtrip bus ticket to Gotemba alone costs around P1,500.
I liked all the places we visited.
Our tour guide was really nice and accommodating. Other groups have had the misfortune of getting stuck with rotten guides according the the reviews I've read.
All of our bus-mates were all prompt. Everyone was back in the bus on time at every stop. This is very important because if you get stuck with latecomers, some things would be cut out of the itinerary.
Our tour didn't include a lunch stop but you have time to eat at Oshino Hakkai or Gotemba Premium Outlets.
The tour guide told us that the group she went with the day before didn't see Mt Fuji.
Overall we were all very happy with the Klook Mt Fuji Classic Route Day Tour. I gave it a 4-star review on the app. I guess if the mountain was hiding behind the clouds and totally not visible we would not be as happy. But that is beyond anyone's control. The Gotemba leg was too short but then it's easy to go back to Gotemba on our own so still okay.
Want to book the Klook Mt Fuji Classic Route Day Tour? Actually, you can do so HERE.
Like this post? Subscribe to this blog by clicking HERE.
Let's stay connected: