I booked a lot of stuff from Klook for our recent Taiwan trip. Our Yehliu Geopark, Jiufen, and Shifen Day Tour was one of them. We had to be at the Taipei Main Station by 7:45am because our tour bus was leaving at 8am. A nice, spacious, and air-conditioned luxury bus was waiting for us at the East Gate 3. We were also each given bottled water as soon as we were seated. Our tour guide was a pleasant and accommodating English-speaking woman named Kelly.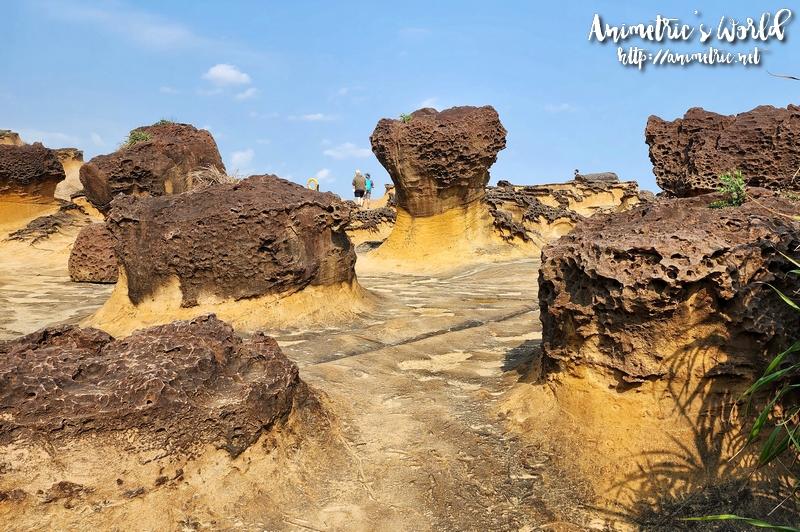 Yehliu Geopark was our first destination and it was about an hour's drive from Taipei. We didn't buy Yehliu Geopark entrance tickets in advance (you can do so via the Klook app) so we paid Kelly 120NT (about ₱230) per head. It's a little cheaper to buy in advance via Klook at ₱218 per ticket.
Yehliu Geopark is a landscape of honeycomb and mushroom rocks forming unique shapes. Since it's beside the sea, you can also enjoy the gorgeous seascape. We loved walking through Yehliu Geopark with the cool sea breeze blowing. There are also a number of benches where people can sit and just enjoy the view (in case you have seniors in the group like we did).
It's undoubtedly a great place for Instagrammable photos. You can check my IG video of Yehliu Geopark for a better idea of what to expect. The terrain is surprisingly walkable even for seniors — not slippery or muddy (unless it rains), so I suggest checking the weather report before booking.
After Yehliu Geopark we rode the bus to Jiufen, a small town by the mountain. It's famous for Jiufen Old Street which is a narrow street lined with souvenir shops and food stalls. Luckily we were able to get seats and eat at Grandma Lai's Sweet Taro Balls which our tour guide recommended.  Unfortunately it was a Taiwanese holiday on the day of our tour so it was extremely crowded and hard to move. You have to get to the end of Jiufen Old Street (very difficult with a slow-moving crowd of people) in order to see the tea houses and structures that seem to have inspired Hayao Miyazaki's Spirited Away.
We soldiered on through Jiufen Old Street and eventually got to at least one such teahouse. It was a very steep climb to the upper floors and my super senior father-in-law chose to sit it out.
The teahouse interiors are straight out of Hayao Miyazaki's world. You can actually eat here and drink tea.
After Jiufen, we rode the bus again to Shifen, which is a railroad town known for its sky lanterns. We chose a red sky lantern we wrote our wishes on and let it fly. You can watch my Sky Lantern video here. We also ate freshly made Peanut Ice Cream Rolls in Shifen which I also documented via video.
Our last stop for the day was Shifen Waterfall Park where the Shifen Waterfall can be viewed. We had to walk on a long suspension bridge to reach the viewing deck. We left Shifen at around 4:30pm and headed back to the Taipei Main Station where we originally departed from.
The Yehliu Geopark, Jiufen, and Shifen Day Tour is surprisingly affordable at around ₱1,700+ per head. You have to pay separately for the Yehliu Geopark Entrance Fee and the Sky Lantern activity at Shifen. Food and drinks you consume on tour is also at your own expense. I think it's a pretty fair deal. This tour is actually quite similar to the Klook Mt. Fuji Classic Route Tour we availed of in Japan in terms of pace and organization, the main difference being our Taiwanese tour guide was fluent in English.
Should you avail of this tour, here are some things to keep in mind:
It entails A LOT of walking. Wear comfortable shoes. My 80+ and 70+ year old parents-in-law was able to handle it but then they are exceptionally slim, healthy people with no maintenance meds. That said, I do not recommend this for groups with toddlers, babies on strollers, and handicapped people on wheelchairs.
Rainy weather will ruin this tour because Yehliu Geopark's terrain won't be as easy to navigate. Sky Lanterns also rely on fire to fly so of course if it's rainy it might not be a doable activity. Shifen Waterfall Park is also completely outdoors so it will be hard to enjoy if it's rainy. Check the weather report before you book this tour.
Bring cash because there will be a lot of unique food, drinks, and souvenirs which you will try at your own expense.
Travel light. Don't bring a heavy bag because it will weigh you down and leaving it in the bus will not be an option. You change buses to go up the mountains. All I brought was my cellphone and that red bag slung across me in my photo above.
Since I checked the weather report I knew it was going to be sunny and warm, I told everyone in our group to ditch their jackets at the hotel and wear light cool clothes. It's a different story if you go in autumn or winter.
Mind the time. If the tour guide says you have to be back at a specific time, be prompt. There is a schedule being followed. We encountered a couple of tourists who were left behind by their tour group because they were so late.
Put on sunscreen because you'll be under the sun a lot.
Try to check if it's a Taiwanese holiday or a weekend and avoid those days because all the places will crowded with locals.
This day tour is super worth it — it's not even ₱2k per person! The bus was cool and comfortable, it was a smooth ride all throughout. We would've covered more ground in Jiufen had it not been so crowded at Jiufen Old Street but we had little choice as I didn't know April 1-5 were all Taiwanese holidays.
Like this post? Subscribe to this blog by clicking HERE.
Let's stay connected: