Welcome to my second K-Drama review on the blog… Sky Castle! I'm populating this new blog category really fast, lol. My first featured K-Drama Fave was Healer. While trying to determine what to watch next, I came across a list of the highest rated K-Drama series in Korea of all time. Sky Castle, a 2019 series, was high up on the list. It actually garnered almost 25% ratings when it aired its last episode last February. That was enough to convince me to get start watching right away.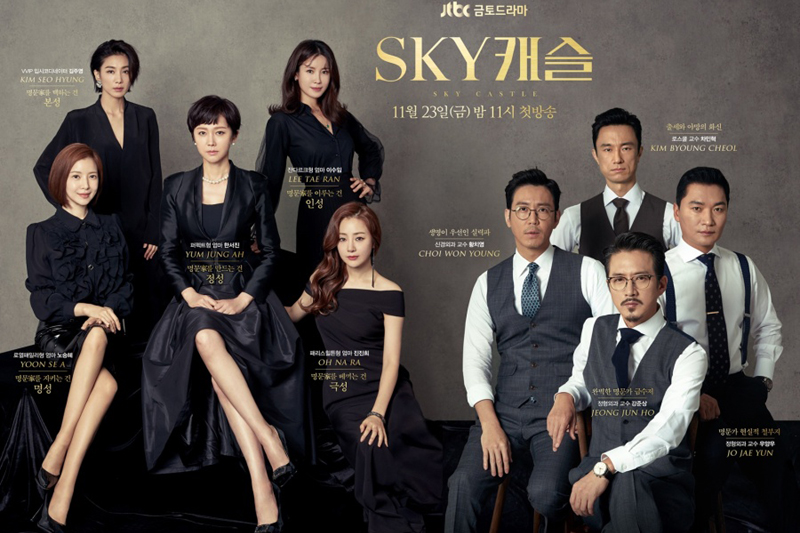 This K-Drama series is about a group of affluent families who live in a place called Sky Castle. Only VIPs can live in Sky Castle. Most of the guys there are either doctors or lawyers. They each have a mansion with a pretty wife and overachieving kids. What drives this series' plot is the insane obsession some of the parents have with their kids' grades and academic performances. The story starts with teenager Park Young Jae's acceptance into the prestigious SNU Medical School (Seoul National University). All the Sky Castle parents are dying to ask Young Jae's mom Lee Myung-Joo their secret to getting accepted.
Lee Myung-Joo later reveals that she hired a very expensive college coordinator named Kim Joo-Young to help her son get in SNU. The other moms immediately try their luck in getting the same coordinator for their kids. But then Lee Myung-Joo suddenly kills herself and her son Young Jae runs away. This kicks off the crazy roller coaster ride that is Sky Castle. I was like wow, someone's dead already and we're barely through the first episode. This is a series with ZERO romance and ZERO special effects but wow, does it keep you hooked and watching non-stop.
I have nothing but admiration for the writer(s) of this series. All the actors (from the adults to the kids) are top-notch too. The plot is unique and relatable. Everyone plays their part so perfectly that it's very believable. I had initially wondered how it would keep me watching, especially as it's made up of 20 episodes that span 1.5 hours each. You just end up caring about the characters… you cry with them, laugh with them, and you want to know what happens to them. I couldn't stop watching. I think I slept at 3am for 3 nights straight.
The coordinator Kim Joo-Young is a whole different level of psycho as she takes control of the kids she preps for SNU acceptance. She will do whatever it takes for the student to get accepted, no matter how crazy, dangerous, illegal, or traumatizing.
There are a lot of life lessons to be learned in this series especially if you're a parent. I read that it's even more relatable to Koreans since it's closely based on their educational system. With its intricate plot, solid characterizations, and intensity, I'm not surprised it's one of the highest rated K-Dramas of all time. I love that all the female characters are women in their 40s with teenage kids too, because that's exactly where I am in life right now.
This is definitely a fave. My gosh, I give it a 5/5. Available on Netflix.
Now what shall I watch next?
*Screenshots from the Sky Castle Official Website.
Like this post? Subscribe to this blog by clicking HERE.
Let's stay connected: