Ever since I discovered Park Bo Gum in Reply 1988, I've been actively trying to get a hold of his other series. Of course I saw Record of Youth which is actively being promoted as part of the Netflix Originals. Record of Youth is Park Bo Gum's last and latest series, shot before he enlisted for mandatory military service. Oh, he gets discharged in April 2022, so we have a looooong wait before he comes out with anything new.
Record of Youth is about a model-turned-struggling actor named Sa Hye-Jun (Park Bo Gum). He's been modeling for 7 years and his career just isn't taking off. His father is not supportive of his dreams and is constantly discouraging him and urging him to do construction work like he does. Hye-jun's family isn't well off and they always have to make ends meet. But Hye-Jun is determined to succeed. On the flip side, his best friend Won Hae-Hyo (Byeon Woo-Seok), who is in the same industry, is faring better due to his wealthy family's connections.
Ahn Jeong-Ha (Park So-Dam) is a makeup artist and vlogger who's also trying to make a name for herself in the showbiz and fashion industry. Although Sa Hye-Jun isn't that famous, she is his avid fan and supporter. She idolizes him and is always keeping tabs on his career.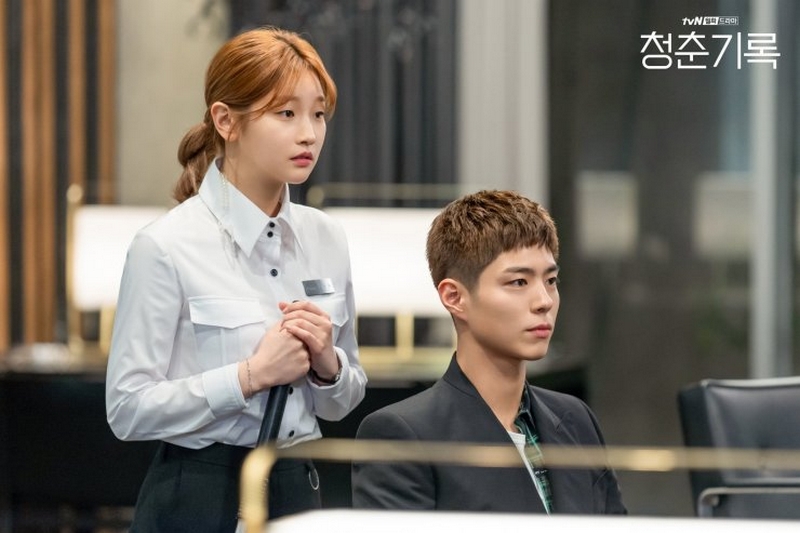 Hye-Jun and Jeong-Ha's paths cross eventually. They hit it off instantly. But Hae-Hyo also likes Jeong-Ha.
Hye-Jun and Jeong-Ha become a couple. But as Hye-Jun's star finally rises, it seems to pull him farther and farther away from Jeong-Ha. Being happy with each other was definitely a lot easier when he wasn't famous yet. Although they love each other, it's just getting more and more difficult to stay together.
Record of Youth is a coming-of-age series in the sense that all the characters are in their late 20's transitioning to their 30's. It records their struggles as they work towards their dreams and there are a lot of life lessons to be learned. It's very rare for anyone to have exactly what they want when they want it and life usually involves compromises and trade-offs. I'm not fond of the ending but I think it's quite realistic.
I found this series very engaging and I think it showcases Park Bo Gum's best acting yet (as I write this review I've already finished watching "Encounter"). I agree with those who say he carried this series because he really did. The guy is intense. WTF is up with that stare??? His eyes speak volumes that words never could. I finally understand why he's one of the most popular K-Drama actors in Korea. I'm definitely looking forward to watching more of his works after his military service!
Bonus: Record of Youth is loaded with cameos from Kim Hye-Hyoon (Sky Castle), Seo Hyun-Jin (The Beauty Inside), Park Seo-Joon (Itaewon Class), Hyeri (Reply 1988), and Lee Sung Kyung (Weightlifting Fairy Kim Bok Joo).
Available on Netflix.
Like this post? Subscribe to this blog by clicking HERE.
Let's stay connected: