Green Mothers Club is the 97th K-Drama series I've finished and one of the most enjoyable ones I've seen this year. It's about 5 moms who live in the same neighborhood, an area known for the high quality of education it offers (Sky Castle, anyone?). A lot of parents move there for the sake of their kids' academics, and Lee Eun-pyo is the newest mom in town.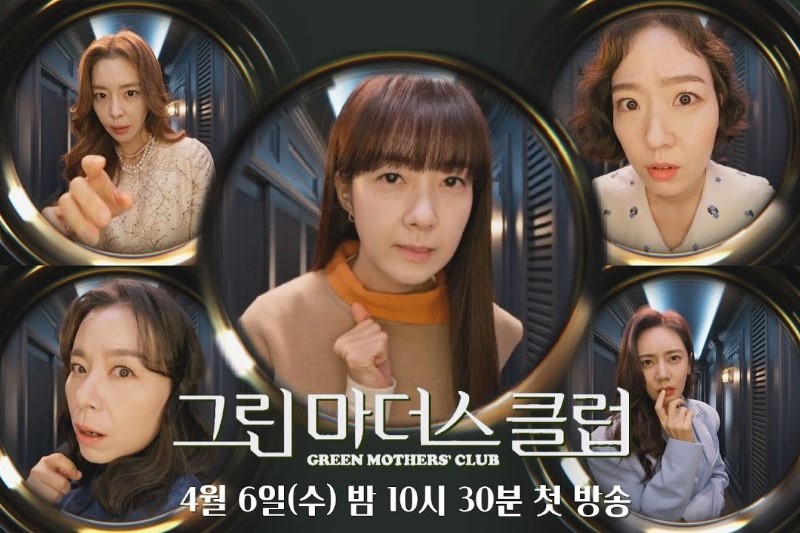 Eun-pyo isn't really all that strict when it comes to her kids and so she's quite shocked at how seriously her co-moms take their kids' studies. All the neighborhood kids seem to attend some special tutorial classes outside of school. It seems everyone is always studying instead of playing and enjoying the usual childhood pursuits. Eun-pyo succeeds in rubbing all the other moms the wrong way until a diagnostic test reveals that her son is a genius. Eun-pyo starts to become like the moms she used to be critical of.
Living in this new neighborhood has its own set of complications. Eun-pyo frequently runs into her ex-boyfriend and ex-best friend who somehow ended up together.
She also becomes closer to her cousin who's more familiar with the neighborhood politics and everything that living there entails.
Unavoidably she also rubs some people the wrong way even without meaning to.
Eun-pyo also finds an unlikely soul sister in Chun-hui. When the series begins, Eun-pyo and Chun-hui start off the wrong foot and become instant enemies. Eventually, both find their kids in therapy (LUH who can blame them in THAT high pressure setting) and they bond.
Green Mothers Club is a makjang drama like The Penthouse and Sky Castle, but it's milder since younger kids are central to the storyline. This is a fun watch, with all the elements that Pinoys love — pag-ma-maritess (gossip-mongering), catfights (whooo to sabunutan sa gym and Eun-pyo splashing Chun-hui with water from her glass among many others), affairs, spycams, and suicide. There's even a psycho living in one of the buildings. No shortage of excitement here, we were glued to the series from the first episode.
The casting is really great, all the actors are just perfect for their roles — even the kids. Pacing is just right, they cut in the right places to make cliffhangers so exciting you'll just jump into the next episode. I found the ending pretty satisfactory too.
Available on Netflix.
Like this post? Subscribe to this blog by clicking HERE.
Let's stay connected: