I went on a 3-day juice cleanse a little over a week ago. I had been feeling extremely yucky, sluggish, and just ewww… can't even explain it. I've gone on several juice cleanses in the past — Juju Cleanse, Detox in a Bottle, and Nourish Juice (now dead apparently). Anyow the last time I cleansed was in 2014. I wanted to try a different one this time, and Marj recommended Pure Nectar. Pure Nectar is brought to us by Fruit Magic, one of the Philippines' pioneer fruit juice and shake purveyors. I didn't weigh myself prior because I'm not doing this to lose weight. I just want to detoxify.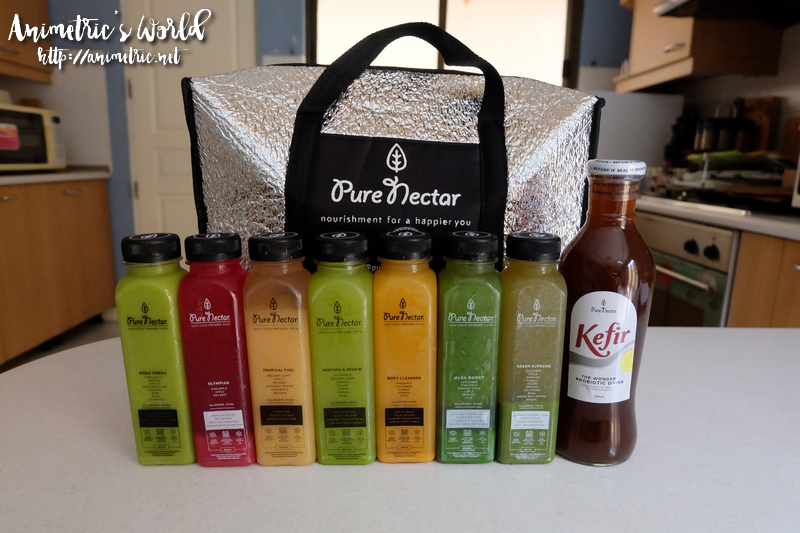 So without hesitation I went for the 3-Day Juice Cleanse Set (P3,825). This set includes 21 bottles of juice, 3 bottles of Kefir Lemon Water, Thermal Bag, and a Sports Towel. I was to take 7 bottles of juice a day instead of meals.
There are 9 different kinds of juice. Each one is made of cold-pressed fruits and vegetables. They have different functions. You drink them in the order specified in the instruction leaflet, starting at 7:30am.
This is the schedule I followed. I did the Pure Nectar 3-Day Juice Cleanse from Tuesday to Thursday, so I was lugging around juices to the office.
Good thing the 3-Day Juice Cleanse Set includes this portable thermal bag. I'd stuff it with ice packs and then put 4-5 bottles of juice + the Kefir Lemon Water bottle inside. I stay in the office from 9am to 3pm hence that number of bottles. We have a water dispenser in the office so I can keep myself hydrated without having to bring water.
With regards to taste, Pure Nectar juices are hands down the yummiest of all those I've tried. Even the green juices are quite good. The juice liked least was Green Supreme but compared to the green juices of other providers, it was still a lot better. I actually looked forward to each bottle.
The Kefir Lemon Water tastes good too. I think I drank more than 30ml at a time. I finished one bottle after 3 days of cleansing.
So how did it go? I stuck to it as best I could, cheating 2x with vegetables. On the first night I had like 2-3 slices of potato because I was so hungry. Second night, I had maybe 3 spoonfuls of shredded cabbage. Third night, I had another 3 spoonfuls of kangkong. Amazingly, I still went to the bathroom every morning even if I wasn't eating. I peed a lot too… something like every hour. I'm guessing it's partly because I'd drink one bottle of water after one bottle of juice. I mixed in chia seeds (about 1 tbsp) in all the juices to supercharge them. I'd feel hungry approximately an hour after downing a bottle of juice.
What I like about the Pure Nectar 3-Day Juice Cleanse:
The juices taste good… except maybe Green Supreme but it's still better than the green juices from all the other providers.
Price is reasonable. My first ever juice cleanse, Juju Cleanse, cost P2,500 a day lol… and I did it for 3 days. This is really cheap at P3,825 for 3 days hahaha.
I felt lighter and healthier after the 3rd day. I think my pants fit better too.
They really do provide everything you need right down to the portable insulated bag, which is aside from the big insulated bag they deliver all the juices in.
I felt totally refreshed every morning because I'd sleep at 8pm every night just to avoid thinking about food. So yeah, this is great for your overall health.
Ordering via their website is super easy! There are a lot of payment modes too. I opted for Paypal. My order arrived on the day I scheduled it too.
Yes, I admit I felt perpetually hungry while doing the juice cleanse. I felt the urge to feast the day after I finished it. But you know what? I kind of miss it now, almost 2 weeks later. I think I'll do it again after a few months.
Would you like to try the Pure Nectar Juice Cleanse? You can do 1, 2, or 3 days. Of course, I recommend committing to the whole shebang so go for 3 days if you will. For orders and/or inquiries, go to https://purenectar.co/.
Like this post? Subscribe to this blog by clicking HERE.
Let's stay connected: