I've been wanting to seriously detoxify my system ever since a friend of mine did the lemon cleanse / master cleanse. Unfortunately, that takes something like 2 weeks and you'd have to make everything by yourself.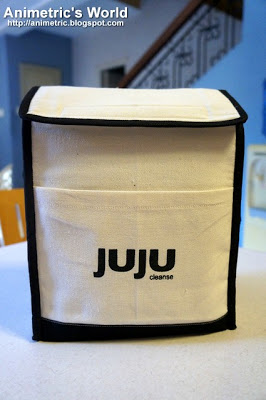 Lucky for me there's now Juju Cleanse. It's an organic fruit and vegetable based cleanse that's very convenient. All you have to do is order online. They'll deliver the freshly pressed juices to your door with complete instructions on how to go about it. Anyhow, I went to
jujucleanse.com
and scheduled my cleanse for the Holy Week (April 5-7, 2012). I got my first delivery of fresh juices on the afternoon of April 4 since I'm supposed to start 7:30am the following day.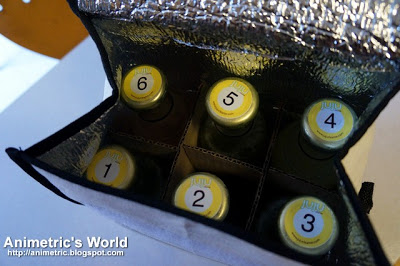 The juices come in an insulated bag equipped with a
Techni Ice
pack to keep them cool. This is so you can tote them around if you're cleansing on the go. The bottles are numbered 1 to 6 so you know which one to drink first. You drink approximately every 2.5 hours, 6x a day.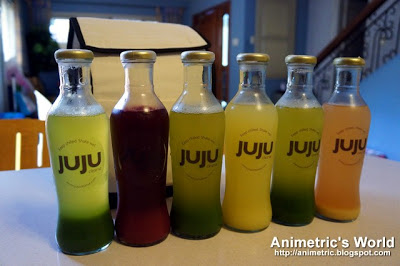 Even if this is my first time to do the Juju Cleanse, I opted for a 3-day level 2 cleanse which is like a 50/50 ratio of fruit and vegetable juices. Level 3 is the highest you can go and it's comprised of over 80% vegetables. Three days is the longest you can go, I have yet to ask if you can do 6 days by combining two cleanses consecutively. You must refrigerate the bottles as soon as you get them and remember to shake well before drinking.
My level 2 Juju Cleanse was comprised of the following juices:
Green Bomb x 3 – Juice made from celery, cucumber, coconut water, malunggay (moringa), pineapple, romaine lettuce, and spinach. Your body gets to load up on important nutrients and enzymes needed to keep alive and well down to the cellular level. This is actually bottle #1. It actually smells good and tastes kind of refreshing… but it does have a leafy, grassy aftertaste so I gulp it down and chase it with water (which is wrong you should try your best not to gulp it down!).
Red Giant x 1 – Juice made from beets, carrots, ginger, and pineapple. This aids in cleansing and elimination. This is bottle #2.
Alkazest x 1 – Juice made from coconut water, grapefruit, and pineapple. This is designed to replenish your electrolytes and give you an energy boost. This is bottle #4 since you alternate the Green Bomb with the different juices through the day.
Salaba't Lemon x 1 – Juice made from ginger, honey, and lemon. It helps improve circulation and stimulates your digestive system. This is bottle #6, your last for the day. It's also the drink I liked best and I could actually drink this leisurely.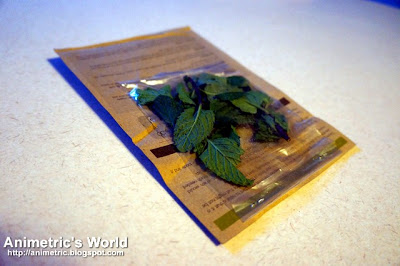 Juju Cleanse also provides you with fresh sprigs of mint since you need to start off each cleansing day with a cup of hot mint tea.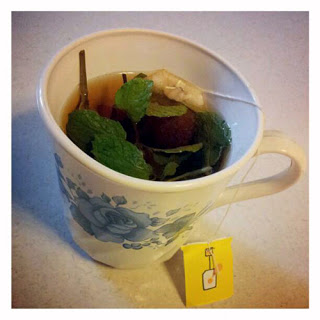 I just brew some Lipton Yellow Label tea in a cup and then let the mint sprigs steep for a little while. Don't put any sugar or sweeteners because you're supposed to have this unsweetened.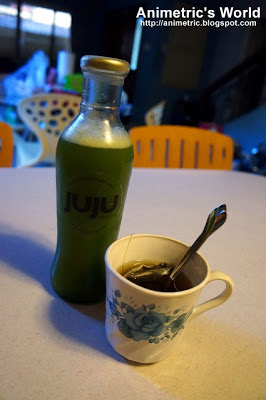 Then I take out the mint sprigs, drink the tea, then go to bottle #1 which is Green Bomb. See how green it is after you shake it well. XD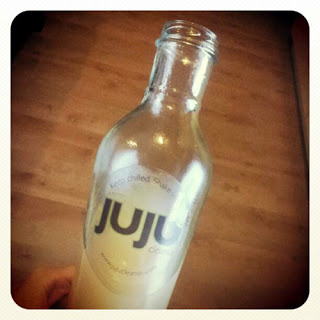 Meanwhile this is bottle #6, my favorite Salaba't Lemon. Perfect for capping off the day except that it really zings through your throat (gumuguhit sa lalamunan in Tagalog). It tastes like a combination of really strong ginger juice and lemonade, plus I could've sworn it had cayenne pepper. You feel it sliding down all the way to your esophagus.
So what takes place during the cleansing process?
You don't take in anything except mint tea, water, and the 6 bottles of juice. If you can't resist food, you're advise you to snack intelligently. Have something like a couple of celery stalks or a couple of cucumber slices. I wanted the full benefit of Juju Cleanse so I did not eat during the entire duration.
You urinate a lot. I was going to the bathroom several times every hour.
You poop even if you're not eating anything solid although not as often as you pee. Looking back I think I went at least twice a day, thrice at the most.
I would normally start to feel hungry 1.5 to 2 hours after drinking a bottle. I just napped a lot so I would not fantasize about food so much… hahaha! Anyhow, you feel full right after drinking a bottle.
You can go on your normal activities except that I preferred not to because if say I exercised I would've gotten hungrier than I was. If I went out I'd be on the way to the bathroom like 80% of the time.
Today is my first post-cleanse day and I feel pretty good. Here are some things I've noticed:
Although this isn't for weight loss purposes, I felt my pants get more loose. I guess it's because the cleanse got rid of the water retention.
My skin felt smoother even without lotion. I noticed this on my arms especially.
I felt light and clean plus I couldn't stand the thought of eating at a fast food joint. We were supposed to grab breakfast at a fast food joint but decided to go to a dimsum place instead where I had plain congee and some plain steamed rice rolls. XD
I can't stand the thought of eating chips and candy.
I've lost my craving for coffee. I drink coffee every single morning and now I just don't want to.
I'm definitely doing this again! The 3-day level 2 Juju Cleanse I got cost P7,100 inclusive of delivery.
For inquiries, orders, and more information, log on to http://www.jujucleanse.com. I loved how convenient everything was and how I could even pay via Paypal. 😀

Like this post? Subscribe to this blog by clicking HERE.
Become a Facebook Fan for updates from Animetric's World.