For my 56th K-Drama series, I watched Alice on Viu. Alice is actually the name of a time traveling facility in the year 2050. People in that era can pay to visit their past via Alice, provided they follow the rules (an example of a rule is no killing). Alice's clients are accompanied by guides to keep them in line. The series starts with time travelers Tae Yi and Min Hyuk going back to 1992 to retrieve a book called "The Book of Prophecy".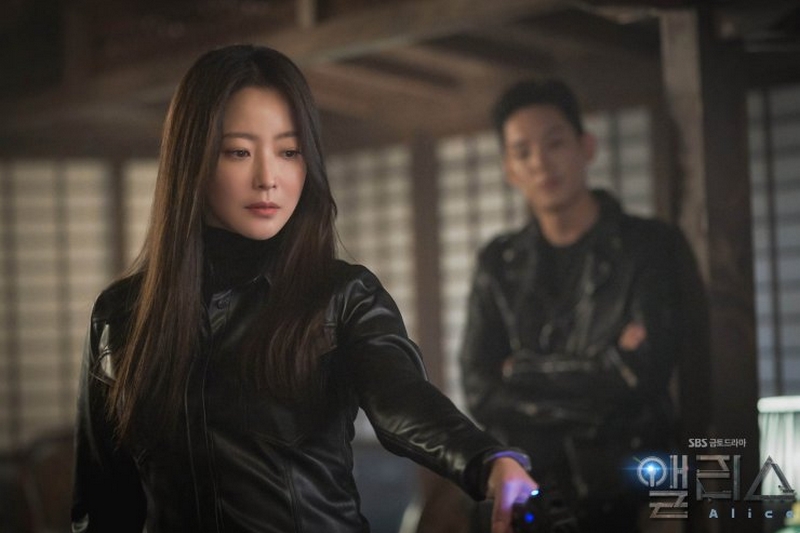 The thing is, Tae Yi finds out she is pregnant and Min Hyuk is the father. Min Hyuk tells her that staying in 1992 to have the baby is not an option… but going back to 2050 through the radiation-filled wormhole is also out of the question. Thus he asks Tae Yi to abort the child. Tae Yi agrees but then later escapes to have the baby on her own in 1992. Meanwhile, Min Hyuk chooses to go back to 2050.
Tae Yi gives birth to a son she names Jin Gyeom and raises him alone. The problem is, in the year 2010 Tae Yi gets murdered.
Since Tae Yi's murder is never solved, Jin Gyeom decides to become a cop so he can catch her killer.
In the year 2020, Jin Gyeom meets a physicist named Tae Yi who looks exactly like his mother. There are also too many strange events and occurences that make Jin Gyeom think that there are time travelers in their midst. Is Professor Tae Yi of 2020 actually his mother or is she someone who just looks like her?
Jin Gyeom's investigation reveals that there were a lot of things he didn't know about his mother… and that she was much more than just a regular housewife.
Alice is a very fast-paced and engaging series. If it were a book it would be a page-turner. I liked how they tackled the subject of time travel without convoluting the plot. The series also manages to keep you guessing right down to the last episode. I couldn't stop watching! I finished all 16 episodes in 3 days, I think. All the actors portrayed their roles flawlessly too. Highly recommended!
Available on Viu.
Like this post? Subscribe to this blog by clicking HERE.
Let's stay connected: