It's been over 2 years since I've used a Laneige cushion. Laneige cushions were a staple for me for several years. But then I kept buying and trying other cushions until I discovered Sulwhasoo Perfecting Cushion EX. Anyhow I recently bought a newly released Laneige cushion… the Laneige Layering Cover Cushion (₱1,780).
Love the premium rose gold packaging and compact of this one. It's quite expensive though because you don't get a refill.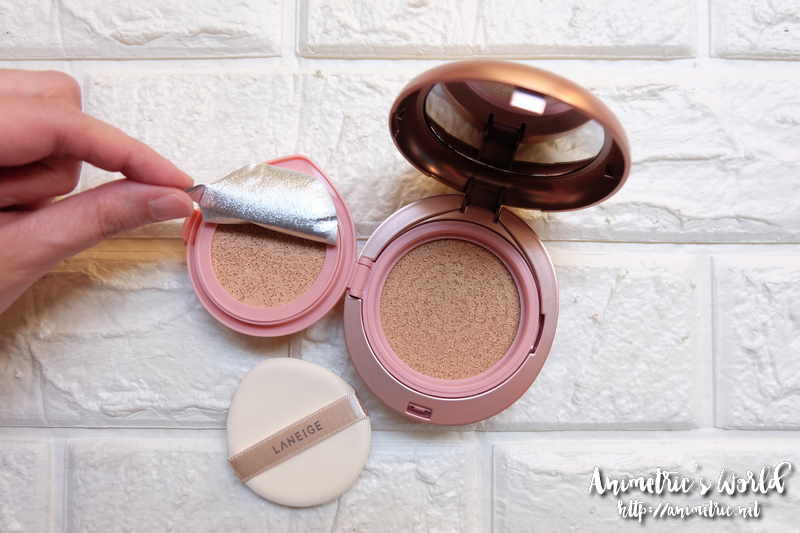 What makes the Laneige Layering Cover Cushion different from the rest is this — it's a 2-in-1 product. You get both a concealing base and a layering cover cushion in one product. It also sports a teardrop-shaped applicator puff as opposed to the conventional round ones.
The teardrop-shaped puff is meant to assist you on concealer application.
Here are swatches of Laneige Layering Cover Cushion No. 21 Beige. As you can see, the concealer is heavier in terms of pigmentation and coverage. There are a total of 8 shades for this product, unfortunately Althea carries only 2 — #21 Beige and #23 Sand. Luckily I've always been a #21 when it comes to Laneige
I applied the concealer first onto areas that needed more coverage — namely my undereye areas and some parts of my cheek with uneven coloring. Then I patted the cushion cover all over my face on top of the areas with concealer. Wow, just wow. I couldn't believe how flawless, dewy, and perfect my skin looked afterwards. This is hands down the best Laneige cushion yet. It may even trump my HG Sulwhasoo.
I didn't use a separate concealer when I used this product. I super love the results. It's definitely qualified as a foundation replacement.
What I like about Laneige Layering Cover Cushion:
I can use it as a foundation replacement. I'm still not very fond of foundation, cushions are more my thing but I have to admit foundation still has better coverage. I can actually use this as foundation.
The concealer and cushion are perfectly matched so your look is fabulously flawless.
There are 8 shades available, which is a lot for a Korean brand.
The finish is beautifully natural — not too matte and not too dewy, like your skin but better.
It's very easy to use. Just pat away and you'll have even-toned, flawless, and glowing skin in no time.
You can experiment and get different looks by layering the concealer and cushion or using them solo. Use the concealer then top with the cushion for a semi-matte finish. Use the cushion then top concealer for a matte finish. If you use the cushion only, you'll get a sheer luminous finish. Concealer only? Killer coverage.
It lasts. I wore it the entire day and even walked under the sun… my face was still looking fine afterwards.
Downside? The price! This is even more expensive than my Sulwhasoo cushion lol!
You can purchase Laneige products at the Laneige Flagship Store on Lazada.
Like this post? Subscribe to this blog by clicking HERE.
Let's stay connected: