Every December 31st the Lei family celebrates with a New Year's Eve dinner in a Chinese restaurant somewhere. Most of the time it's Gloriamaris. This 2014 however, my sister-in-law suggested that we have an eat-all-you-can buffet dinner instead. Our restaurant of choice? The newly opened Vikings Buffet Jazz Mall along Nicanor Garcia corner Jupiter St. in Makati.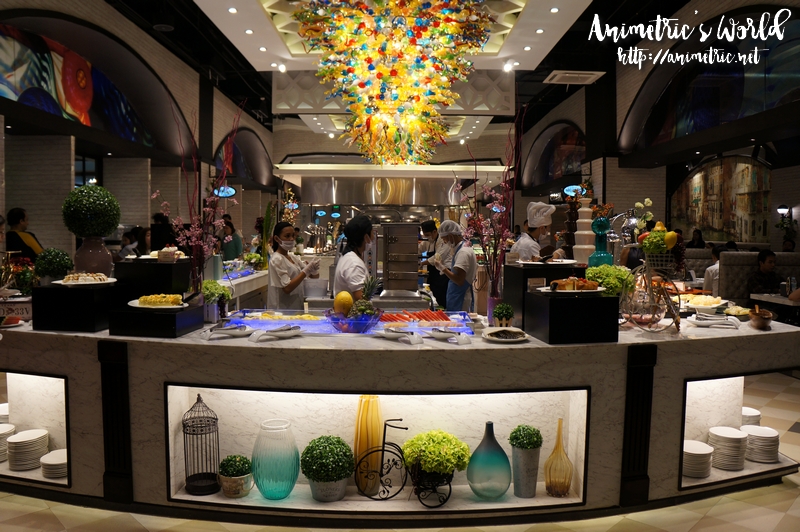 It was grand. I really liked their colorful gigantic chandelier centerpiece which greets you as soon as you enter the Vikings Buffet Jazz Mall.
I like the wooden floors, brick walls, and murals. Vikings Jazz Mall is well-lit, spacious, and pretty classy.
I immediately proceeded to the Carving Station where they had some Slow-Roasted US Angus Beef Belly. There were a lot of meats — lechon, New Zealand Leg of Lamb, chicken, ham… I had US Angus Beef Belly and lechon.
There's also a Chinese food station which has several kinds of dimsum like hakaw, pork siomai, siopao, etc. and some short order dishes like pork asado and roast duck.
There's a Make Your Own Shabu-Shabu station too.
Over 15 different ingredients are available for your DIY hotpot.
There's a Korean Station where you can get kimchi, japchae, bulgogi (that's Chicken Bulgogi in the photo above), pajeon, etc.
The Japanese Station had sushi, sashimi, tempura…
…also Japanese Beef Curry!
Piping hot Miso Soup!
My daughter had two whole glasses of Milo Shake. This is one thing I love about Vikings, you can eat AND drink whatever you want.
My favorite drinks are the Minty Lemon Lime and the Apple Cinnamon Tea. They have exotic beverages like Tamarind Juice too. Hubby had some beer. There's also hot coffee and hot tea.
They have cheeses, nuts, and fruits…
This is hands down one of my favorite dishes — Orange, Fig, and Gorgonzola Salad! Figs in a salad in a buffet? Wow, I was really impressed! So fresh, light, and fruity… my sister-in-law and I had a lot of this salad.
There were a lot of other salads like this Greek Salad (in fact you can even DIY your own) but I was sold on the figs.
All kinds of seafood abound — crabs, shrimp, fish (cooked the way you want, in fact my sister-in-law had a grilled salmon head)… even steamed suahe which my daughter really loves.
Amidst all the international dishes are a slew of Filipino creations like this Sisig Rice.
How about some good old-fashioned Kare-Kare? Yes, there's bagoong on the side to go with it. OMG I don't think I can cover even 1/4 of the buffet spread. There's an Italian Station with pastas, pizzas, and more as well as an appetizer section with nachos, spring rolls, tuna ceviche, etc.
There's an entire station devoted to desserts too. You can customize your own crepe, choco fondue, and frozen yogurt.
Cakes, cookies, ice cream, and even kakanin. A whole lot of sweet stuff really.
This is my second plate. Forgot to take a photo of my first plate which was comprised entirely of that salad with figs and some sushi.
This is my favorite dessert — Puto Bumbong! They're made to order so when you get them they're still hot! Same goes for the Bibingka. I had 3 orders of Puto Bumbong (6 sticks!) with a nice cup of hot coffee. 😀
We had a lovely time eating our way to the New Year yay! There were 10 of us, my daughter availed of the kiddie rate while my parents-in-law had senior citizen's 20% discount. We paid around P8,400+ so it came out to about P850 per person. I think it's pretty fair for the good variety and quality of food we got to enjoy.
Vikings Jazz Mall Buffet Rates are as follows:
Kids below 3 ft. – FREE
Kids between 3-4 ft. – P188+ (weekday lunch) / P288+ (weekday dinner / weekends / holidays)
Kids between 4-6 ft. – P388+ (weekday lunch) / P588+ (weekday dinner / weekends / holidays)
Adults – P688+ (weekday lunch) / P888+ (weekday dinner / weekends / holidays)
75 years old and above – 50% discount (any day lunch and dinner)
Operating hours are 11am to 2:30pm for lunch and 5:30pm to 10pm for dinner.
Good news, like Vikings Jazz Mall Makati on Facebook and get 30% discount when you dine there from Jan. 2 to 3, 2015! That's a really great deal — imagine will come out to just P400+ to P600+ per adult depending on what day and time you go!
Vikings Buffet Jazz Mall
G/F SM Jazz Mall Makati
Nicanor Garcia cor. Jupiter St., Bel-Air, Makati City
891-3888 / 891-4888
Like this post? Subscribe to this blog by clicking HERE.
Let's stay connected: