My hubby and I finally got to try Four Seasons Hotpot City at SM By The Bay a little over a week ago. It's the new hotpot place from the same group who brought us the ever-popular buffet restaurant Vikings. We super love hotpot — we find it relaxing and eating all we can doesn't have to be a greasy and unhealthy experience.
We were wowed by how huge, bright, and awesomely designed the entire place was! I felt like I was in another country.
Four Seasons Hotpot City has a cool grocer/supermarket theme. All the hotpot ingredients are neatly organized in shelves and racks.
Meat, vegetables, salad, sushi, sashimi, drinks, and even an entire selection of short order dishes like Dong Po Pork, Steamed Fish Fillet with Garlic, etc. each have their own sections.
You "order" whatever meat you want and they slice it for you on the spot.
There are several kinds of meat — different kinds of beef, pork, lamb…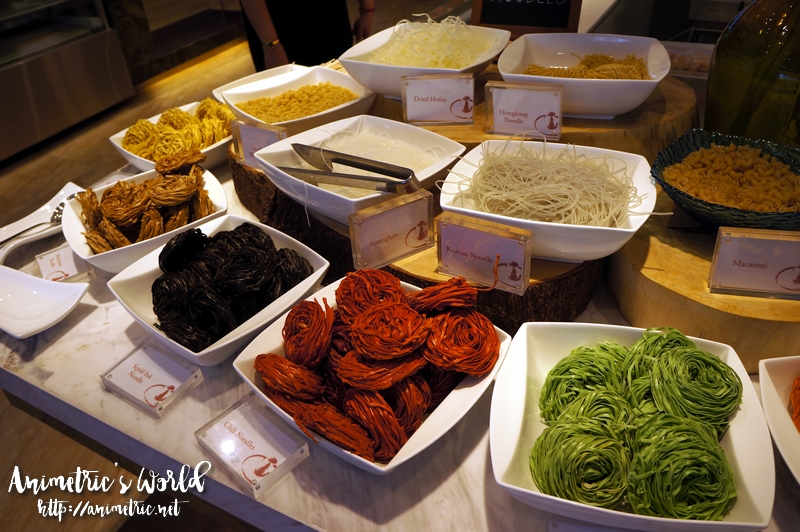 I've never seen so many kinds of noodles being offered at a hotpot place! It's my first time to encounter squid ink noodles, mushroom noodles, chili noodles, and polonchay noodles.
The seafood selection is pretty incredible. There's actually Sea Mantis! I'm not a fan but this isn't something I usually see in hotpot places or buffet restos.
Wow, oysters too! Also fresh shrimp, squid, clams, and different kinds of fish.
These individually wrapped Mochi Shao are officially my favorite hotpot ingredients. It's a chewy, sticky, glutinous ball that's similar to the galapong in ginataan. It's sooooo good. I used to fill my hotpot bowl with Mozarella Balls. These are my new favorites.
There's an entire section dedicated to balls (i.e. Beef Balls) and dumplings.
Check out these Beijing Dumplings! There's a vegetarian version of this in the Vegetarian section.
Bicho-Bicho and lots of other food items are in the Vegetarian section too. Tofu? They have an entire section dedicated to Tofu. First time for me to see stuff like Sesame Fish Tofu and Kani Tofu.
Wow, I don't think I've ever encountered Ebiko Shrimp Paste in other restos.
And if you thought making your own sauce was easy, there are maybe hundreds of different combinations possible with all the ingredients on hand. I was confused! They even have peanut butter!
As if three rows of condiments weren't enough, there are a lot more stuff you can mix in your sauce at the corner.
Thirsty? There's soda, iced tea, juice, coffee, Milo Shake…
Juices and tea infusions abound! I personally love the minty lime drink and the cucumber lemonade! Apple cinnamon tea is pretty good too.
Guess what? There's unlimited beer too!
Desserts? There's an entire area devoted to sweets — fresh fruits, ice cream (with a crazy selection of toppings some of which are in the photo above), frozen yogurt, souffle, kakanin (native Filipino rice cakes), cakes, chocolate fondue… OMG.

If you stay inside a function room (minimum 10 people) you get your own personal hotpot cooker so you don't have to share.

So anyway, they ask you to choose a soup base (beef, pork, chicken, vegetable) and a "mix". For the mix, they will add some stuff to your soup base to spice it up. There are several mixes too — Satay, Szechuan, Curry, Chinese Herbs (Sibot). Hubby and I both chose Sibot. Sibot is an acquired taste and a lot of people find it rather medicinal. But since both of us grew up in Chinese households we're used to this and we find it comforting. Plus Sibot has a host of health benefits such as strengthening the immune system and improving circulation.
So this is my first bowl. I filled it with sweet corn, Sesame Fish Tofu, watercress, taro, beef, mochi, mozarella balls, mushrooms, and mushroom noodles. I seriously LOVE the Mochi Shao.
This is my dessert plate, I had a piping hot cup of coffee to go with the sweets.
Hubby and I were so impressed by the incredible selection of food and drink at Four Seasons Hotpot City that we're already planning to go back. I posted over 20 photos on here but I haven't even scratched the surface. In true Vikings tradition, there's a whole lot of food! One trip is definitely not enough for you to sample even a fourth of their offerings.
We love the bright, immaculately clean surroundings plus it's super nice there this hot summer because their air-conditioning is so cool! I highly suggest reserving in advance if you're planning to eat here because they're always fully booked. We seriously want to go back already.
The prices are super reasonable too — weekday lunches cost only P588 while dinners, weekends, and holidays cost P788. They also offer special discounts if you're dining in a big group (at least 30 pax). Kids below 3 ft. eat for free while kids above 3 ft. need to pay either P188 to P388 depending on the height, day, and time (lunch or dinner).
Four Seasons Hotpot City
Building E, SM By The Bay,
MOA Complex, Pasay City
831-7777 / 835-7777
Like this post? Subscribe to this blog by clicking HERE.
Let's stay connected: