Some time ago, I saw a weird photo on my Facebook feed shared by a few of my friends. I couldn't help but check it out because there were so many comments.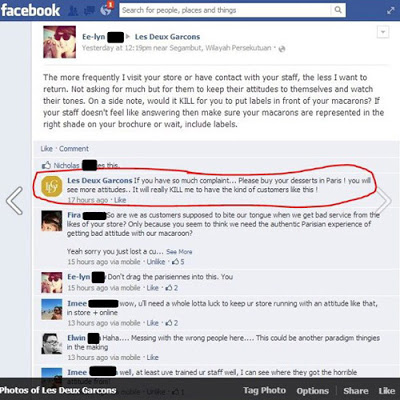 It turned out to be a screencap of Les Deux Garcons' Facebook Page (it's a dessert place in Malaysia apparently). A customer was complaining about the attitude of their store staff and the Les Deux Garcons FB administrator responded in a very rude manner. You can click on the screencap above for a closer look.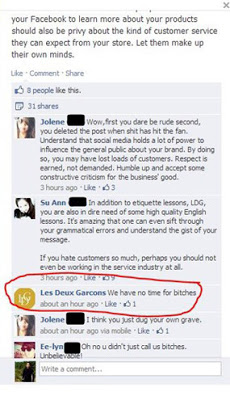 As if that wasn't enough, the Les Deux Garcons FB administrator proceeded to say that they have no time for bitches. Needless to say it became viral, reaching beyond the Malaysian Facebook populace. A lot of people were turned off the brand. After the outbreak, Les Deux Garcons posted an apology… but of course, the damage had been done.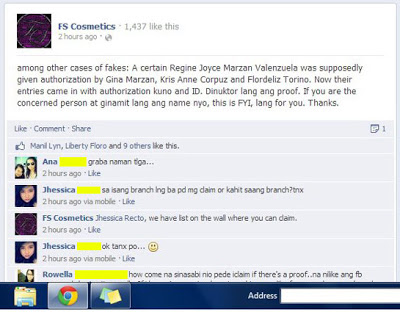 Let's switch to the Philippine setting. A few of my readers sent me screencaps of the FS Cosmetics last FB status update over the weekend. It accused several people if faking contest entries / authorization letters / IDs for a lipstick giveaway they recently held.
One of the people who emailed me was Regine Joyce Valenzuela herself, one of the accused. This is her side of the story (cropped for brevity):
"Sabi kc sa promo all you have to do is to like, share, print the screenshot that you liked the FS COSMETICS FAN PAGE and your ID. MAX of 10 authorization letters para sa family. I claimed 3 pcs. of lippies for my mom and 2 cousins. Hindi ako kumuha ng lippies because hindi talaga ako mahilig sa lipsticks. The next day I have with me the screenshots + ID pina-print ko yun. Pumunta ako sa Robinsons Manila to claim the freebie. Ang tagal nameng nag ANTAY, KALA ko okay na ang lahat dahil binigay naman nila yung 3 lipsticks. Then ayun the next day I was shocked dahil pinost nila ang PANGALAN ko na manloloko at dinaya/photoshopped ko ang screenshot. I really don't know what to do, for P195 each lipstick sobrang pinahiya nila ako, yung mom at mga cousins ko sobrang galit kase in the first place bakit nila binigay ang product kung alam naman nilang theres something wrong with my proof. I even ask my friends to LIKE their fanpage to get the freebies, hindi lang pala ako sa FAMILY ko pinahiya pati sa mga friends at sa buong FANPAGE nila. Gusto ko sanang itanong sayo po kung anong magandang gawin ko after ntong kahihiyan ni idinulot nila sa aken. Thank you po."
To translate in English, the FS Cosmetics Fan Page held a promo wherein all you had to do was like and share the page, take a screenshot, and supply your ID for a free lipstick worth P195. Regine shared the promo with her mom and cousins. They followed instructions and Regine went to Robinsons Manila to claim the lipsticks. She got them but the next day she was surprised to find their names posted on FS Cosmetics' Fan Page. They had been branded as cheaters. It was a public post which a lot of people saw since it was not only Regine who emailed me screenshots. The FS Cosmetics Fan Page was taken down shortly after so all we have are these screencaps.
These two recent FB Fan Page-related fiascos bring me to the core of this post. I myself have experience as a Facebook Administrator for numerous brands (I've handled FB Fan Pages of food brands, clothing brands, educational institutions, etc.) and I've always thought that all it took to do the job was common sense. Apparently, common sense is not very common in the world of Facebook because there have been a lot of other similar blunders that have helped ruin brands online.
Anyhow, in a nutshell, these are some things a Facebook Administrator must NOT do:
Do not under any circumstances be rude. Don't curse, swear, use foul language, or resort to name-calling. I understand that there will always be trolls that may try to disrupt the smooth operations of your FB Fan Page but you are representing a brand and you're supposed to maintain a neutral and amiable front at all times. Always be polite and courteous when responding to queries or posts.
Do not use your brand's Facebook Fan Page to stage a shame campaign (i.e. accusing specific people of cheating in a contest, etc.). With the Philippine Cybercrime Law being debated as I type, you just might find yourself behind bars or paying a hefty penalty for libel. Besides, you're not even supposed to use FB functions such as liking and sharing as the sole basis for contest entries. That is against the Facebook Pages Terms. If you have problems with certain fans, take them up privately. FB Fan Pages can now use the Private Messaging system so it's easier to contact specific people.
Do not steal content from other sources (blogs, other FB pages, etc.) and post them as your own material. Credit your sources and ask for permission if necessary. Someone once took a photo of my Fitflops which I had used in my blog (watermark and all) and then used it to sell FAKE Fitflops on her FB Page. Luckily some of my readers alerted me so I was able to report her. She was promptly removed.
Do not post in text speak or Jeje speak. Yes, some FB admins do this and it makes me cringe. It just cheapens the brand. It makes me think that the people behind it don't care enough to get someone qualified to handle their social media. Brands, make sure that whoever is handling your FB Page has a good command of the English and Filipino languages. Wrong grammar also gives off the wrong brand image.
In the case of FS Cosmetics and Regine Valenzuela, I think it's unfair of FS Cosmetics to brand her and several other people as cheaters online in a public forum. If FS Cosmetics was not amenable to proxies claiming contest prizes, they should have said so clearly in the first place. Making a scene or creating a fuss will never work because no matter how you put it, it will reflect badly on the brand / company / establishment.
I know for a fact that there have been instances of abuse in other FB giveaways. Once there was a Facebook freebie being given out at another page and the admin told me that some of the claimants were babies less than a year old using birth certificates as their IDs. Um, these babies can't even read yet so they couldn't have possibly gone online and created FB accounts… lol! These things can be avoided by crafting the mechanics of whatever promo is being held (FB or not) to be really specific (i.e. include a minimum age, require a government-issued ID and personal appearance, etc.) so that you can avoid such incidents. I think I've seen it all — contestants practically clawing each other (virtual catfights) for the sake of a few bottles of lotion, entry-bashing in likes contests, and so forth.
My advice for FS Cosmetics is (aside from carefully selecting their next FB admin) to own up to what has been done and issue a public apology to the aggrieved parties. Learn from the experience and move on.
As always, I hope this post is helpful. 🙂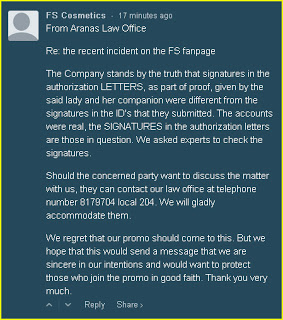 UPDATE as of April 30, 2013: In case those reading this post miss it, FS Cosmetics has issued a statement in the comments section which I have pasted above. Those who have had problems with the said promo may now contact FS Cosmetics directly.

Like this post? Subscribe to this blog by clicking HERE.
Let's stay connected: