Had a rather unique eat-all-you-can buffet experience at The ALLEY by Vikings BGC last week. This is their newest branch… the first two are located in UP Town Center and Ayala Cloverleaf. I've only been to Ayala Cloverleaf prior to this branch but I was unable to take nice photos so I didn't blog about it. The ALLEY by Vikings rates start at P788 per head for weekday buffet, which is very reasonable for what's being offered.
The ALLEY by Vikings BGC is located at Central Square. It's on the second floor of the building which houses Lucerne.
The set-up is different from Vikings and Niu by Vikings. At The ALLEY by Vikings, food is presented via themed stalls. There are tables and chairs all over the place so you can sit next to your favorite stall. Shown here is Hunneycomb, the dessert stall where you can get ice cream, crepes, cheesecake, cakes, pastries, etc.
For example, there's a stall called Antipasto Blvd which houses all the appetizers. There are canapes, salads (both DIY and pre-mixed), cold cuts, cheese, etc.
Hao Chi (literal translation "good eats" or "delicious") is the stall to visit for Chinese food.
They have classics like Salt and Pepper Spare Ribs, Steamed Fish, assorted dimsum, and more. There's a Roasting Station and a Noodle Station too.
There's Roast Duck and Roast Chicken.
One of my favorite stalls is Frituen Batsoy which offers a variety of Bagnet dishes and Chicharon Bulaklak.
They can transform this crunchy Bagnet into the stuff dreams are made of… Kare-Kareng Bagnet, Binagoongang Bagnet, Bagnet Sisig… you name it.
I had Bagnet Sisig and Classic Bagnet, both of which were super crunchy and yummy!
Just Steak A Minute is another stall I like. I got their Salisbury Steak which was served with Mashed Potatoes and Buttered Vegetables on a sizzling plate. Yum!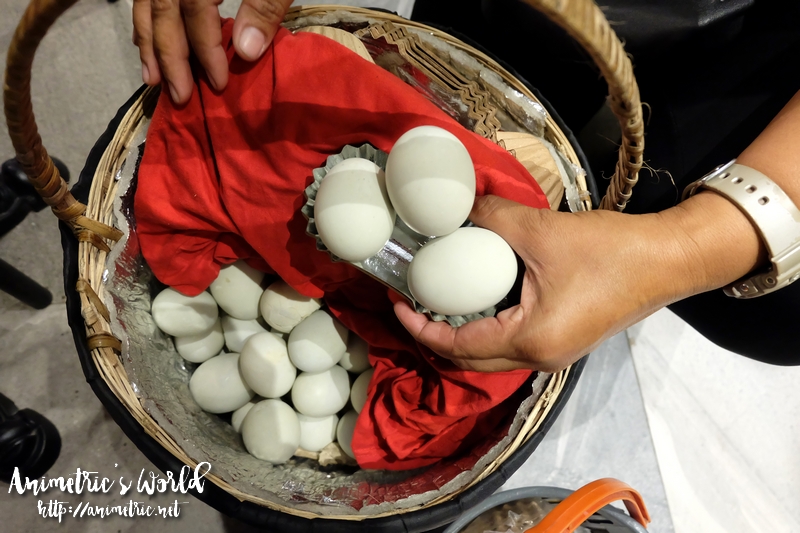 Would you believe they even have Balut, Taho, and "Dirty" Ice Cream vendors in the house? Yes, everything's unlimited!
The Ocean Eleven stall is your go-to for fresh seafood. Oyster Rockefeller is the crowd favorite but they have excellent Fish and Chips, Shrimps, and Mussels too.
Aside from the food stalls I featured, there are also stalls for Filipino, Japanese, Italian (I remember getting really good risotto from here), Asian, and American food. I swear I got so confused I didn't know what to eat anymore lol!
The usual drink bar ala Vikings is present of course — there's a variety of juices, teas, and infused waters. There are vending machines for sodas and coffee too.
One of the things that sets The ALLEY by Vikings apart from other buffet places is the stall called Kegz. It's for adults 18 and up only. There are bartenders who can concoct cocktails galore. They even have alcoholic popsicles! Like every other thing in this place, this is unlimited.
Of course I would never leave out one of my fave stalls — Ferino's Bibingka! They not only have Bibingka and Puto Bumbong, this is also where you get fishballs, squid balls, and other "tusok-tusok" treats.
I can never go to a Vikings buffet and not have Puto Bumbong, my forever favorite dessert.
My last stop of course was Hunneycomb for dessert. They have this out-of-this-world creation called Poppin' Cheesecake which is cheesecake topped with flavored popping yogurt boba and whipped cream. You have to try it at least once, lol.
Navigating through The Alley by VIKINGS can be an overwhelming experience, so prioritization is key. Go around the all the stalls first and determine what your must-eats are. Is it Bagnet? Steak? Seafood? Plan your strategy from there. Grab a table near your favorite booth for easy access. Food is of good quality and some dishes are even prepared upon order so you get them hot and fresh. I love that they have all kinds of drinks too, alcohol included.
The Alley by VIKINGS rates are as follows:
Adult Weekday Lunch – P788
Adult Weekday Dinner / Weekend / Holiday – P988
Kids 3ft to 4ft Weekday Lunch – P238
Kids 3ft to 4ft Weekday Dinner / Weekend / Holiday – P338
Kids 4ft to 4ft 6 inches Weekday Lunch – P448
Kids 4ft to 4ft 6 inches Weekday Dinner / Weekend / Holiday – P668
Kids below 3ft eat for FREE.
The ALLEY by VIKINGS BGC
C1, Upper Ground Floor, Bonifacio High Street Central,
Bonifacio Global City, Taguig City
8805-9888 / 8805-7888
Like this post? Subscribe to this blog by clicking HERE.
Let's stay connected: