We drove to Ayala Malls Manila Bay last week to try the souffle pancakes at am.pm. But before that, we had lunch at Suki-Ya Eat All You Can Sukiyaki and Shabu Shabu. We wanted to eat somewhere we haven't tried that is so far only available at Ayala Malls Manila Bay and Suki-Ya fit the bill. Well, it helped that they had posters all over the mall which said you can have unlimited hot pot for P300+.
So this is Suki-Ya Eat All You Can Sukiyaki and Shabu Shabu. Despite the Japanese vibe, this establishment actually hails from Malaysia. The Sukiya I know in Japan is a gyudon restaurant chain that's considered Yoshinoya's rival.
Anyway I liked the bright and neat interiors.
We got a table for 4. It's equipped with an induction cooker in the middle for your sukiyaki / shabu shabu.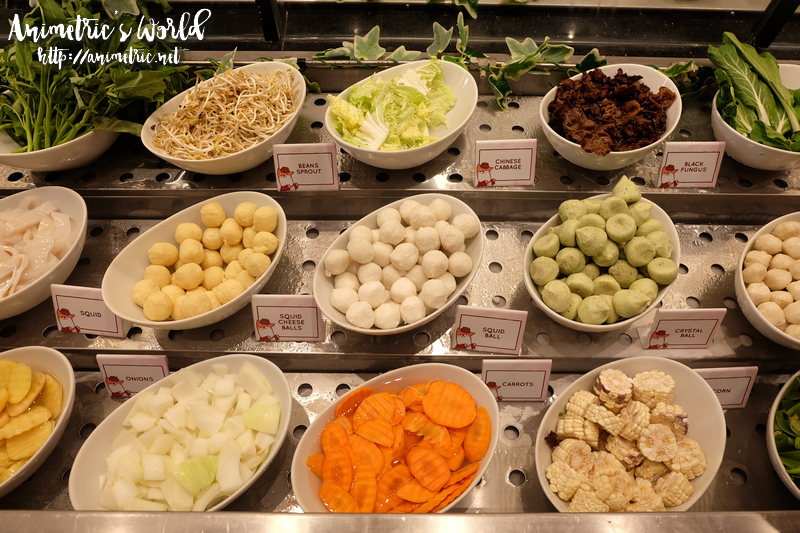 There's a buffet area where you can get an assortment of balls, tofu, and veggies for your broth.
You don't get meat from the buffet. What you do is order the meat you want and then they bring it to your table.
You can make your own dipping sauce or ask the staff to make for you.
The buffet also has several kinds of sushi, steamed rice, and noodles.
For dessert they have fresh fruits and jelly shots.
There are assorted pastries too.
There's also soft serve ice cream.
They have beer, bottled water, and a soda fountain but you have to pay additional for unlimited fountain drinks. Beer and bottled water are sold by the piece.
You can choose 2 kinds of broth. They have Shabu Shabu, Sukiyaki, Tonyu Miso, Kimuchi, and Butaniku. We opted for Tonyu Miso (left) and Sukiyaki (right). Tonyu Miso is described in the menu as a combination of miso and soy milk but it turned out very bland. It tasted more like water. The sukiyaki broth was normal, albeit a tad less flavorful than usual.
They have 4 kinds of meat — Pork, Chicken, Beef Flank (shown above), and Beef Short Plate.
This is their Pork (I think).
We pretty much just dumped everything in the broth and then ate when the ingredients were cooked. The meat and veggies are pretty good in terms of quality. I just wasn't very happy with their selection of balls. They weren't very good. Plus those which were labelled as filled with cheese were not consistent. Some did not have any cheese at all.
Okay, so since it was a weekend, we actually were not qualified for the P388 weekday lunch rate. What happened was this: Weekend / Holiday Rate P468 + Beef Top Up P58 + Free Flow Soda P38 = P564. It's the same formula if you avail of the P388 weekday lunch rate. You'd still have to top up for beef and bottomless fountain drinks… unless you're okay with just chicken and pork.
We paid around P2,500 when all the taxes were added, so it came out to P600+ per person. Hubby even got 20% off for being born in the Year of the Rat but well, it still came out to P600+ per person. That said, it wasn't very worth it considering if we added P100+ more we could already eat at Tong Yang Plus Ayala Malls Manila Bay where there's hell of a lot more food choices. But if you're okay with just chicken and pork plus no drinks, the P388 weekday rate could be worth considering.
Suki-Ya Eat All You Can Sukiyaki and Shabu Shabu
2/F Ayala Malls Manila Bay
Diosdado Macapagal Blvd. cor. Aseana Ave.,Paranaque City
Like this post? Subscribe to this blog by clicking HERE.
Let's stay connected: