Last Sunday, hubby, the kids, and I went to Ayala Malls Manila Bay. Hubby said he got wind of am.pm opening their first Philippine branch there. Hailing from Hong Kong, am.pm became popular because of their Creme Brulee Souffle Pancake. Anyhow, we headed straight for am.pm after lunch because we wanted to avoid the heavy merienda crowd.
It was a little past 12nn when we got there because we had an early lunch. The place is predominantly yellow and white. They can accommodate maybe 30 people simultaneously inside the store.
I find some of their furniture is reminiscent of Winnie the Pooh.
Their menu is pretty straightforward. They serve mainly 3 things: souffle pancakes, drinks, and soft serve ice cream.
You place your orders at the cashier. They make each order fresh so there's a 15 to 20 minute wait after you pay for your order.
Anyway, we were there for the souffle pancakes so we ordered 3 different kinds. We had no space left for drinks so I hope they open somewhere closer to us so we can go back easily. This is their Signature Creme Brulee Pancake (P210) with Add On Soft Serve (P50). Wow. The incredibly fluffy pancakes are coated with rich creme brulee layer and a crisp brown sugar glaze.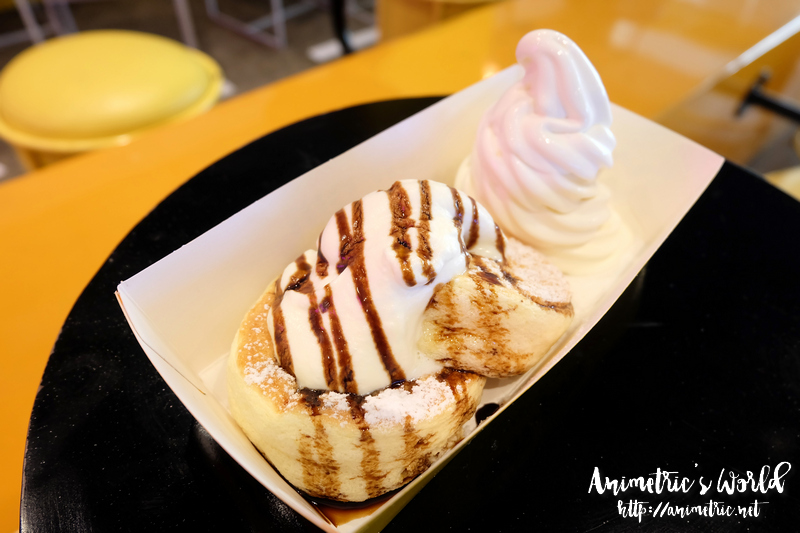 We also wanted to try the pancakes without fancy sauces, toppings, and frills so we ordered Original (P145) with Add On Soft Serve (P50). The pancakes are topped with their homemade cream and drizzled with a bit of black sugar cane syrup. They're supper fluffy, light, and bouncy! Eating them is such a pleasurable experience.
For our third pancake we opted for the Black Sugar Premium Milk (P210). It's served with chewy black pearls on the side. It's like a cross between the brown sugar in milk tea and cream. Although I thought it was pretty good, I think I would've preferred the black sugar milk topping cold instead of warm.
All the souffle pancakes are served hot and fresh off the pan. If you choose to have the Add On Soft Serve, it's going to melt quickly beside the hot pancakes so best to eat your order immediately. They have Ube souffle pancake and Ube soft serve ice cream which are exclusive to the Philippines. Was this worth the trip from Quezon City to Ayala Malls Manila Bay? Well, considering it was a free and easy Sunday with no traffic, it was. We all enjoyed what we ordered. I just hope they open somewhere closer to us soon.
am.pm
2/F Ayala Malls Manila Bay
Diosdado Macapagal Blvd. cor. Aseana Ave.,Paranaque City
Like this post? Subscribe to this blog by clicking HERE.
Let's stay connected: