I don't change my cellphone yearly. I find improvements from one year to the next far too minor to be spending P50k on. My progression is something like this — Samsung Galaxy Note 5 –> Note 8 –> Note 10. Anyhow, I figured it was time for an upgrade when I saw the Samsung Galaxy Note 10 being offered for VIP preorder last July. Preordering means you get the first batch of units from Samsung Philippines and they are not locked to any network. You score discounts and freebies too.
Anyhow, I opted for the Samsung Galaxy Note 10 in Aura Glow. It came with a free pair of Galaxy Buds worth P6,990 and a Wireless Battery Pack worth P2,799. I also got a P4,000 rebate for paying upfront using a credit card. So I ended up shelling out around P50k… the SRP is P53,990.
I didn't go for the Samsung Galaxy Note 10+ because I felt I didn't really need the bigger screen size and minor video improvements. The price difference between Note 10 and Note 10+ is around P7k.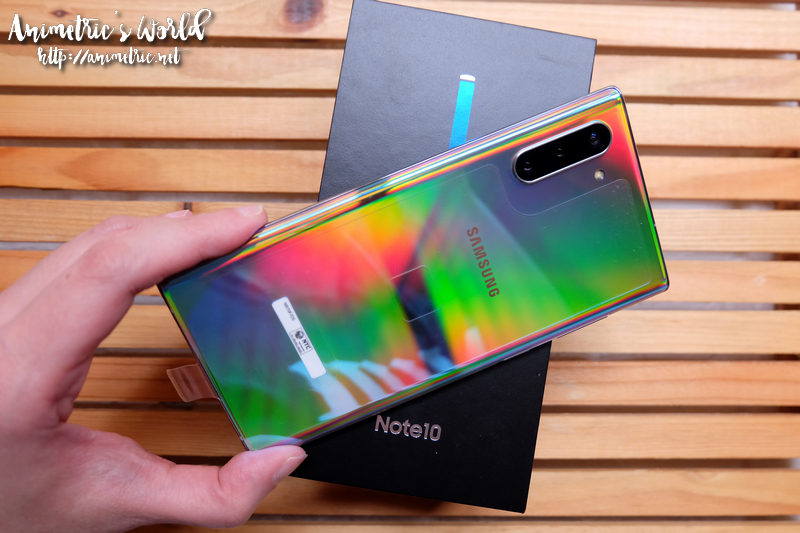 There were only 2 colors to choose from: Black or Aura Glow. Of course I got Aura Glow. I love the prismatic mirror surface. It really does glow.
Surprisingly, despite the slimmer, smaller, and lighter frame of the Samsung Galaxy Note 10, it has the same screen size as the Note 8.
It's really lightweight. I love it. It makes the Note 8 seem super heavy in comparison.
The phone comes with the usual charger + Type C USB cable and AKG earphones.
One of the most improved components of the Samsung Galaxy Note 10 is the S Pen. The tip is now more pointy so it's really like an actual pen. I find it so much easier to write and sign documents with it. My past S Pens had a more rounded tip. See, this is why whatever phone I end up using simply must have a pen. I'm so over printing out and scanning documents for signing. This saves time, effort, and paper.
The front camera is 10MP, so it can take pretty good selfies.
The rear uses a Triple Camera — 16MP Ultra Wide Camera, 12MP Wide Angle Camera, and 12MP Telephoto Camera. The cameras can also shoot 4k UHD video at 60 fps. There are also slow-mo, super slow-mo, and hyperlapse modes. I took these 2 photos for IG Stories — no filter, no editing.
Here's another sample photo.
This is a sample food photo. Suffice to say I think I will no longer panic if I forget my camera at home.
The Samsung Galaxy 10 has 8GB RAM and 256GB internal storage. It's dual sim too. The phone speakers are also by AKG, like the earphones. No wonder listening to music on my phone is suddenly so much better. The audio quality is a lot smoother compared to my Note 8. It did do away with the iris sensor though so I'm back to entering my PIN number to access my phone. I can set it to face recognition but it's not very safe according to my phone!? lol.
The battery is 3500mAH but it's very efficient. I can go on without a powerbank the entire day even if I watch Viu for a couple of hours or listen to Spotify while I work.
So far I'm very happy with my purchase. For more information about the Samsung Galaxy Note 10, log on to https://www.samsung.com/ph/smartphones/galaxy-note10/.
Like this post? Subscribe to this blog by clicking HERE.
Let's stay connected: