No, I'm not starting lol. I've been using Sulwhasoo skincare products for the last few years. I was a Laneige girl prior to that. My discovery of Sasa on Lazada has led me to a super major Sulwhasoo shopping spree for the last two months. I used to buy Sulwhasoo from Duty Free stores, Althea, and other HK-based online beauty stores. It was tough finding what I needed. Sasa has all these lovely boxed sets which make it easy for me to get the entire line without spending a fortune.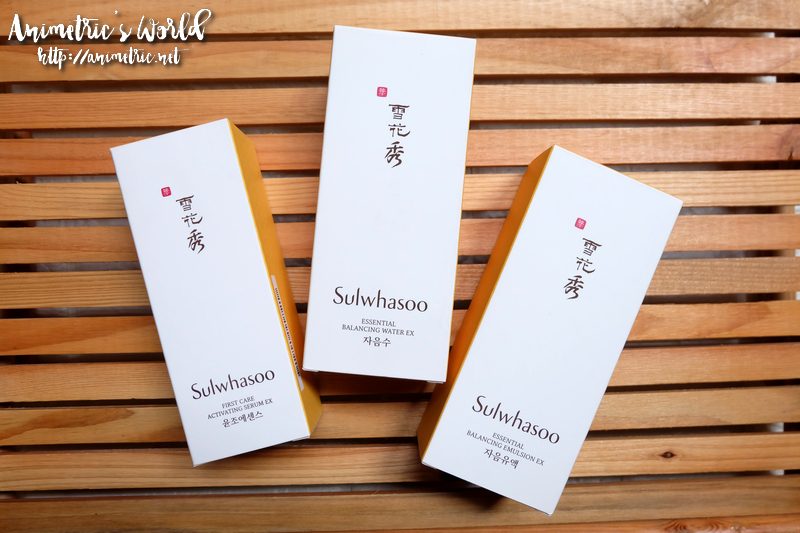 This was my first Sulwhasoo skincare regimen — the Sulwhasoo Essential Balancing line. As I advanced into my 40s, I began to feel that Laneige was no longer enough for my skin. I bought these from Althea Korea. They are no longer available there and I've found cheaper sources which I will show you later on in this post.
Okay so let me start with the most important Sulwhasoo product which you will need whatever line you decide to use. It's the Sulwhasoo First Care Activating Serum. The last time I bought this was at the Taoyuan Airport DFS back in January 2020. I got a boxed set of two 90ml bottles for a little under P10k. I am now halfway through my second bottle.
After washing your face, this is the first product you apply. It's an activating serum (or pre-serum) which primes skin for everything that comes next… similar in function to Shiseido Ultimune. Sulwhasoo First Care Activating Serum is a thin, amber-colored liquid which smells like ginseng. It is however, better than Shiseido Ultimune for me. There is a difference immediately after application. This product is so good and potent (your skin will immediately feel smooth, firm, and nice) that you will be tempted to not go further with your routine and just use this product by itself.
After the First Care Activating Serum, you pat on Sulwhasoo Essential Balancing Water (their version of toner). I've watched the demo videos of this when I was starting out and they don't use cotton pads. They just put the product on their hands and apply straight onto the face.
The Balancing Water is transparent and water-like, but just a little thicker and denser than water.
After the Balancing Water, you move on to the Balancing Emulsion. This is where I modified the routine — instead of applying emulsion I apply Sulwhasoo Concentrated Ginseng Renewing Serum. That's usually enough for me unless I'm somewhere colder and drier or it's the -ber months then I apply Emulsion after Serum.
The emulsion has a lotion-like texture. It's actually not heavy so it's suited for the Philippines' hotter and more humid climate.  This is basically a moisturizer.
Sulwhasoo skincare products aren't exactly cheap so what I did before investing in full sizes was buy a trial kit with all the products. They're all over Shopee and Lazada. This will last at least 1 week, which should be enough time for you to gauge if the line suits your skin.
If you're already sure you want this line, you can find the complete Sulwhasoo Essential Set HERE. I wish I had known of Sasa and the boxed sets they have when I started with my Sulwhasoo journey because it would've saved me a lot of money. I bought everything in this blog post individually and I remember the 3 bottles alone cost me a little under P10k.
So here are my thoughts on the Sulwhasoo Essential Line:
It's an excellent, well-rounded skincare line which pretty much addresses concerns related to aging — firmness, elasticity, wrinkle/line prevention, and moisture.
They don't include the eye product in the set but I still say you need eye cream. It doesn't have to be Sulwhasoo but any eye cream you're accustomed to will do. I did however buy the matching eye cream from Nana Mall on Shopee.
Getting the boxed set is much more economical than buying individual items.
I've been using this line for almost 3 years now and it has been very effective. I still don't have telltale lines and wrinkles. Given I'm in my late 40's, I'm quite satisfied with the condition of my skin. I am however upgrading to the higher-end Sulwhasoo anti-aging line Concentrated Ginseng and then Timetreasure after I finish these. The camera I use to take selfies for beauty reviews just went bust so I am currently unable to share a photo of my face. You can check my IG account for my newest photos to see the state of my skin, I occasionally post some on the feed and IG Stories.
Like this post? Subscribe to this blog by clicking HERE.
Let's stay connected: