I've been getting a lot of requests to blog about my current skincare regimen. Having just turned 45 a couple of days ago, I think my skin is pretty okay for my age. I'm really obsessed with skincare and it's one of the things I do not scrimp on. I've tried enough products to know that the more expensive ones really do offer more in terms of benefits. Laneige used to be my main skincare brand, but since reaching middle age (wahaha) I've switched to Sulwhasoo. So now I am sharing the holy grail of my skincare regimen — Sulwhasoo Concentrated Ginseng Renewing Serum.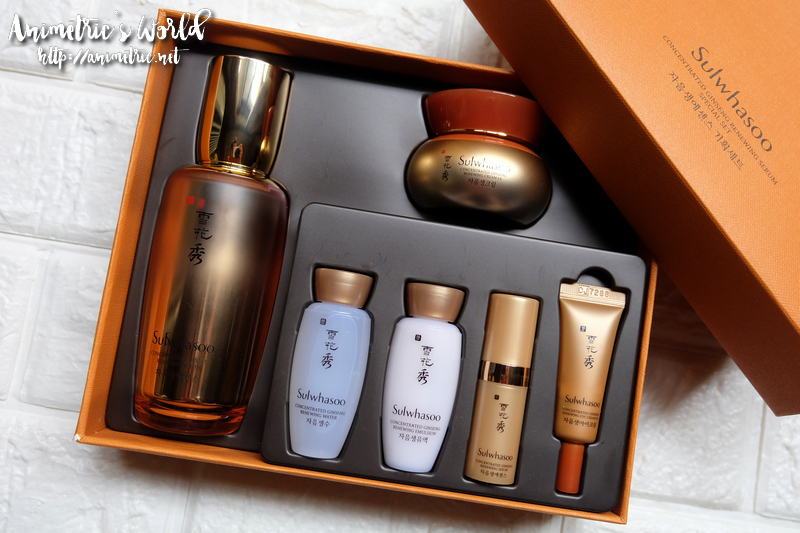 I couldn't find Sulwhasoo Concentrated Ginseng Renewing Serum at online stores so I asked my sister to buy it for me in Hong Kong some months back. I had already been using other Sulwhasoo products but I had to finish my serum from another brand before I could purchase this one. Anyway she got me a special set from Hong Kong Duty Free so the serum came with a set of travel-sized Concentrated Ginseng products.  The serum's SRP is US$191.50 (whether you get the set or not, because the other products are all freebies). I converted it to pesos with the exchange rate that time and paid ₱9,834. This is my most expensive skincare product so far.
So this is the serum. It's a 50ml bottle. I've been using it for about 2 months now. I remember thinking it's almost P10k so it better work lol.
Sulwhasoo Concentrated Ginseng Renewing Serum is a translucent and slightly golden in color. It has a strong ginseng aroma which doesn't really last long after application. Well, either that or I'm already used to it. The consistency is not water-like but it's not too thick either. It's just perfect for me. You can read all about the science behind it here.
My freebies included travel sizes of the following Sulwhasoo Concentrated Ginseng products: Water (their version of toner), Emulsion (moisturizer), serum, eye cream…
…and cream, which is a much heavier moisturizer, recommended for night use or use in cold, dry places.
I actually tried the entire Sulwhasoo Concentrated Ginseng line using what I have here but it's just too heavy for Philippine use. Thus I'm just using the serum. The other products I'm using are from the Sulwhasoo Essential Balancing skincare line. I'll elaborate more about that on a separate post.
I'm pretty happy with what Sulwhasoo is doing for my skin. I took this selfie exactly at midnight, the moment I turned 45.
What I like about Sulwhasoo Concentrated Ginseng Renewing Serum:
It's very luxurious. My face feels like a million bucks after application, especially when I wake up in the morning. By million bucks I mean smooth, supple, firm, and glowing.
This is subjective but I like the smell of real ginseng.
The consistency is just right — not too thick and not too thin.
I like the non-sticky and non-greasy finish. You can wear makeup over it no problem.
I had no adverse reactions — no breakouts or whatever.
Downside? It's expensive. I would buy it again though. Or buy a higher end Sulwhasoo serum when I get older lol. I'm not a fan of dermatological treatments (especially invasive ones) so I'd rather spend my money on products that work. I don't know where it can be bought online aside from Amazon and Nordstrom, as I had my sister buy it for me from Hong Kong.
UPDATE: Sasa on Lazada sells this for half the price I got it for from Hong Kong Duty Free. I've bought 2 bottles from there already so I can attest that it's legit.
Like this post? Subscribe to this blog by clicking HERE.
Let's stay connected: