There was a time I was really really obsessed with Korean BBQ. I kinda made it my mission in life to eat at all the unlimited Korean BBQ places and document my experiences. The cheaper, the better. I'm older and wiser now. I no longer have the patience to go to dilapidated places to eat unending platters of so-so meat. I'm more for quality now. I also don't mind spending a bit more if it means I get to dine in a nicer and cleaner place. Anyhow, my latest unlimited Korean BBQ experience was at Sibyullee at Greenhills Promenade.
Sibyullee at Greenhills Promenade is located where Sariwon used to be, beside Tong Yang.
Unli Korean BBQ at Sibyullee comes with unlimited banchan. There are usually 5 kinds at any given time. When we were there, they had vegetable pajeon, salad (always a constant), kimchi (also a constant), mashed sweet potato, and pickled radish. They're all very good.
When you go for unli Korean BBQ, you also get cheese with milk for dipping the meats. You melt the cheese on the grill.
There's lettuce for wrapping and 3 kinds of sauces.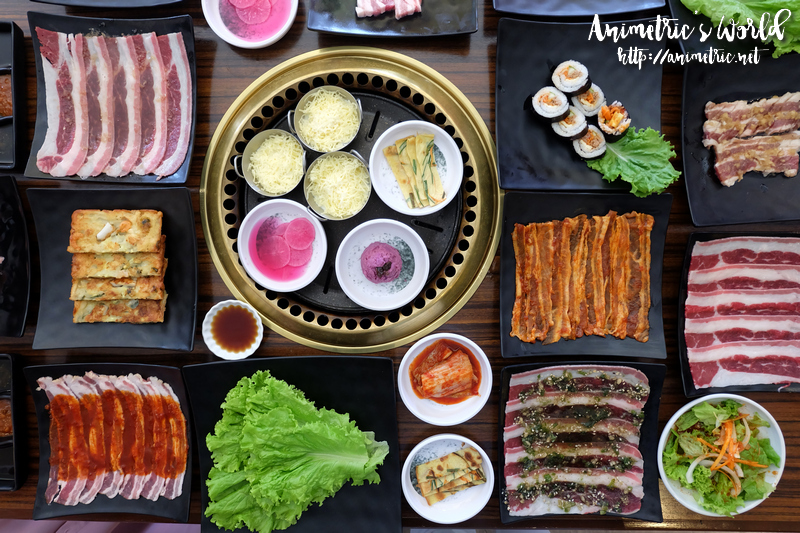 There are a whopping 12 kinds of meat, 10 of which you'll grill yourself and 2 of which are already cooked.
The meats are of really good quality. There's Samgyupsal, Soy Garlic Samgyupsal, Spicy Pork Bulgogi, Sweet & Spicy Pork Bulgogi, Chili Bean Samgyupsal, Woo Samgyup, Yangnyeom Woo Samgyup, Marinated Beef Bulgogi, Salt and Pepper Chicken, Spicy Chicken, Soy Garlic Korean Fried Chicken, and Spicy Korean Fried Chicken.
Spicy Korean Fried Chicken (shown above) and Soy Garlic Korean Fried Chicken are the 2 meats that they serve cooked.
Aside from unlimited meats, you can also get unlimited Beef Bulgogi Gimbap…
…unlimited Haemul Pajeon (Seafood Pancake)….
…and unlimited Steamed Egg.
I love how everything from the banchan to the meats and side dishes are all of excellent quality. Unlimited soup and rice are also included. It's really good value for money.
You even get a surprise dessert at the end of the meal!
Sibyullee's Unlimited Korean BBQ rates are as follows:
Mon to Fri Lunch – P499
Mon to Fri Dinner – P549
Weekends and Holidays – P549
I highly recommend Sibyullee. Food is good, the place is nice and clean, service is efficient, and prices are reasonable. Honestly I'd rather eat here as compared to those P300+ per head Korean BBQ places. An added bonus is I didn't end up smelling like grilled meat after the meal.
Sibyullee has 2 branches so far: Greenhills Promenade and Ayala Malls the 30th.
Like this post? Subscribe to this blog by clicking HERE.
Let's stay connected: