Beard Papa's is a Japanese cream puff store that our family always visits whenever we go to Tokyo. We frequent their Akihabara branch. They started back in 1999 and have since expanded to over 400 stores in 15 countries… including the Philippines! I have yet to find a cream puff here in the Philippines that can rival Beard Papa's. The name of the store was based on the owner Yuji Hirota's nickname — "Beard Papa", due to his fluffy white beard.
Beard Papa's currently has 2 branches here in the Philippines. There's one in Greenhills Promenade (near Sibyullee, right across Xing Fu Tang) and one in Glorietta. I'm pretty sure more stores will be opening. Anyhow last Thursday I went to visit the Greenhills Promenade store.
You'd think Beard Papa's would just sell cream puffs, right? Well, that's partially true… but they have so many different types of cream puffs! The first thing to do is to pick a crust. In this photo is the standard "Pie" crust. It's probably what you're most familiar with since it's the usual light and flaky cream puff crust. There's also a "Cookie" crust which as the name suggests is a crunchy type of crust.
This is the "Eclair" crust, which is basically chocolate-coated Pie crust.
This is one of the more unique crusts — "Kaze Kaze". It's stick-shaped and made of almonds so it's crunchy and nutty.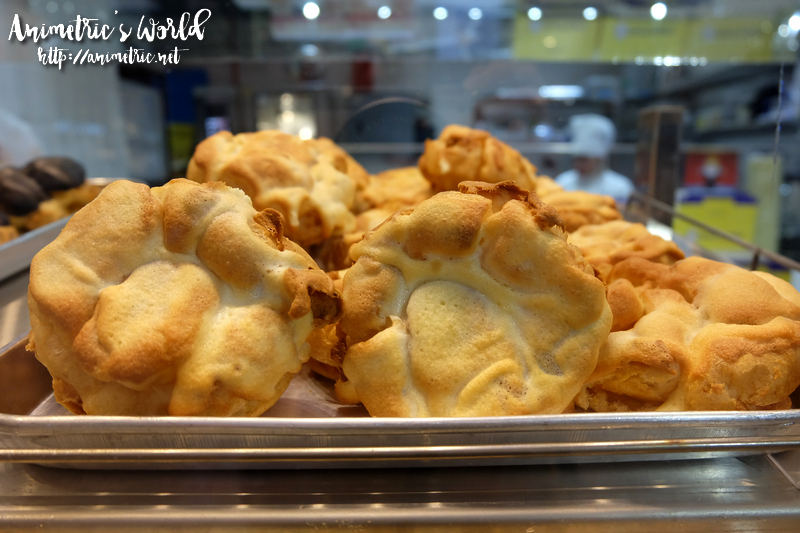 This is Beard Papa's newest crust, Langue De Chat. It's more dense and chewy compared to the Pie crust, reminiscent of a waffle but waaaayyy better. It's probably my favorite among the crust options. It seems like a limited edition offering though.
Anyhow, after choosing your crust, it's time to choose your filling. There's Custard, Charcoal, and White Peach for now. Custard is the standard filling so it's always available. The other flavors change. Now they have Charcoal and White Peach, but in the past they've had flavors like Matcha, Sakura, and Strawberry.
This is a classic cream puff — Pie crust + Custard filling. This kind costs P70 a piece.
This one is Pie crust + Charcoal filling. It's P85 a piece. It's the same price for Pie crust + White Peach filling. The price of your cream puff will depend on the crust and filling you choose, ranging from P70 to P100 a piece.
You can also order Mini Cream Puffs which come in cups that hold 5 pieces each. Prices range from P120 to P135 a cup depending on the filling.
This September, Beard Papa's celebrates is 20th anniversary with a 20th Anniversary 6-pc Box Set for P380. The box set contains 3 pcs of Langue De Chat Choux and Pie Crust Cream Puffs filled with Custard. They sell for P85 and P70 a piece. Buying them individually would set you back P465, so you save P85 by getting this set.
Would you like to try Beard Papa's delicious cream puffs? I'm giving away P500 GCs to 2 winners (1 FB winner and 1 IG winner). GCs shall be claimed at Beard Papa's store in Glorietta. Please visit my FB and IG page for the complete mechanics.
Like this post? Subscribe to this blog by clicking HERE.
Let's stay connected: