Finally, hubby and I got to try Shake Shack BGC! We went on a weekday during their opening time, 11am. There was no long line although there were already several people standing there waiting for them to open when we arrived. We had a meal at Shake Shack in Yokohama, Japan last year so we already had an idea of what to expect. Shake Shack BGC is the first Shake Shack store in the Philippines.
Yasss… no line. I don't like lining up for food. I'd rather eat elsewhere than wait for a long time.
Since I've already tried their trademark ShackBurger in Japan, I decided to order SmokeShack (P365 for Single) this time. So it's actually a cheeseburger like the ShackBurger except that instead of lettuce and tomatoes it's garnished with Applewood smoked bacon and chopped cherry peppers. All of Shake Shack's burgers are slathered with their ShackSauce which kind of tastes like Japanese mayo, ketchup, and mustard mixed together. Honestly I can probably hack it at home if I had a sample to work with.
Hubby ordered the Shack Stack (P545) which is basically a cheeseburger and a Shroom Burger combined withe lettuce, tomato, and ShackSauce. Shroom Burger is Shake Shack's vegetarian burger which features a patty made of crunchy breaded portobello mushroom. Shack Stack is ShackBurger with a Shroom Burger patty stuffed in the middle of it.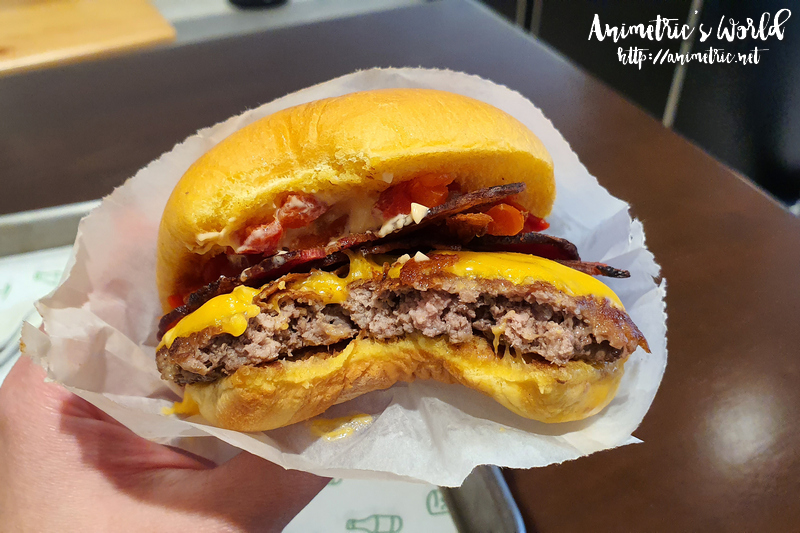 Shake Shack burgers are not big. The patties are good and tasty though. I was satisfied with my SmokeShack, while pricey, I found it delicious and filling.
Hubby and I shared an order of Cheese Fries (P180). Meh, I thought their fries were bland in Japan… they are just as bland here. I would not order this again in any country lol. The cheese sauce is nothing to write home about either… it's about the same level as Cheez Whiz Mild lol.
We also shared a dessert, Shake Shack's Concrete. I was told that the Philippine exclusive Uuube-by Baby (P250 Single / P350 Double) is the bestseller. It's frozen custard with ube, coconut marshmallow, ube cookie, toasted coconut, sago, and crunchy pinipig topped with leche flan. I just got a single because I'm not really an ice cream person. To be fair, the custard is really smooth, rich, and creamy. The ube halaya they used is also very good. I just found the whole thing a tad too sweet so good thing we just shared a single order.
Our total bill came out to P1,340 which is expensive by Philippine standards. Considering we each just had a burger and then shared an order of fries and dessert, it's really pricey. They have free drinking water so we didn't get drinks anymore. Shake Shack Philippines prices are lower compared to Shake Shack Japan though.
So was it worth it? I thought my P365 SmokeShack was okay in terms of value, but hubby thought P545 for his Shack Stack was too much. Their Fries are definitely not worth it — McDonald's Twister Fries is 1000% better. Despite the small size of the burgers, they are surprisingly filling. We were done eating lunch before 12nn and we were still full by 5pm. If you haven't been to Shake Shack, I think it's still worth a visit.
*All photos in this post were taken using the Samsung Galaxy Note 10.
Like this post? Subscribe to this blog by clicking HERE.
Let's stay connected: