So who has the best burger in the USA? People seem to be divided between Shake Shack, In-N-Out, and Five Guys. Now I've tried them all except Five Guys… until last December. Hubby and I used Waze to find the Five Guys nearest my mom's house. We ended up in Studio City.
So we had dinner at Five Guys in Studio City. I liked how bright and inviting it was.
More importantly, we didn't have to line up. I have zero patience when it comes to long lines.
They have a nice open kitchen set up so you can watch your burgers get cooked and assembled.
They also have free peanuts you can snack on while waiting for your order. Just grab a paperboard container and scoop yourself some peanuts.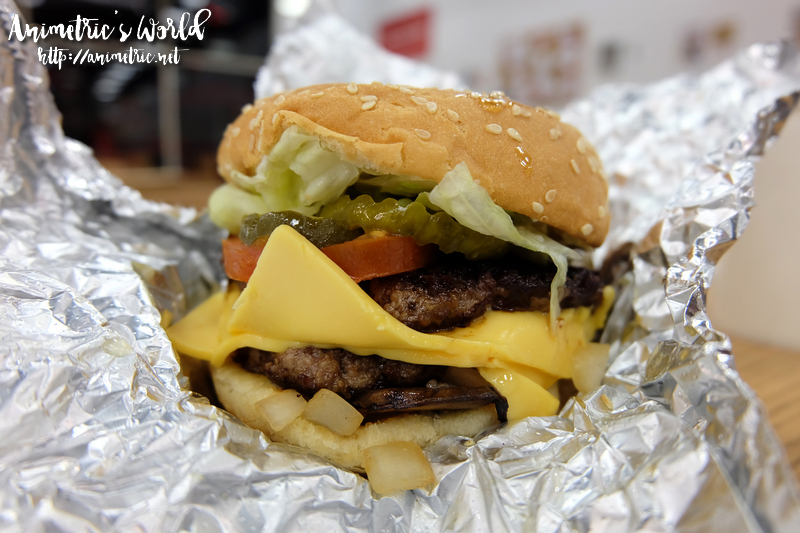 Wow, just wow. This is their Cheeseburger (US$9.09). At Five Guys, when you order say Cheeseburger, Hamburger, Bacon Burger, or Bacon Cheeseburger, you get 2 quarter pounder juicy beef patties. Hubby got this Cheeseburger.
If you don't want 2 patties, add the word "Little" to your order. This is the Little Cheeseburger (US$7.09). It's exactly the same as Cheeseburger except that it only has 1 quarter pounder beef patty. Okay so the thing is, they give you ALL toppings for FREE. You can say All The Way and get mayo, lettuce, pickles, tomatoes, grilled mushrooms, ketchup, grilled onions, and mustard. But there are additional options like hot sauce, green peppers, relish, jalapeno, A1 steak sauce, and so forth. Five Guys has the most customizable burger ever.
I had Little Bacon Cheeseburger All The Way and it was soooo good. The beef patty is insanely juicy and tasty — probably the burger patty I've ever had. Hubby, the kids, and I were in agreement that Five Guys trumps Shake Shack and In-N-Out. Yes it's double the price of In-N-Out but it's sooo worth it.
We actually ordered Regular Fries (US$4.99) to go with out burgers but they poured the fries into the brown bags with our burgers so I didn't quite know how to photograph them. I think Five Guys also has the best fries — crispy and perfectly salted skin-on fries.
Five Guys also has the brand spanking new Coke Freestyle Machine which can make over 100 flavors of soda depending on how you mix things up. I remember having something called a Holiday Mix — Sprite Vanilla Frost. We tried a few other combinations and my hubby couldn't get over how many different drinks one machine can make. Not all branches have this machine so we got lucky! 😀
Of course we couldn't not try their Milkshake. It's hand-spun vanilla milkshake with or without whipped cream. You can choose as many of their FREE mix-ins you want. There's bacon, bananas, cherries, chocolate, coffee, malted milk, oreo cookie pieces, peanut butter, salted caramel, and strawberries. The kids just got banana but wow, they sure don't skimp on the mix-ins because it tasted like a legit fresh banana shake.
I heard Five Guys is opening in the Philippines this year so I'm keeping my fingers crossed. 😀
Five Guys
12930 Ventura Blvd., Studio City, CA
(818)817-2318
Like this post? Subscribe to this blog by clicking HERE.
Let's stay connected: