I'm always shopping (or selling) on Shopee. One time I was looking for stuff to buy I did a search for "hair clip". Lo and behold, these pearly things appeared. I've seen them being sold on Instagram for P250 to P350 a piece. A handful of influencers were also modeling the hell out of them… so I knew they were somehow trending. Most refer to these as "Korean hair clip". I'm guessing because they've been worn on K-Dramas?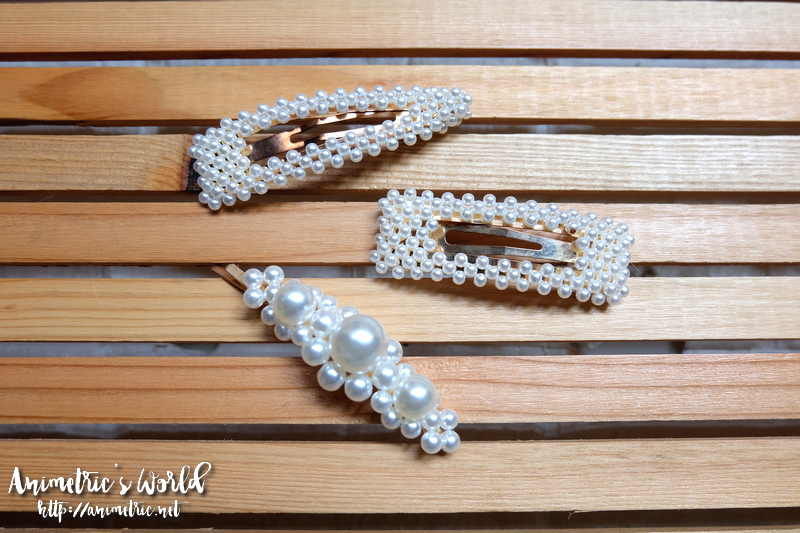 Anyhow, I bought 3 pearly hair clips from a Shopee seller based in China a couple of months ago. The seller name was xijing.ph and the clips cost P70 a piece. My orders arrived a little over a week after I ordered them. I thought I had gotten a good deal. I have friends who have bought such clips for P100 to P150 a piece. I've also been told that these are available in Divisoria and Tutuban for around P30 a piece. No offense but given how DIFFICULT it is to go to both places, I would rather pay for shipping.
These are how the clips look from the back. Be warned that the metal parts tarnish easily… but it's not really a big deal since they can't be seen when worn.
The bad thing about buying early is you usually get whatever it is at a higher price. These are the current prices of the so-called Korean hair clips as sold by Binondo-based Shopee sellers. As you can see you can get them at P20 to P30 a piece, less than half the price I got them for. Shipping is cheaper too since they're not coming from abroad.
China-based sellers have followed suit. The seller cattie.ph sells both the P9 to P33 and the P14 Korean hair clips on the screenshots above.
I've been wondering which K-Dramas have the Korean hair clip. So far I've finished watching a total of 17 series and I'm currently watching my 18th. I've only ever seen such a clip worn by Ye-Seo on episode 20 of the K-Drama series Sky Castle.
Ye-seo's clip seems bigger and longer than the ones I got from Shopee though. It looks sturdier too. I wonder where I can get a clip that is actually from Korea? Everything in Shopee is from China.
This is the Korean hair clip from Shopee when worn.
I like the way it looks but my problem with it is it doesn't feel very secure. It doesn't stay put and gradually slips down as time passes. I don't know if it's me, maybe I'm not wearing it correctly. At least you buy them dirt cheap now.
If you want these and/or other hair accessories, you can find a lot on Shopee. Just download the Shopee app from Google Play or the App Store and register for a free account. Use my referral code ANIME226 and get P100 off your first Shopee order — this is good for orders from ANY Shopee store. 🙂
Like this post? Subscribe to this blog by clicking HERE.
Let's stay connected: