I got the cutest and prettiest makeup set ever sometime late last year from Laneige Philippines. I was so happy because it contained products I use a lot, namely BB cushions and lip tints. I can pretty much throw out all my old lipsticks now, hahaha!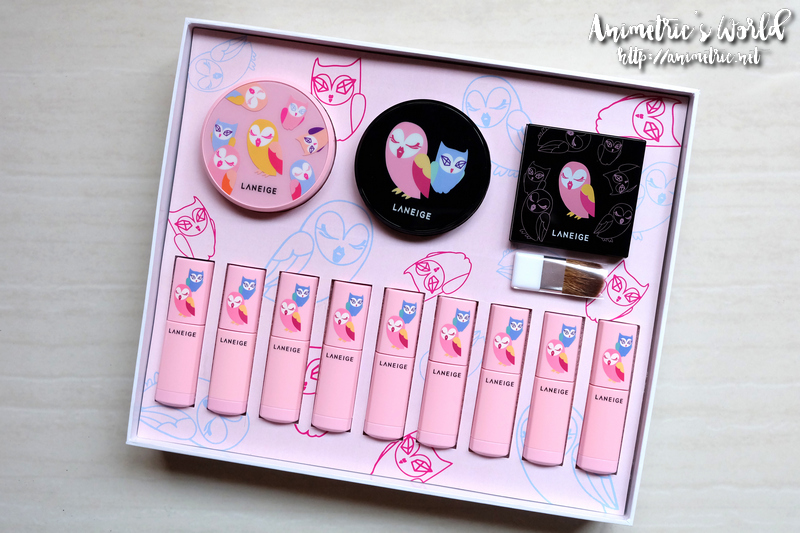 Anyway, in the tradition of Laneige Meets Fashion makeup collaborations every August (yes, these were released last August) comes the latest collection: Laneige x Lucky Chouette. Chouette means "owl" in French. The Laneige Lucky Chouettes are named Bella Chouette and Vely Chouette. They promise to bring good luck to all! 🙂
Included in the Laneige x Lucky Chouette Makeup Collection are:
Laneige Pore Control BB Cushion
Laneige Whitening BB Cushion
Laneige Multi-Colors Palette
For today, I will be reviewing the Laneige Pore Control BB Cushion (₱1,950 with refill). Don't worry, I'm working on the other products in the collection too!
The two BB cushions look the same. You can actually switch refills if you feel like using the other cushion case. The refills can be popped out and reinstalled very easily.
Laneige BB Cushions have always had a flat surface so I was surprised by the patterned surface of the two Lucky Chouette edition BB Cushions. The pattern isn't just eye candy. The new surface is more taut and firm. The product is transferred to the puff more efficiently compared to the flat cushion surface.  So happy I got my perfect shade — Beige!
I'm not pimple prone and my skin is relatively clear even without makeup. My problem is uneven skintone. My face reddens easily (in patches!) so I always need a product to even everything out. Laneige BB Cushions (any variant) have always been my go-to cushions. I prefer them to foundation and tube-type BBs and CCs. Here is a before and after photo to show you what Laneige Pore Control BB Cushion does for my face.
Laneige Pore Control BB Cushion promises to keep skin moisturized and matte at the same time, blurring pores and evening out your skin tone. Wow, right? These are photos after application and then 6 hours after. I didn't retouch.
Many BB cushions and years later, the Laneige BB Cushion is still my facial makeup product of choice. I'm really liking this variant!
What I like about Laneige Pore Control BB Cushion:
It's super easy to use. Just puff away all signs of redness, pores, and minor flaws.
The Beige shade is perfect for me.
It feels very light on the face. It's easy to forget you have anything on.
It instantly brightens and evens out my face perfectly.
I've always liked the light fresh scent of Laneige BB Cushions.
Coverage is decent, it can go from light to medium.
The oil control and wear are pretty okay. After 6 hours, my face was still even and not shining like a light bulb.
Downside? For the Lucky Chouette edition, there are only 2 shades available — Ivory and Beige. Ivory is even lighter than Beige which I'm using. Standard version Laneige BB Cushions have at least 5 shades available.
You can purchase Laneige products at the Laneige Flagship Store on Lazada.
Like this post? Subscribe to this blog by clicking HERE.
Let's stay connected: