To continue with my Laneige x Lucky Chouette Makeup Collection post, I am reviewing the Laneige x Lucky Chouette Serum Drop Tint (P1,150 each). There are 10 shades in all and I'm so lucky Laneige Philippines sent me 9/10! With this array of colors, I'm sure you'll find one that's right for you.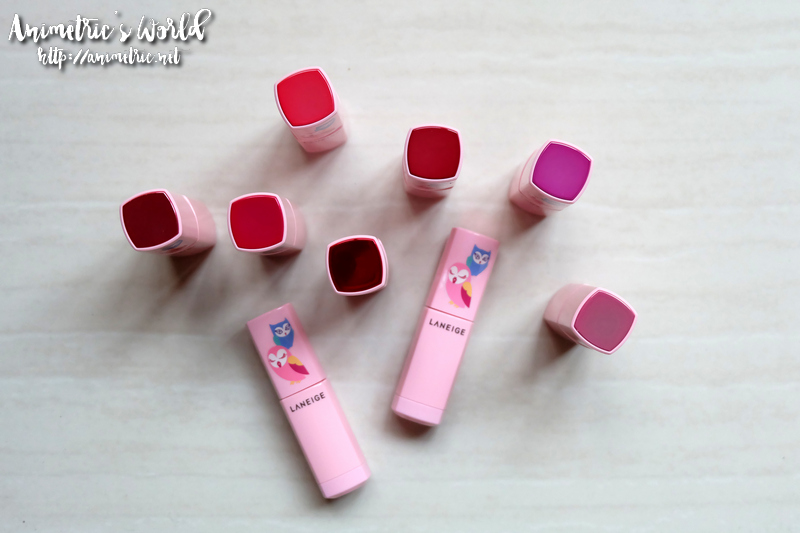 Aren't they cute? The color block on top of the tube is indicative of the Serum Drop Tint's shade.
This is what the applicator looks like. The pointed flat sponge tip makes application easy. You can use the pointed tip for precision shaping. The flat surface spreads the product evenly across your lips.
Here are swatches of the 9 Serum Drop Tint shades I got. The only shade missing is Hawaiian Bikini.
I tried them all hahaha! What do you think? Took me a while to compile this.
Here's a guide to the shades:
Top Row (from left to right) – Bite Me, Misty Rose, Urban Coral
Middle Row (from left to right) – Coral Breath, Marilyn Red, Sassy Girl
Bottom Row (from left to right) – Runway Pink, Funky Dream, Cheeky Cherry
With regards to the staying power, here are photos of freshly applied Serum Drop Tint in "Bite Me" and then 6 hours after. I ate, I drank, and I didn't retouch. There's still a bit of color left on my lips although not nearly as obvious as what I started with. I think it's MLBB (My Lips But Better) after 6 hours.
My favorite shade is Funky Dream. I've always been partial to pinks.
What I like about Laneige x Lucky Chouette Serum Drop Tint:
I love the yummy fruity scent!
Pigmentation is good, considering this is a glossy tint.
They go on smoothly even if your lips are chapped and dry. There's absolutely no sticky feeling.
They moisturize your lips so they actually become super soft and smooth some time after application. It's moisturizing serum for the lips.
I love the combination of color and shine.
There are 10 colors to choose from so there's definitely something for everyone.
Downside? It's a bit pricey compared to lip tints from other Korean brands at ₱1,150 per tube. But then again this is the best one I've tried so far so there's good reason for it.
You can purchase Laneige products at the Laneige Flagship Store on Lazada.
Like this post? Subscribe to this blog by clicking HERE.
Let's stay connected: