Yasss finally… a makeup review! When you see a continuous stream of food posts on my blog, it just means I'm super super busy with work. Food posts are the easiest (and fastest) to do because for me, food photos are easier to shoot. Writing about my eating experience is also a lot more simple compared to doing an in-depth makeup review. Anyhow, what I have today is a review for the Moonshot Micro Correctfit Cushion.
Moonshot Micro Correctfit Cushion (P1,100) is the cushion endorsed by Lisa of Blackpink. I got shade #201 Beige. I bought it from Althea. It's cheaper by P500 compared to the Philippine SRP of P1,600 from Frejya. It doesn't come with a refill.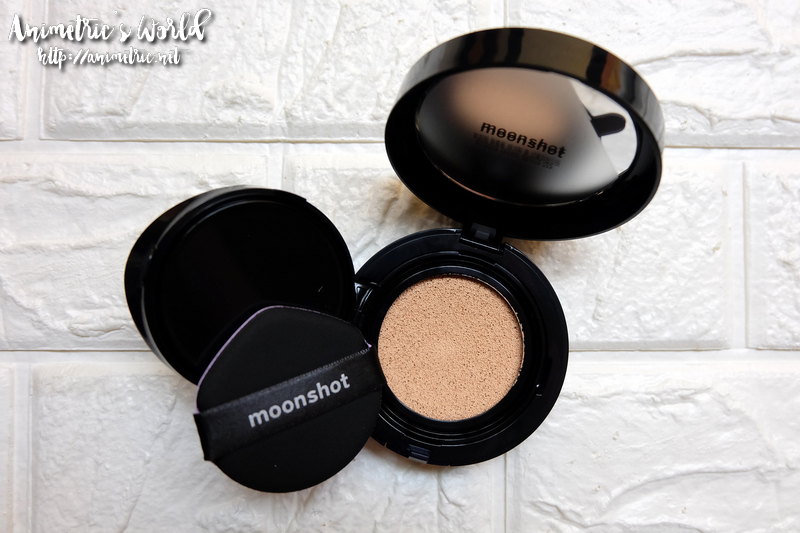 Moonshot Micro Correctfit Cushion features a tear-shaped puff that is reminiscent of the puff in Laneige Layering Cover Cushion. This puff shape is actually more versatile. It's easier to apply the product under the eyes and on the sides of the nose area using this compared to the usual round puff.
Shade #201 Beige matches my skin so well it's almost hard to see the swatch.
This is what it looks like when applied on the face under artificial light.
Here's how thc cushion looks under natural light.
What I like about the Moonshot Micro Correctfit Cushion:
It's very easy to apply. Just pat on the product and pat some more to blend.
The scent is so light and subtle that there's almost no smell.
It feels cool and light on the face.
Coverage is buildable from light, medium, to full. It can cover dark undereye circles, redness, and minor blemishes. It's actually considered as foundation.
Good for oily skin because it has a semi-matte finish so your face isn't shiny after application.
Downside? You have to prep your skin really well by moisturizing. If you don't moisturize enough, the product can be drying and will not look as good. Finishing powder doesn't seem to be a good idea either — it makes the product look dry and cakey. In fact, no matter what I do it tends to look cakey in photos. Also, the 3 shades available are all on the light side. What I got is supposedly their middle (medium) shade but it's still considerably light.
Moonshot Micro Correctfit Cushion is available for P1,100 at Althea. I've looked around online and they have the best price for this product so far.
Like this post? Subscribe to this blog by clicking HERE.
Let's stay connected: