I bought a Kylie Lip Kit in Posie K from a friend of a friend a little over a month ago. She had ordered a bunch of stuff from the US and needed stuff to fill her box. She decided to grab a bunch of Kylie Lip Kits to re-sell here in Manila. Since I neither have the time nor patience to keep stalking the Kylie Cosmetics website for availability, I just got one from her for P2,300. Kylie Lip Kits sell for US$29 each — plus sales tax it comes out to around US$31.50 (around P1,500). Shipping within the US costs US$8.50 while international shipping costs US$14.95 via USPS (US Postal Service). Theoretically, if I buy one kit from the website and have it shipped to Manila, I'd spend US$46.45 (around P2,300). Fair enough.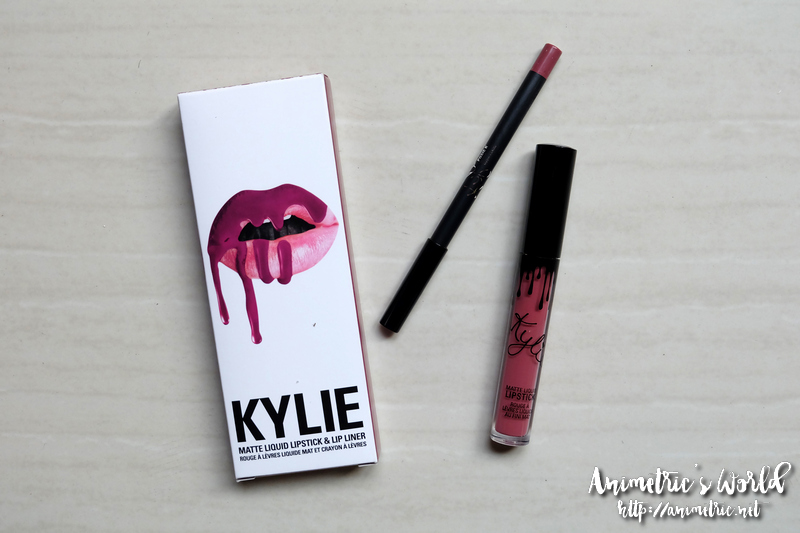 Kylie Cosmetics is Kylie Jenner's makeup line. At the moment all Kylie has are lip products but I expect this to change soon. I'm pretty sure we'll be seeing eye shadows and a whole lot more in the coming months. Anyhow, the Kylie Lip Kit comes in this nice box which my kids mistook for a chocolate bar. It contains a Lip Liner and a Matte Liquid Lipstick, both in Posie K.
My first complaint about the Lip Liner is the cap is loose. I don't know if that's normal or if I got a defective cap.
Here's a closer look at the Kylie Lip Liner in Posie K.
Here's the Kylie Matte Liquid Lipstick in Posie K. Love the slim, premium-looking tube. Isn't it a beauty? I've seen fakes — they look cheap and ugly. Most of them don't even get the drip pattern and the fonts right. Sadly some people are still duped into buying fakes.
The applicator's sponge tip is shaped is slanted to make application easy. The matte liquid lipstick has a yummy scent which reminds me of butterscotch.
Here are swatches of the Kylie Lip Liner and Kylie Matte Liquid Lipstick, both in Posie K. The shades vary slightly but they match once applied on the lips.
According to Kylie's tips at the back of the box, you line lips first with the lip liner and then fill with the matte liquid lipstick. So that's what I did, lol. I also tried not using the lip liner. The effect is more or less the same. Oh and this is how the Kylie Lip Kit in Posie K looks outdoors.
This is how Kylie Lip Kit in Posie K looks indoors under artificial light. I love the color! It's perfect for my skintone.
This is what the Kylie Lip Kit in Posie K looks like several hours after application. I've already eaten a full meal and had several drinks. No retouch. The color is still there albeit it doesn't look as smooth as when I first applied it. It lasts though!
What I like about the Kylie Lip Kit:
Both the lip liner and lipstick are highly pigmented.
Both are easy to apply, no special tools needed.
I so love the packaging!
The matte liquid lipstick has a yummy butterscotch scent.
They last a looooong time, even through meals and drinks.
If completely dry, they don't leave obvious marks all over the rim of your glass when you drink.
There are many shades to choose from. I honestly couldn't make up which one to buy at first lol.
Downside? It can be a tad drying. What I do is apply lip balm (Burt's Bees Lip Balms do the job) and let the lip balm set a bit before applying the matte liquid lipstick. I also wish it was easier to buy! The website gets sold out so quickly it's crazy.
For best results, make sure the matte liquid lipstick dries COMPLETELY before moving your lips.
The Kylie Lip Kit is available at http://www.kyliecosmetics.com for US$29. I love the product and I want to buy more shades!
Like this post? Subscribe to this blog by clicking HERE.
Let's stay connected: