Sometime last year Colourpop Cosmetics had a free international shipping promo with no minimum purchase. I grabbed the opportunity and ordered a few lipsticks. Colourpop Ultra Matte Lip is supposedly the super cheap dupe for Kylie Matte Liquid Lipstick which I love.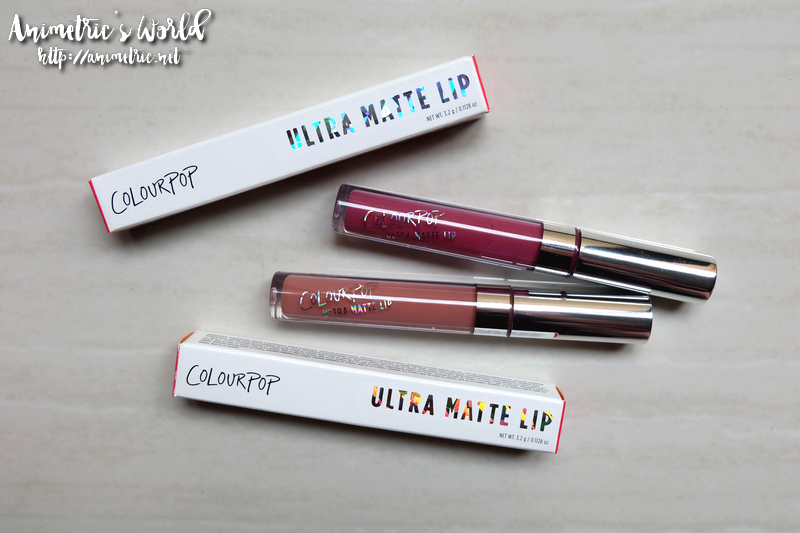 I got 2 shades of Colourpop Ultra Matte Lip — Viper and Times Square. They cost US$6 each (about P300 each).
These are what the tubes look like outside, under natural light.
Colourpop Ultra Matte Lip comes with a sponge tip applicator.
These are swatches for Viper and Times Square.
Viper came out darker than I expected but it works for me. I get a lot of compliments every time I use this shade.
This is Times Square. I'm not feeling it.
Here are Times Square (left) and Viper (right) when worn indoors under artificial light. I don't like Times Square because it's brown. I didn't expect it to be this brown. It makes my teeth look yellow too. Viper is great.
Times Square also had the tendency to really dry out my lips for some reason. Lines and creases formed shortly after it dried completely. It was never this bad for Viper. I hate this shade. It makes me feel like an old hag. I promptly got rid of it after I got the photos I needed for this review.
Meanwhile Viper doesn't have that effect even when worn for a while. These are photos taken right after application and then several hours later. I had a hot pot buffet dinner in between. My upper lip survived unscathed but the color on bottom lip came off. Still not bad.
What I like about Colourpop Ultra Matte Lip:
Pigmentation is excellent, as you can see in the swatches and on my lips.
It's easy to apply.
There are a lot of shades available.
It's super cheap!
It lasts. If you don't eat it'll remain intact until you remove it.
It's a tad easier to remove compared to Kylie Matte Liquid Lipstick.
Downside? The actual shade never quite matches what you see on the tube. It's always darker when applied. It's also not available locally so you can't swatch or try before you buy.  I prefer Kylie Matte Liquid Lipstick over Colourpop Ultra Matte Lip.
Colourpop Ultra Matte Lip is available for US$6 a piece at http://colourpop.com. They offer free international shipping for purchases US$50 and up. Colourpop products are so cheap I wouldn't mind buying from time to time. You can read about my Colourpop Cosmetics shopping experience HERE.
Like this post? Subscribe to this blog by clicking HERE.
Let's stay connected: