And so my K-Drama addiction continues… with that comes a renewed interest in all things Korean, not just beauty products. I've been buying Korean goodies on Shopee but I'm super happy when I see stuff in physical stores. Hubby and I went to Landers Arcovia City earlier today, so I tried to see how much Korean goodies they had. I've always gotten my fill at S&R Membership Shopping since they always have the Balance Grow Honey Citron Tea I love plus the Korean potato chips, nuts, etc. Anyway, let's take a look at what Landers has.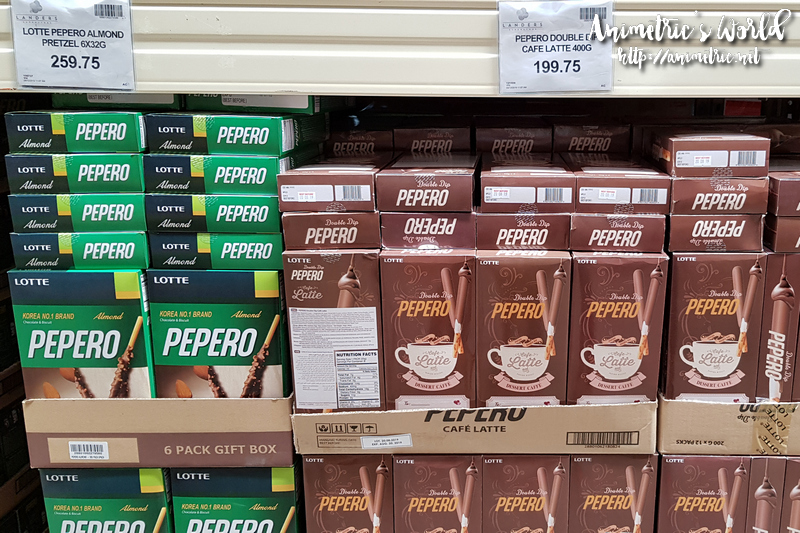 Of course they have Pepero in several variants. Why, almost every supermarket has Pepero. It's not normal not to have Pepero. Lotte Choco Pie was also abundant but it didn't occur to me to take photos since it's available almost everywhere.
What caught my eye was the Pepero Double Dip Cafe Latte (P199.75). It's the first time I've seen this variant.
There's Woongjin Peach Yogurt Juice (P149.75). Someone gave us a Landers Christmas Basket last December and we got the Apple variant. I found it too sweet. They have Woongjin juices without yogurt too… I saw Tomato, Carrot, and Aloe Vera earlier.
These are the more unique Korean instant noodles I spotted — Nongshim Spicy Chicken Noodles (P329.75 for 4 packs) and Nongshim Curry Ramyun (P177.75 for 5 packs). I find their spicy noodles too spicy so I didn't get any.
They have a lot of cup noodles too — Nongshim Shim Cup Noodle Soup Gourmet Spicy (not in photo), Nongshim Tempura Udon (P294.75 for 6 cups), Nongshim Beef Oolongmen (P324.75 for 6 cups), and Ottogi Jin Ramen (P324.75 for 6 cups).
Tteokbokki? Yes, Landers has them too albeit only 2 kinds. Yopokki Cheese Rice Cake (P179.75) and Yopokki Sweet and Spicy Rice Cake (P119.75).
I've bought this from Shopee for P169. One pack can yield 2 servings. It's very spicy, methinks I shouldn't have used 2 cheese powder packets. I'll try to tweak next time I cook it so it won't be too hot.
I'm too afraid to try this because if the cheese flavor is already THAT spicy I can't imagine how much more nuclear this is.
This is new to me — Paldo Cheese Ramyun (P259.75 for 4 packs). I checked the ingredients list and didn't see any peppers so I bought one lol.
They also have Korean glass noodles you can use for cooking Chapchae. I also use this type of noodles for Sukiyaki. There's Ottogi Glass Noodles (P229.75 for 500g) and Sura Vermicelle (P133.75 for 500g).
I always buy Sura Vermicelle because the quality is good plus it's cheaper than Ottogi. This is also available in most supermarkets.
Landers also has ready-to-eat Kimchi and Korean tofu.
They have all the variants of Binggrae Samanco Ice Cream Sandwiches (P199.75 per 4 packs). All the Binggrae Melona flavors are available too I just didn't take a photo.
This is my favorite Korean ice cream so far, Lotte Greek Yogurt Bar (P269.75 for 6 bars). So far I've only been able to buy it at Landers. It's not in the other supermarkets like Binggrae.
I didn't really look at the non-food sections but I saw Kerasys (Korea's leading hair care brand) shampoos and conditioners listed at Landers' website.
While I'm happy I found these Korean goodies at Landers, their selection seems significantly smaller compared to S&R Membership Shopping's. I'll be hunting for more Korean goodies at other supermarkets so stay tuned. 😀
Log on to the Landers Official Website for a complete list of stores.
Like this post? Subscribe to this blog by clicking HERE.
Let's stay connected: