For my 73rd K-drama, we have The Penthouse. My daughter and I were completely hooked after season 1 and we pretty much binge-watched the entire thing until we reached S3. By S3, we had no choice but to wait for weekly episodes from VIU because it was ongoing. Note that this series is a makjang drama. Makjang dramas are greatly exaggerated and over-the-top. Storylines often have all the crazy stuff like mixed births, lookalikes, affairs, etc. Most characters are in it to win it, regardless of the cost.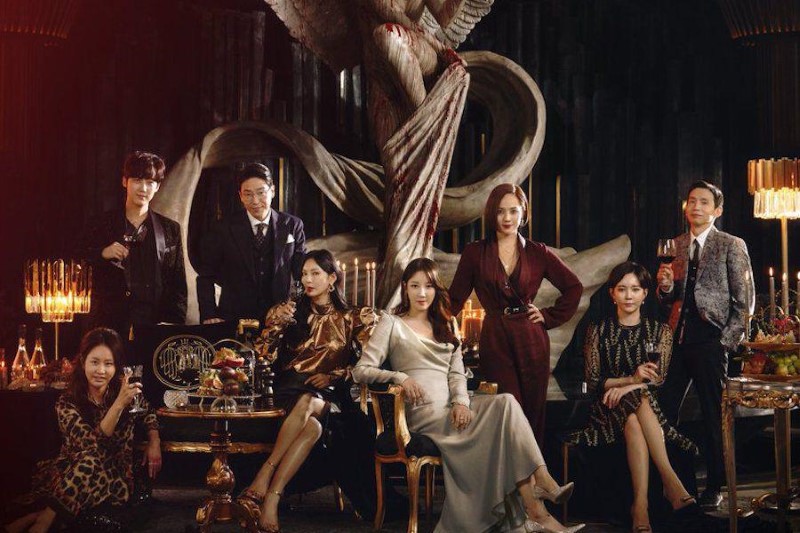 There are 3 female leads that make up The Penthouse trinity — Cheon Seo Jin (Kim So-Yeon), Oh Yun Hee (Eugene), and Shim Suryeon (Lee Jiah). Seo Jin and Yun Hee have been rivals since their teenage days, both having the distinction of being the best classical singers in school. However, Seo Jin comes from a wealthy and influential family while Yun Hee is the classic poor girl with nothing to her name but talent. This series proves again and again that money, connections, and power make the world go round. Seo Jin and Yun Hee's rivalry since high school becomes one of the reasons *WHY* crazy things continue to happen at present.
It's very hard to summarize The Penthouse's plot without spoiling it for you but let's just say it's a competition of sorts of who is going to come out on top of everyone else. From The Penthouse parents to The Penthouse kids, everyone's in some form of competition to be on top. Seasons 1 and 2 are really really good, but Season 3 ruins it for everyone with the absurd (even for a makjang like The Penthouse) plot twists. If there's one thing The Penthouse has done well it's CASTING. My gosh, everyone CAN ACT, even the kids — especially Seokyung and Eun Byeol. Kim So-Yeon does an exceptional, dare I say perfect job portraying the outright evil opera singer Cheon Seo Jin.
The Penthouse is characterized by a lot of character deaths and resurrections, flashbacks, broken set pieces (from enraged characters throwing things around), and slapping people around (especially the antagonists' male secretaries). My daughter and I were addicted after an episode though and so we pretty much finished the first 2 seasons in a few days. It's a pretty fun ride.
Despite season 3 not living up to the first 2 seasons, I still recommend watching The Penthouse. The acting is superb. I'm not at all surprised Kim So-Yeon won the Baeksang Award for Best Actress last year for her flawless performance as Cheon Seo Jin. The series gets frustrating because the good guys never seem to get a break and the bad guys almost always win.
To be honest, I hated the ending. They had THREE seasons to end things with a bang but noooo, they had to go with this ughhh I don't know what to even call it. I still enjoyed watching though and I still recommend it if you want something exciting.
All seasons of The Penthouse are available on Viu and Netflix.
Like this post? Subscribe to this blog by clicking HERE.
Let's stay connected: