For my 113th drama, I finished A Time Called You starring Ahn Hyo-seop (Business Proposal) and Jeon Yeo-been (Vincenzo). A Time Called You is yet another time travel series which gives a similar vibe to Blue Birthday, a short Korean webtoon series on WeTV which starred Red Velvet's Yeri. I gravitate more to series which have a fantasy element and so here we are.
Jeon Yeo-been is Han Jun-hee, a woman who recently lost her longtime boyfriend and live-in partner Koo Yeon-jun to a plane crash. As Jun-hee struggles to get over Yeon-jun, she receives a mysterious parcel containing a cassette tape and a walkman. She listens to the tape and falls asleep. When Jun-hee wakes up, she finds herself in 1998. Only she isn't Jun-hee, she's Kwon Min-ju. Kwon Min-ju looks exactly like Han Jun-hee, except that Minju is still in high school. To make things more complicated, Koo Yeon-jun is there too… only he isn't Yeon-jun, he is Nam Si-heon.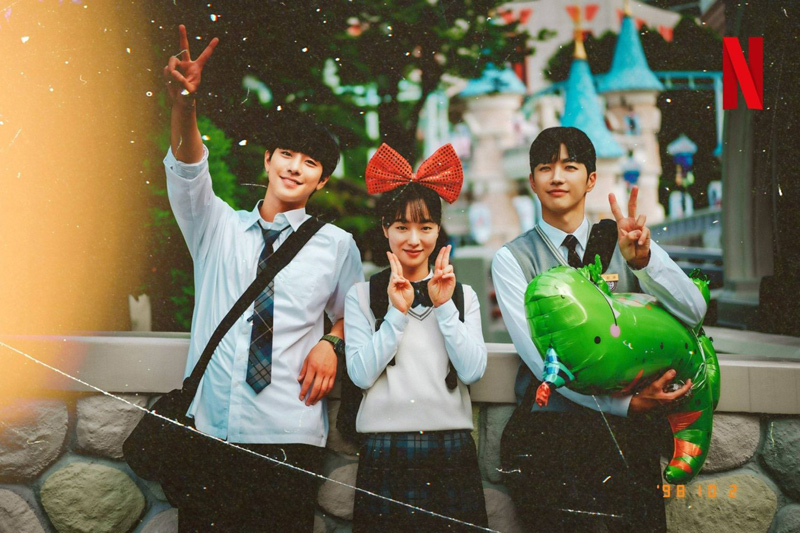 Jun-hee lives as Min-ju while she is in 1998. She becomes close friends with Si-heon and his best friend In-gyu. The boys sense that Min-ju hasn't been the same girl they used to know recently, which prompts Jun-hee to tell them the truth. The boys are confused but are inclined to believe Jun-hee because even her handwriting is different from Min-ju's. Jun-hee eventually learns that she, Min-ju, Si-heon, Yeon-jun, and In-gyu are all connected by fate. Min-ju is destined to die on October 13, 1998 and all their lives will take a turn for the worst after this happens.
Jun-hee shuttles from 1998 to 2023 trying her best to make sense of everything that happens and how she can save Yeon-jun. Eventually, she learns that everything goes way beyond saving Yeon-jun, she has to somehow "fix" things so no lives are ruined. If she doesn't interfere in the past, everyone dies and only she will be left all alone in 2023.
A Time Called You is a very engaging series. A lot of people have been telling me that it's a good short series (only 12 eps long) and that I should watch it. After the first couple of episodes, I was already hooked and I ended up finishing it in 3 days. Whoever wrote this has a great imagination, although I read that it was adapted from a Taiwanese drama entitled Someday One Day. Acting-wise, I thought everyone did well, especially Kang Hoon who plays In-gyu. I first noticed Kang Hoon when he played the devious Hong Deok-ro in The Red Sleeve. It's wild how the 3 main actors can pull off playing high school characters when Yeon-been and Kang Hoon are already in their 30s while Hyo-seop is nearly 30.
The ending can be considered happy, I think. The series has already established that Jun-hee and Si-heon always somehow end up recognizing each other in every timeline they find themselves in so that's that.
Well-written, well-cast, and well-acted, I highly recommend this series. It's exclusively available on Netflix.
Like this post? Subscribe to this blog by clicking HERE.
Let's stay connected: