Sorry I've been delinquent with regards to blogging again. I spent the ECQ Holy Week binge-watching Still 17 (64th) and Mr. Queen (65th). Then I moved on to True Beauty (66th) on Viu afterwards. I redeemed a bunch of 3-day Viu Premium subscriptions on the Globe Rewards app. Then I tried my best to finish each series in 3 days lol.
Anyway for my 63rd series, I watched The Uncanny Counter on Netflix. I had no idea what it was about and the poster didn't really appeal to me. However, everyone kept telling me what a great series it is so I gave it a shot.
The Uncanny Counter is about a high school kid named So Mun. When he was 11, he got into a car accident with his parents. His mom and dad died. He survived but he's had a limp ever since. So Mun ended up being raised by his grandparents. Anyway while walking with his friends one day, So Mun is "possessed" by a Yung spirit. He is given the option to become a counter. A counter is a demon fighter who is also like a grim reaper.
So Mun is reluctant at first but when he is promised healing plus a chance to see his parents in the afterlife, he agrees to be a counter.
His friends are astounded at how his leg suddenly got better. He has also become something of the school's best fighter overnight. So Mun begins standing up to the bullies terrorizing his friends and classmates.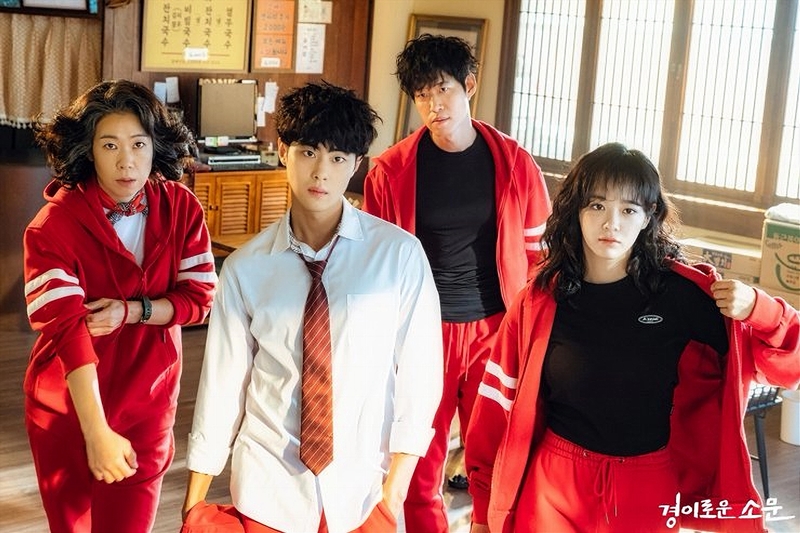 So Mun undergoes training under the other counters in order to learn how to make the best of his newly acquired powers. He himself doesn't know what he is capable of yet. Each demon encounter doubles as a chance to find out.
So Mun and the counters spends most days hunting down evil spirits. Eventually, they find out that So Mun's parents' souls never actually made it to the afterlife. They're imprisoned inside the body of the most powerful demon they've ever encountered. What's more, their death was an execution… not an accident.
The Uncanny Counter is such a great series that I was hooked from the first episode. The plot has so many layers that unfold as each episode progresses. It's not a simple episodic Ghostbusters-type of show. It's a lot more complicated than that. The series is focused on So Mun although the other counters also get a little back story here and there. Ga Mo Tak, one of the senior counters, was a detective in his previous life and actually got to work with So Mun's father who was also a detective. Mo Tak and So Mun's parents were all killed because they got too close to uncovering a political conspiracy. Thus Mo Tak gets a lot more background compared to the others.
Pacing is great, there is never a dull moment. I like how things keep moving along. There's also a lot of action since the fights with evil spirits are very physical. This is definitely one of the best K-Dramas I've seen. It's a nice break from romantic K-Dramas if you want something different.
Available on Netflix.
Like this post? Subscribe to this blog by clicking HERE.
Let's stay connected: