This is probably the only um… proper photo I have with my dad and my mom in recent years. It's not even that recent — it was taken back in 2008 during my sister's wedding. Ever since my parents separated when I was 10, they've never been under the same roof much less in the same frame.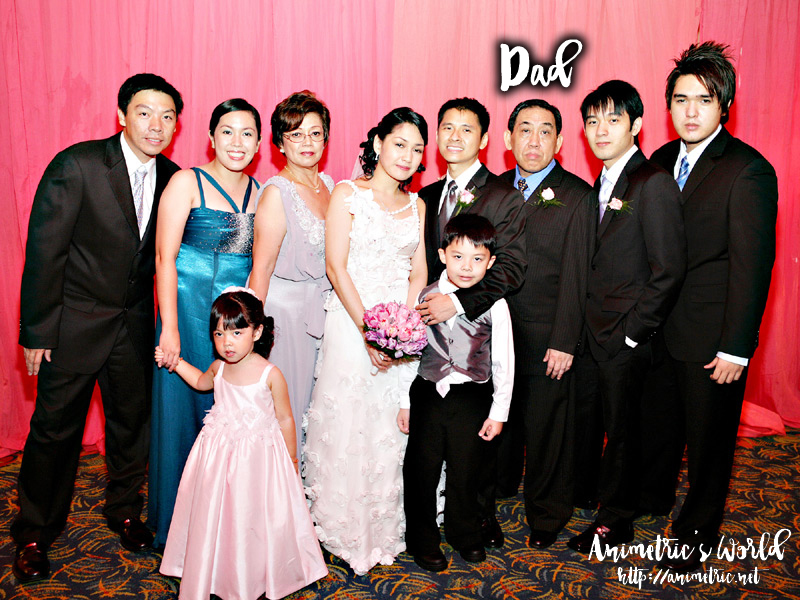 Well, it's that time of the year again when friends on social media would wax poetic about how great their fathers are. What a hero. I cannot relate. How ironic for me to be doing a Fathers Day greeting posthumously when I had never done so in the past. I'm usually dead silent on social media at this time.
Don't get me wrong. I look back and remember my dad with a certain comedic fondness because that's just the type of character he was. When I was a little girl, mom was the strict parent. She spanked and shouted at bad kids. Dad was the nice one who'd try to stop her when she was in a rage. At that point, I saw him as a savior. But he wasn't always around.
I remember staying up past midnight in my parents' room with my mom waiting for him to come home. I'd wake up the next morning not knowing what time he actually did arrive. He'd always say he was in a meeting. See, that's how "meetings" have become jokes to me. Whenever a guy tells me he's in a meeting and it's a weird hour, HAH. He kind of disappeared after my mom left for the US back in 1984. Dad and I only started living in one house again in the 90's, when I was in college. I was practically raised by my grandparents, aunts, and uncles from age 10 to 18.
Dad's mantra has always been "Relax ka lang,". Ask all my siblings and they will all say the same thing. Dad always tells us "Relax ka lang", but me more often than the others. I guess being the eldest, I was always the most high-strung and responsible one of the bunch. I would get stressed when he'd start smoking inside the house — because I'd end up coughing non-stop as soon as the vapors go into my room. I was in college then so there were things I needed from time to time. But dad, being the party animal that he was, would always come home 3am, 4am, even 5am. My classes all started at 7:30am. So sometimes, stuff I needed from him would be in jeopardy. It could be anything from documents that needed to be signed or money to pay off some school expense. I remember answering back one time with "Relax??? How can I relax???". I find all these things funny now.
Then I realize none of us have really talked to our dad. When he was in his prime, he was always out. We didn't see him much. Things went downhill when he slipped in the shower and hit his head. He survived, unfortunately parts of his memory did not. He would always ask my daughter who she was, because I was pregnant with her when he took a fall. But he remembers my son and always looks for him. My son was his first grandchild and dad was in element when he was born. Conversations became even more comedic than the usual "Relax ka lang" after that accident. I wonder what he really thought. What did he feel? Did he care?
Dad was a very generous man. But I've always interpreted that as overcompensating for his absence. He'd buy me expensive bags, shoes, and watches. Whenever it was my birthday, he'd give me money to celebrate. It was the 90's and he'd casually hand over something like P15k because hey, it was my birthday. I never did spend the money he'd give me. They all went straight to the bank. I always had this gnawing fear that when the time came for me to get married or reach a major milestone, he wouldn't be able to come through. Responsibility was just not one of his strong suits.
In his own way, dad was able to teach me about life. My hubby asked me a long time ago what my criteria for a guy was. I said he has to be totally unlike my dad. If I saw any similarity to my dad, it was bye bye. I knew with extreme certainty what I didn't want in a life partner. The entire experience of being dad's daughter has taught me to be a pretty good judge of character. I believe I am also more self-sufficient and resilient than the normal person.
Dad passed away last March 2014. His party lifestyle had finally caught up with him. Whenever we'd ask him to tone down his eating, smoking, and whatever, he'd just say patay kung patay. He knew how to enjoy life and that was exactly what he did.
Dad isn't a bad person. In fact, he is one of the kindest people I've known. Virtually anyone could go up to him and ask for whatever, even borrow money, and he would oblige. He just had zero sense of responsibility. He was pretty much do it now and bahala na with the consequences later.
I am somehow comforted by the belief that he did actually find God in his last days and passed on peacefully. I can't explain it, but I know he is in a better place.
Through the years, the thought of putting this all in writing has crossed my mind. I just didn't know how to do it. I'm not bitter. I used to be. When I was growing up I envied all the kids who had "normal" families. But I have learned to let go.
So now I can finally say it, Happy Fathers Day Dad.
Like this post? Subscribe to this blog by clicking HERE.
Let's stay connected: