Rong Hua Bak Kut Teh, one of Singapore's oldest and most popular restaurants is now in Manila. Bak Kut Teh is a Chinese soup that literally translates to "meat bone tea". Contrary to the name, there is no tea in the broth. Meaty pork ribs are simmered in herbs and spices such as cinnamon, star anise, cloves, fennel seeds, and garlic for hours. Bak Kut Teh is typically eaten with rice and is popular as breakfast fare in Singapore. I still remember having Bak Kut Teh for the first time in Singapore with my dad when I was young. It's a staple… whenever we're in Singapore, we must have Bak Kut Teh.
I went to check out Rong Hua Bak Kut Teh with fellow bloggers last Monday. It's located in AsiaTown at McKinley West. This is actually their first store outside Singapore. AsiaTown is turning out to be a new dining hotspot with all the new restaurants popping up. With establishments like Rong Hua Bak Kut Teh as part of the lineup, it's worth the trip if you're coming from Quezon City like I am.
We started our meal with Steamed Lotus Buns (P160 for 3 pcs). These are best eaten hot and fresh off the steamer. A thick slice of pork belly and lettuce serves as filling for the steamed bun.
Without further ado, they brought out the Bak Kut Teh next. There are 2 kinds of their original Bak Kut Teh you can order, the first being Pork Rib Soup (P220 for 150g / P320 for 250g). It's slow-cooked pork ribs with garlic, white pepper, star anise, and coriander. The broth has a complex flavor that is predominantly peppery in taste… a comforting dish to have especially on rainy days. I do wish the meat was fall-off-the-bone tender though.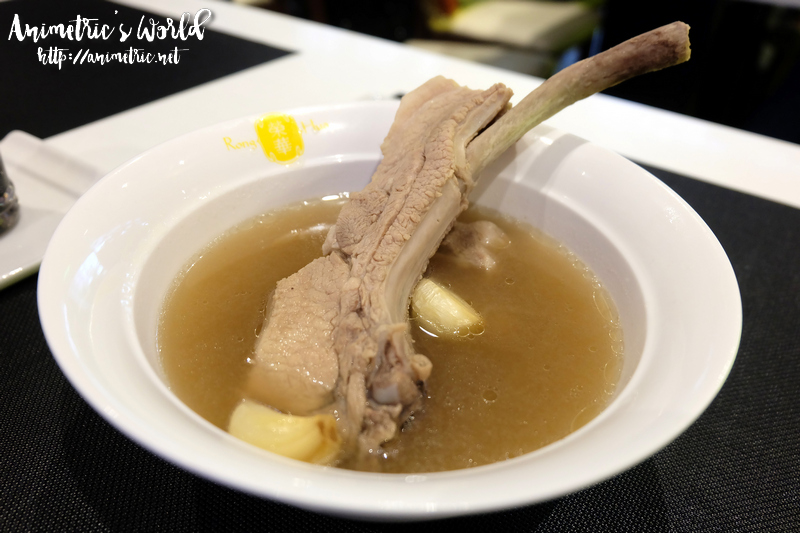 This is the Pork Rib Premium (P350 for 250g). It's actually the same as the Pork Rib Soup except that this one is served with a more premium cut of pork.
You can share an order by using small bowls to portion the Bak Kut Teh. They give free soup refill so it's all good!
They have a nice selection of Chinese dishes aside from Bak Kut Teh. This is the Handmade Fried Prawn Roll (P280 for 8 pcs). It's like prawn spring rolls. Crisp outside, juicy and meaty inside, these are dipped in plum sauce for a distinctive flavor.
Steamed Tofu with Minced Meat (P320 for 450g) is just as the name says, a block of firm silken tofu topped with minced meat cooked in Rong Hua's secret sauce. It's really good and I would definitely order it again when I go back.
Braised Beancurd with Chicken Feet (P190 for 80-100g / P250 for 120-130g) is a unique take on chicken feet. Chicken feet is normally steamed in some sort of red sauce in Chinese restaurants here. These are served atop beancurd skin and they're cooked in Rong Hua's special sauce. I'm Chinese but I never learned how to eat chicken feet so I passed this one up.
Smoked Duck (P350 for 120g / P450 for 200g) was my favorite among everything that was served. These salt-and-sugar cured duck slices with pineapple glaze is reminiscent of luscious Christmas ham. I can finish one serving myself!
Stir Fry Ginger Garlic Chicken (P250) is chicken pieces sauteed in ginger, garlic, and what I suspect is their delicious secret sauce. Like the rest of Rong Hua Bak Kut Teh's dishes, it's nice and tasty plus it goes really well with steamed rice. I love that they used chicken breast, my favorite chicken part (I know majority would go for chicken thigh).
For dessert, we had Ripe Mango Sago (P120). Theirs is a richer and creamier version, made with coconut cream. I like it better than the usual osterized mango with ice and sago lol.
If you're hankering for authentic Bak Kut Teh, Rong Hua Bak Kut Teh is the place to be. They even offer FREE soup refill so you can savor the flavorful broth to your heart's content. Aside from Bak Kut Teh, they have a nice selection of other Chinese dishes at reasonable prices too. Dishes cost an average of P200+ to P300+ per order — I'm pretty sure everything is cheaper here compared to Singapore.
Rong Hua Bak Kut Teh
Unit A-102 AsiaTown, McKinley West Park,
Bonifacio Global City, Taguig City
Like this post? Subscribe to this blog by clicking HERE.
Let's stay connected: