So this is actually a follow-up to my original blog post Konmari via Shopee back in 2019. A lot of changes have occured since then, thus I'm doing an updated version circa 2021. If you've been following me, it's no secret that I sell things I no longer have use for on Shopee and IG Stories. Shopee for standard-sized shippable items and IG Stories for irregular-sized stuff you need to pick up (ex: big wicker baskets). The pandemic has given me more time to declutter and so I'm actively selling again. I stopped for a while a year before COVID-19 broke out.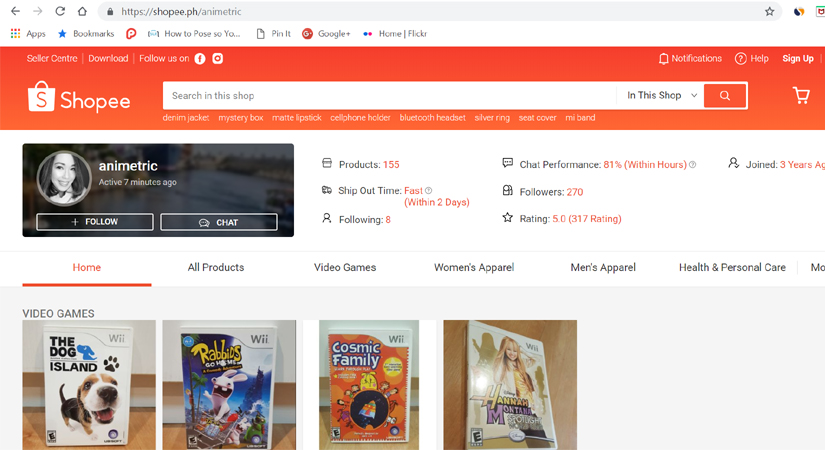 This is my Shopee store. I sell everything from clothes, toiletries, books, video games, etc. Some are new and some are pre-loved, except for cosmetics and toiletries which are always brand new. Shopee doesn't allow the selling of used toiletries and cosmetics for health reasons. This is a good way to declutter and get a little something back. I don't price high, my motto is always it's better get P100 than 0. I just want everything here to go because we don't have enough space to house all these things.
Selling on Shopee is now a tad more complicated than before. To start, go to https://shopee.ph/m/sell-on-shopee. You'll be asked to choose between 2 types of Shopee selling — Marketplace or Shopee Mall. If you're like me and you're just looking to sell unwanted things at home, sign up for Shopee Marketplace. This is open to ALL types of sellers so you can sell used items as long as they are not prohibited like cosmetics and toiletries. To get detailed instructions on how to start, click LEARN MORE on your screen.
You choose Shopee Mall if say you're a brand like say… Xiaomi. The official Philippine distributor has a Shopee Mall store HERE. If you want to be sure your Xiaomi product is authentic and will have warranty, you buy from the official store. There are a lot of Xiaomi sellers on Shopee but this is the officially licensed one.
After signing up to be a Shopee Seller, fill up this form at https://docs.google.com/forms/d/e/1FAIpQLSe6f4_V7jd8zWm9f1MgqqGKOk4Eg6skrqydJ0uns51j0i3E8A/viewform. You are automatically enrolled in FSS (Free Shipping Special) and CCB (Coin Cashback) programs once you start selling. These incur additional transaction and service fees. I once sold an item worth P650 while I was unknowingly enrolled in FSS and CCB. A P33 service fee and a P15 transaction fee were deducted (P48 total — 7.38%) so I got only P602. Whereas when I sold an item worth P500 after opting out, only P13 in fees and charges were deducted (2.6%). So fill up the opt-out form above ASAP if you don't want over 7% deduction.
Ever since I started selling at Shopee some years ago, I've managed to turn house clutter to over P260,000. I don't say "earn money" because for example, I'm selling the book Falling Leaves by Adeline Yen Mah which I bought for P688 at Fully Booked for P200. It was required reading at my daughter's school. I'm not really making money, I'm simply recouping some of our expenses. Like I always say, better to get P100 than 0 for stuff that are just lying around the house.
Three things help sell your item fast — clear pictures, detailed description, and reasonable price. For more selling tips, refer to my Konmari via Shopee post. The beauty of selling at Shopee is you can do everything via your cellphone. Money you get from selling is placed in your Shopee Wallet and deposited to the bank account you register for FREE once a week.
Ready to sell at the Shopee Marketplace? Let's talk about it some more on Facebook.
Like this post? Subscribe to this blog by clicking HERE.
Let's stay connected: