It's no secret that I started shopping more on Lazada in 2022. I was finally able to understand, master, and make the most of the whole Lazada system and I love it! I came up with 2 guides: How to make the most of the Lazada Sulit Sweldo Sale and How to use the Lazada Bonus. I've been able to score better deals and free shipping on almost everything, it's so worth it. Anyhow, instead of my usual year-end and new year posts, I'm sharing my 2022 best Lazada finds below ₱400 below.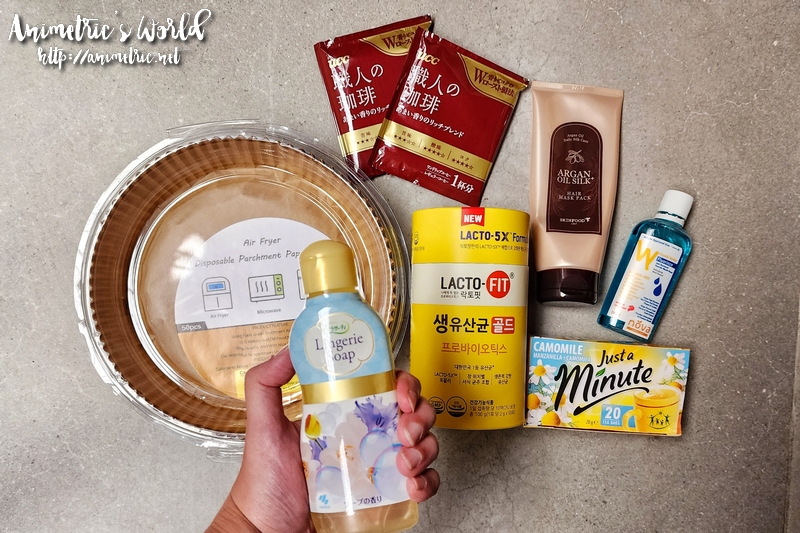 Here they are in a single photo! There are actually a lot more but for the sake of brevity (it will be neverending I promise), I've curated what I feel are my best finds.
For my no. 1 fave of 2022… it's hands down these Air Fryer Paper Liners. I use an Instant Vortex and the chamber is pretty big. I chose the biggest size which is 7.9 inches round. Ordered 50 pcs (cost around ₱90+!) instead of 100 pcs because I wanted to try it first. Lo and behold, I fried raw chicken and all the juices and oils came out. Even if my air fryer paper was drenced, it did not tear and the oil was pretty much confined to the paper! My air fryer grill just got a couple of tiny splatters… it was so much easier to clean as compared to not having any liner.
To my kids, chamomile tea is like water. It all started when my son was diagnosed with acid reflux at 16 years of age. The gastroenterologist told him somewhere along the way that only chamomile tea can naturally calm an upset stomach. It's naturally caffeine-free so it's safe and healthy. After that, chamomile tea became both kids' go-to. My daughter usually experiences cramps when she has her period and chamomile tea helps as well. Anyhow, I'm always on the lookout for affordable but good quality chamomile tea and I found it on Lazada — Just a Minute Chamomile Tea from Poland. It's only ₱40 per box of 20 bags when it's NOT on sale — definitely the most affordable chamomile tea yet.
Skinfood Argan Oil Silk Hair Mask Pack is my best hair discovery for 2022 because it's good for ALL hair types, not just for frizzy naturally curly hair like mine. I found this by searching for Korean CGM-friendly products. I stumbled upon a blog of a curly girl living in Korea. She said she was actually able to find CGM-friendly products and Skinfood's Argan Oil Silk hair line was one of them. Skinfood was actually being distributed here in the Philippines some years ago but the prices were exorbitant. I remember being surprised to find that in Korea, their price point is just the same as the affordable Etude House. So anyway, this hair mask pack makes all types of hair soft, smooth, and manageable. It smells nice too — not perfumey or anything, just a lovely mild scent. It's around ₱375 on non-sale days and ₱330+ on sale days.
Lacto Fit Gold Probiotics is also a 2022 discovery. This is great if you want to regularize your bowel movement. I used to drink Maxim 3-in-1 coffee whenever I was constipated but I don't want to do that anymore because I'd like my morning coffee to be something I actually enjoy. I usually go for Nespresso pods or UCC drip coffee these days and I don't use table sugar anymore. Anyhow, Lacto Fit Gold is sold in tubs of 50 sticks for the super affordable price of ₱370 during sale days. It tastes like a milky version of the US' Pixy Stix — fruity, sweet, and tart all at the same time. It's really effective and it sells for ₱400+ when it's not on sale from this seller. This is the cheapest I've found.
Women will appreciate this find — Kobayashi Lingerie Soap. It removes underwear stains INSTANTLY like for example if you're having your period. Even dried blood vanishes immediately once you put a bit of this and rub. A drop of product goes a long way so one bottle lasts a long time. It sells for ₱200+, the + depending on when you buy it.
Okay so when I found Pearlie White Fluorinze on Lazada last December, it was selling for only ₱50. At that price, it's super worth it. They regularly do flash sales so just keep checking. I like this because it's travel-friendly so it's easy to bring around. It's healthy too — alcohol free and no parabens, phtalates, SLS, and other harmful chemicals. It's minty but doesn't sting like conventional mouthwash but keeps your mouth fresh for a long time.
I've bought a lot of Drip Coffee in the past year and surprisingly the best tasting one is not even exotic — it's good old UCC Craftsman's Coffee in Mocha. At ₱275 for 18 packs, it's very very reasonable. It's perfect with a bit of sweetener and dairy creamer. I love it. I only have the small packets left as shown on the first photo of this post so I'm using the store listing.
Anyhow, these are just some of my favorite Lazada finds below ₱400. To keep updated, follow me on Instagram  — I post all my finds on IG Stories. Or better yet join TBG The Budol Group on Facebook.
Like this post? Subscribe to this blog by clicking HERE.
Let's stay connected: